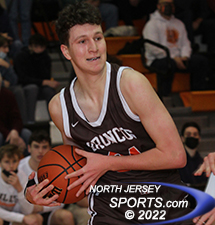 Ian Solomon owned the paint on the way to a game-high 21 points for Pascack Hills, which beat Tenafly, 55-40, in the Round of 16 of the Bergen County Jamboree.
TENAFLY – Pascack Hills' rotation is a tight one, but that does not mean that the Broncos are short in any one particular area in the lineup. With a three-guard rotation (Aidan Berson, Jesse Belnick and Andrew Brodsky), all of whom can handle the ball, shoot from distance and make the right pass, a legitimate low post option (Ian Solomon) and a slugger (Scottie Stewart) who loves to chase week side rebounds and mix it up in the paint, Pascack Hills is actually a well-balanced team.
"I have always said, 'Give me a football player, a couple of guys that can play, that can handle the ball against pressure and we can win some games," said Pascack Hills head coach Paul D'Errico.
And Pascack Hills has won a lot of games, 13 in a row to be exact, including Saturday's impressive 55-40 victory over Tenafly in the Bergen County Jamboree's Round of 16. In what was probably the most anticipated matchup of the four games at Tenafly High School, a game played in front of a just about packed house with dueling student sections, Pascack Hills ended the suspense relatively early.
Using Solomon down low as a weapon that Tenafly struggled to combat, Pascack Hills closed the first half on a 14-1 run to take a 12-point lead at the break and never let it dip below double digits in the entire second half. Solomon scored all five of his first half field goals from inside the paint with four of those coming on traditional entry passes or in drive-and-dish situations.
Reilly Benowitz finished with 16 points for Tenafly.
"Coming into this game we knew that we had the size on them. We just needed our guards to come in and do their thing like they have all season," said Solomon. "They made some shots and that opened it up a little bit, made it easier to get the ball down low."
Pascack Hills led 25-13 at halftime, Andrew Brodsky hit a 3-pointer on the Broncos' first possession of the second half and the lead swelled to as many as 20 before they settled for a 39-22 advantage heading into the fourth quarter where Tenafly at least tested the waters of a comeback.
Reilly Benowitz made one of his five 3-pointers 15 seconds into the final period, Yoav Regev made another to get Tenafly to within 41-28 and the Tigers forced a miss on the first shot of Pascack Hills' next possession. Stewart grabbed the offensive board in traffic and kicked it back out to Belnick, who buried a 3 to push Tenafly right back down the hill.
"When the ball came back out to me I knew I was going to shoot it. That was a shot I looked for all game long and when it came it was an open look," said Belnick, part of Pascack Hills' all-senior starting 5. "I had confidence and I knew my team needed a little pick-me-up after they made a little run. In these kinds of games you have to hit a big shot in a big moment."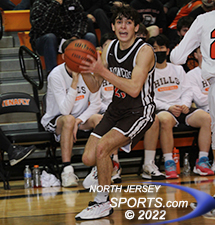 Jesse Belnick and 9th-seeded Pascack Hills will get a shot at top-seeded Don Bosco Prep in the quarterfinals..
Tenafly had one more fleeting big moment when Benowitz and point guard Ben Roberts made 3s on consecutive possession to get Tenafly to within 46-35 with 4:13 to play in the game, but again it was one of Pascack Hills' senior guard who stepped forward in the clutch. Brodsky buried a triple, Solomon scored the next four points and that was that.
"Our kids played great. I am really proud of them. If you would have told me in December that we would beat Demarest, Ramsey and Tenafly in a five-day period, I would have thought you were crazy," said D'Errico. "I owe it to my kids. We have gotten better every week and I guess they are not surprised and I should not be surprised, either."
Pascack Hills, which used Bibi Morrison as its only sub, got all of its scoring from its starting 5 with a Solomon scoring a game-high 21 points. The rest was divvied between Brodsky (13 points), Belnick (8), Berson (7) and Stewart (6). Benowitz (16 points) was Tenafly's lone double digit scorer while Jack Neuman added 9.
So no it is on to the quarterfinals for Pascack Hills where a daunting challenge awaits. Top-seeded Don Bosco Prep is next up for the Broncos on Saturday at Hackensack High School.
"When we were young we beat Bosco in the freshman tournament and we kept it close with them in the JV semifinals, we lost by four I think," said Belnick. "We have history against Bosco and we can't back down and we can't play scared."
FOR MORE PHOTOS FROM THIS EVENT PLEASE CLICK HERE. TO BUY A COLLECTOR'S PRINT OF THIS STORY PLEASE VISIT 4-FeetGrafix.com.