Aidan Heaney scored a team-high 17 points, including two clutch free throws with :09 left, in NV/Old Tappan's 57-53 win over Rutherford in the opening round of the Bergen County Jamboree.
WASHINGTON TOWNSHIP – It has been a source of contention the past few years when it comes to the Bergen County Jamboree, the granddaddy of all boys basketball county tournaments in New Jersey. The Non-Public powers are getting in because of their strength of schedule even in years when they might not necessarily have the .650 winning percentage needed for automatic entry. The small schools have a clear path as they need to win 65 percent of their games against opponents of like size so that their strength of schedule is not a factor.
It's the programs in the middle, public schools in the Big North, that are most often squeezed as their schedules include no gimmies and a couple of tough nights in league play against well-established rivals could mean no trip to the Jambo for teams that could legitimately make a run if they could have just gained entry.
Northern Valley/Old Tappan is one of those teams that has been on the outside looking in over the past couple of seasons.
"In our league every night is a battle and us at 7-5 and other teams with similar records, we kill each other every single night and winning streaks are hard to put together," said Old Tappan head coach Craig Ferraro. "But we know that if we get in [to the Jambo] we can compete with just about everybody."
Old Tappan did get in this season with its sub-.650, 7-5 record as the No. 20 seed in a 24-team field and it competed.The Golden Knights advanced to the Round of 16 with an entertaining 57-53 victory over No. 13 Rutherford on Saturday afternoon at Westwood Regional High School. It was Old Tappan's first appearance in the Jambo since reaching the quarterfinals in 2017 with a team headed by Justin Minaya, now playing at Providence College..
"Our group has never been a part of the Jamboree before so it was big for not only the players, but the coaches and our school to get in and we wanted to make the most of the opportunity," said OT junior Aidan Heaney. "We got into the game, we blocked everything else out and it was back-and-forth the whole way."
Rutherford senior Patrick Rogers scored a game-high 19 points despite being in foul trouble most of the way.
Rutherford (11-4) has one of Bergen County's best athletes in Patrick Rogers, who scored his team's first six points, including a fastbreak dunk, to get the Bulldogs off to a 6-2 start. Rogers, a senior who will play Division 1 volleyball at Pepperdine University next year, has easy elevation and it was hard to keep him on the floor, both literally and figuratively. He plays above defenders, who then have time to slide underneath and with high school basketball's antiquated block/charge rules and no restricted area under the basket, he is at the mercy of the whistle.
Right after Heaney hit a 3-pointer to put Old Tappan up 15-11 with 7:16 left in the second quarter, Rogers was called for his second personal foul and the first of the three charges that were called against him and he battled foul trouble the rest of the way, which was a key factor down the stretch. Evan Brooks' four points on consecutive possessions gave Old Tappan its largest lead of the first half, 26-18, and the Knights led 30-23 at the break.
Rutherford went to a 1-3-1 trap to speed things up at the start of the second half and Rogers, playing with three fouls, scored 8 points in the first four minutes of the third quarter before being called for his fourth personal foul, a charge, with 2:43 left in the period, which ended with Old Tappan in front 40-37.
Historically, close games are not always the norm in this round of the Jambo, but this one was an outstanding exception with a fourth quarter played in curious circumstances. In the third quarter Old Tappan was called for eight personal fouls, which put Rutherford in the bonus at the 1:09 mark. Rutherford was called for just one foul in the third period, the charge against Rogers, and was whistled for just one more through the first 5:16 of the fourth quarter. The other foul? A charge on Rogers with 3:20 left in the game that sent him the bench for good. At that point the team fouls were 9 for Old Tappan and just two against Rutherford, the two charges called against Rogers.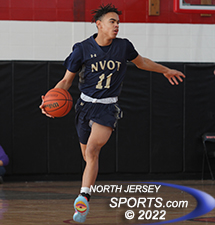 Evan Brooks scored 9 points off the bench for Old Tappan, which will play No. 4 Ridgewood in the Round of 16
That statistical anomaly aside, players on both sides stepped up in important moments. Rutherford's Ahmet Djurkovic scored in the paint on three straight possessions to give the Bulldogs their only lead of the second half, 43-42, with 6:22 to go in the game before Brooks and Frank D'Ercole combined for four straight points to put NV/OT back in front for good with 5:37 to play. Rogers' last points came in the paint and made it a one-point game again, but he was fouled out shortly thereafter and Ryan Woo's putback back gave Old Tappan a 50-45 lead with 2:25 left.
Rutherford's Sam Kelly and D'Ercole then exchanged 3s, Tarik Bicic and Heaney swapped field goals and, up 55-53 with :09.8 left, Heaney, who missed the front side 17 second earlier, hit both ends of the one-and-one to finally ice the win.
"I've been like an 80-percent free throw shooter all year, so I usually make my shots from the line and I have a lot of confidence," said Heaney. "After I missed the first one I knew I was going to make the next two. I had to give my team a two-possession lead and that was what we needed to finish the game off."
Heaney (17 points) and D'Ercole (14 points) were the double digit scorers for Old Tappan, which got offensive contributions from a bunch of players. Brooks (9 points), a sophomore who plays with a lot of confidence, and Jack Diggins combined to score 13 points off the Knights' bench. Josh Lim added 5 and Woo and Andrew Maier each made a pair of field goals for Old Tappan, which will play No. 3 Ridgewood in the Round of 16 next weekend.

Ridgewood won the regular season match-up early in the season, that was a dog's age ago as Old Tappan finally seems to come all the way back from some COVID issues that ripped through the program before the New Year.
"This was my first Jambo appearance and I loved it. It was fun and I think we made a statement," said D'Ercole. "Ridgewood was our first game of the season, we lost to them by like 10, but we are a better team now and we have a chance to prove ourselves."
Rutherford is a good team, too, and it employs what in the current times of basketball, is a unique approach. Head coach Jamie Parnofiello wants Rogers or Djurkovic to get a touch in the paint from a traditional entry pass on every possession. That duo combined for 32 points without making or attempting a 3-pointer and Rogers, despite long stretches on the bench, still finished with a game-high 19.
Tarik Basic finished with 6 points, Matthew Chin made a pair of free throws and Kelly (6 points, 2 3s), Jon Mike Santiago (5 points) and Arion Balidemaj cancelled out Old Tappan's bench scoring by combining for 13 points.

Rutherford will look to rebound quickly as it hosts Glen Rock on Tuesday night with a league title in the line.
"It's definitely a disappointing result, but the effort was there. We came out in the second half and were able to play a little faster, which protected our foul trouble a little bit. I thought Ahmet Djurkovic played awesome and our interior presence was great," said Parnofiello. "It was a few plays. An offensive rebound off a missed foul shot, a couple of missed one-and-ones early, a lane violation and there is the difference in the game right there. There were four or five points that we left on the board in the first half and in a Jambo game against a good team like Old Tappan, which played great, the little things really matter."
FOR MORE PHOTOS FROM THIS EVENT PLEASE CLICK HERE. TO BUY A COLLECTOR'S PRINT OF THIS STORY PLEASE VISIT 4-FeetGrafix.com.