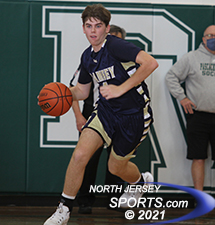 Connor Farrow knocked down a 3-pointer with :05 left to give Ramsey a come-from-behind 42-40 win over Pascack Valley at the Games to Benefit the Zack Latteri Foundation on Sunday in Hillsdale.
HILLSDALE – Trying to get the ball out of the hands of Michael Featherstone, Ramsey's senior center, is no easy task. Featherstone is a big dude, a force in the paint and the Rams' leading scorer on Sunday morning at the Games to Benefit the Zack Latteri Foundation. That is why two defenders were trying to pry the ball free as Featherstone took an entry pass on Ramsey's final possession with his team trailing by a point and the clock showing less than 10 seconds remaining..
"The defense was really slumping back on me and I knew they were going to make it hard for me to take that last shot," said Featherstone. "That was okay because I have trust in all of my teammates to make that shot in that situation. [Connor Farrow] is one of my best friends and I know that he can make a shot for the win."
So with defenders draped on his arms, Featherstone shuffled a pass out to Farrow, whose defender had left to help. Farrow lined up a three-pointer from the wing and had past experiences to draw from as he set up to launch.
"It has happened before just like this. Freshman year we played against River Dell and the exact same thing happened. My big man hit it out to me and I knocked it down," said Farrow. "Same thing today. He got the ball out to me and I hit the same shot from the same spot. It's all of the hard work that we have put in that has us ready for situations just like that."
Farrow hit nothing but net and there were just less than five seconds to play when the ball hit the floor. With no timeouts left, Pascack Valley was forced to rush in an inbounds pass and settle for a contested three-quarter court shot that was nowhere close. Ramsey led for all of 46 seconds in the game but was ahead when it counted and that was at the end of a 42-40 victory in Hillsdale.
Pascack Valley's Christian Vargas finished with a game-high 19 points.
Ramsey is now 2-0 on the season after a win over Dumont on Friday night and first-year head coach Mark Christiansen has a career winning percentage of one thousand.
"Pascack Valley is a great team, very well coached and they play so hard and play so aggressive. We knew this was going to be a big test for us and their defense gave us a lot of issues early on," said Christiansen. "I am proud of my guys for hanging in, battling through on the defensive end and getting big stops."
Ramsey played most of the first three quarters in a 2-3 zone and that suited Pascack Valley just fine. The Panthers looked comfortable in their half court offensive sets and played from in front just about the whole way.
Featherstone scored all 7 of Ramsey's first quarter points, the last of which gave the Rams their only lead of the opening period at 7-5. Jimmy Shea's two free throws forged the only tie of the first half and PV went right back in front on a Connor Higgins 3-pointer that opened the second quarter scoring.
Ramsey led for 32 seconds after a Luca Sancilio 3-pointer that made it 17-16 and for another nine seconds after a Sancilio leaked out for a fastbreak bucket that made it 19-18, but Ethan Silcher's triple at the horn gave Pascack Valley a 21-19 lead at the break and held the lead through the whole of the third quarter and even threatened to pull away. The Panthers scored six straight points in just 35 seconds with Christian Vargas scoring twice in the open floor to make it 33-25, the largest lead of the game for either teams, with 1:12 left in the third quarter.
Featherstone scored the final three points of the third quarter, the Rams came out of the zone to start the fourth and that set the stage for the entertaining finish. Michael Fuerst hit a trey and Featherstone cleaned up a mess under the basket to tie the game at 33 before Vargas ran off five straight points the other way. Pascack Valley's lead was still five, 40-35, after Shea hit both ends of a one-and-one with 3:43 to play.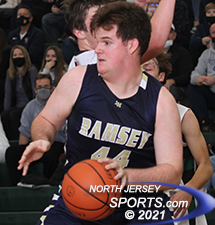 Michael Featherstone scored a team-high 18 points and assisted on the game-winner for Ramsey, which is now 2-0 on the season.
PV did not get to the free throw line often as most of its field goal attempts came from the outside against the zone or in transition before Ramsey could set up, but the Panthers did make 9 of their 10 free throws in the game, a stark contrast to Ramsey's production at the line.
After Featherstone went 3-for-3 from the stripe in the first quarter, Ramsey made just three more free throws the rest of the way. The Rams were a combined 6 of 17 for the game and just 2 of 10 in the second half, but found a work around from the behind the arc and inside the paint. Sancilio drove the lane to get Ramsey to within 38-35, made a 3 in transition to make it a 40-38 game with 2:19 left and then made a free throw to make it 40-39 with 37 seconds left.
For as well as PV shot its free throws for the game, it did miss the front end of a one-and-one with 28 seconds left and that led to Ramsey's final possession and the game-winning bucket from Farrow.
"We were actually either trying to get a shot for Luca [Sancilio] from the outside or get it inside to Mike [Featherstone], but we knew they would be doubling him. He caused a lot of problems in there for them," said Christiansen. "We knew there would be a kick-out opportunity there somewhere and I am just thankful that Connor was able to step up and make it for us. I have confidence in all of our guys and Connor got a good look and made it with confidence."
Featherstone (18 points) and Sancilio (14 points) finished in double digits for Ramsey while Farrow and Fuerst evenly split the other 10 points for the Rams. Vargas, who made three of PV's six 3-pointers, led all scorers with 19 points. Shea scored 7 of his 9 points from the free throw line and Silcher and Higgins each had 6 for the Panthers, who fell to 0-2 on the season after an Opening Night loss to Ramapo.
The rough start is beside the point, however, as Sunday was all about honoring and remembering Zack Latteri, a member of the Pascack Valley Class of 2018, who succumbed to Acute Lymphoblastic Leukemia in 2015 at the age of 15. Before each of the eight games played a representative of the Zack Latteri Foundation shared a piece of Zack's story and his legacy, which is celebrated through a variety of charitable initiatives. With the motto of "Paying it Forward," the Zack Latteri Foundation is the true embodiment of its namesake.
FOR MORE PHOTOS FROM THIS EVENT PLEASE CLICK HERE. TO BUY A COLLECTOR'S PRINT OF THIS STORY PLEASE VISIT 4-FeetGrafix.com.