Andrew Brodsky made three first hafl 3-pointeers for ninth -seeded Pascack Hiils, which advanced to the Jambo's Round of 16 with a 60-45 win over No. 24 Emerson..
WASHINGTON TOWNSHIP – It was a cold day, in a cold gym with a tip-off time before noon. Ninth-seeded Pascack Hills, the highest seeded team that was playing on Sunday in the opening round of the Bergen County Jamboree, needed to work up a sweat as it took on Emerson at Westwood Regional High School.
A couple of well-taken jumpers from the corner by senior Andrew Brodsky signaled that the Broncos were sufficiently warmed up and ready to roll. Brodsky's shot from just inside the 3-point line kicked off a 24-2 run that bridged the first and second quarters and pretty much decided the outcome. Pascack Hills cruised to a 60-45 victory that sets up what should be a humdinger of a Round of 16 matchup against eighth-seeded Tenafly on Saturday.
"It was a little chilly this morning but I kind of found my groove early in the game and that got us going," said Brodsky, part of Pascack Hills' all-senior starting lineup. "We settled down, we made the right passes, we took the right shots and we came out with a win. That was all we were looking to do."
For Emerson, the accomplishment was just being included. The Cavos had to beat Cresskill in its final game before the cutoff just two qualify for the Jambo, which it did and grabbed the 24th and final spot. Pascack Hills, however, made it tough as it jumped out to a 29-6 lead after a Brodsky 3 with 3:58 to go in the first half and led by a 37-14 score at the intermission.
But instead of getting embarrassed in the second half, Emerson got busy making some positive memories. Behind 6-foot-4 inch senior Khalid Itani, a tough match up with his length and ability to play on the wing, the Cavos outscored Pascack Hills 16-7 in the third quarter and even snuck to within single digits, 46-37, with 5:47 to play in the game after Jeremy Lachman hit a 3-pointer with 5:47 to go in the game.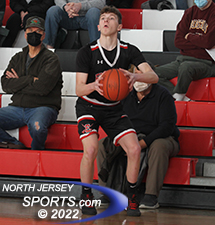 Sophomore Jason Ziemba nailed a fourth quarter 3-pointer for Emerson,.
"The second half was a little bit more of the way we are capable of playing. The tendency of the other team [with a big lead] is to relax and there was probably some of that, but they played their main guys and we started getting some offensive rebounds," said Emerson head coach John Ziemba."I don't think were aggressive enough in the first half and I want to kick myself a little bit for that because we started overplaying and we have some good athletes."
As it was starting to feel Emerson nipping at its heels, Pascack Hills got an easy bucket from Ian Solomon off a well-executed inbounds play to push the lead back to double digits for good. Aidan Berson completed a conventional 3-point play and made both ends of a one-and-one with 3:36 to go to cement the advantage.
"We didn't come out on fire, but we had a great second quarter to turn the game around in our favor," said Pascack Hills head coach Paul D'Errico. "We have to get better at closing out games and that has kind of been an issue all year. I loved the way the Emerson kids played. They were tough, but in the end we got it together and got it done."
Solomon and Brodsky each finished with 16 points to lead Pascack Hills and Berson also finished in double figures with 10 Jesse Belnick added 9, Bibi Morrison had two field goals in the second quarter as the Broncos pulled away and Sammy Stewart provided a second inside presence with 3 points and 6 rebounds, Luke Gheduzzi had the other hoops for the Broncos, who can now look forward to what might be Saturday's marquee matchup in the Round of 16.
Ian Solomon and Pascack Hills will face No. 8 Tenafly in the Round of 16.
"That is going to be a tough game and we are going to have to pick up the pace more and be less sloppy then we were today," said Stewart. "For me I have to commit less fouls and stay in the game a little longer so that I can help the team, especially rebounding and defense because we are going to have to both of those things well against Tenafly."
Itani led all scorers with 17, Lachman's two fourth quarter 3-pointers got him up to 8 for the game and Thomas Trimble scored all 7 of his points in the third quarter. Thomas Gibbard (6 points), Thomas Maciera (4 points) and Jason Ziemba (3 points) rounded out the scoring for Emerson, which fell to 9-5 on the season but is better for the experience.
"We are looking ahead to the state tournament now and I told these guys that this is the kind of level that you have to get ready for," said John Ziemba. "I am happy with the way we finished out the game because that is a good team and if we did not get it together in the second half they could have beat us by 40. That didn't happen and that is a positive."
FOR MORE PHOTOS FROM THIS EVENT PLEASE CLICK HERE. TO BUY A COLLECTOR'S PRINT OF THIS STORY PLEASE VISIT 4-FeetGrafix.com.