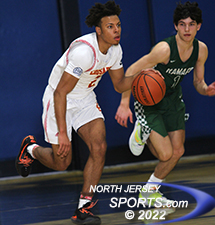 Julian Brown (left) scored 25 points for Bergen Catholic, which got a stiff test from Ramapo before posting a 77-69 win in the semifinals of the Bergen County Jamboree.
HACKENSACK – When Ramapo opened the game by scoring the first 10 points in the Bergen County Jamboree semifinals against second-seeded Bergen Catholic on Saturday, it was a nice little story. The public school, with four sophomores in the starting lineup, gave the non-public big boys a run for a while before the inevitable was bound to happen.
Then the story lasted so much longer than expected. Ramapo never faded.
Behind Peyton Seals, the 6-foot-3 sophomore point guard, who scored 25 points through the first 24 minutes, the Green Raiders trailed by just two points heading into the fourth quarter at Hackensack High School.
"This was the type of game you love to play. It was a great environment, it was the Jamboree and we were up against a great team like Bergen Catholic," said Seals. "It was all you could ask for and all that we have worked so hard for."
For all of those reasons, it is also important to credit Bergen Catholic, which took all of Ramapo's haymakers and responded in kind. Led by 25 points each from the senior back court of Julian Brown and Will Richardson and complimented inside by 6-foot-7 sophomore Brandon Benjamin, the Crusaders kept Ramapo at arm's length down the stretch and held on a for a 77-69 victory that puts them in the Bergen County final next week against top-seeded Don Bosco Prep, a 58-36 winner over No. 4 Ridgewood.
"It was a great game and my hat is off to Ramapo and their coach Nick Veir. They all did an awesome job and sometimes these games are tough to play. We came in as the favorite, they were the underdog with nothing to lose and sometimes you can come out a little bit tight," said Bergen Catholic head coach Billy Armstrong. "We finally figured it out that we had to play loose, have fun and go for it."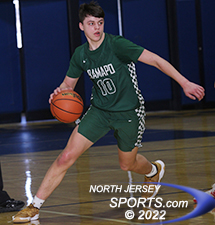 Sophomore Peyton Seals scored a game-high 27 points for Ramapo.
That was the attitude that Ramapo showed up with as it got two 3-pointers from Nate Burleson, Jr., a bucket from Wyatt Eglinton-Manner and then a driving layup from Seals to go up 10-0 just 2:13 into the game. Ramapo even pressed its advantage when Seals scored the final three points of the first quarter and the first two of the second to make it a 22-11 game in front of a stunned audience no matter which side it was rooting for.
If he was not there already, Seals sealed his spot as a first-team All-County player and Eglinton-Manner also used this stage as a showcase, but Bergen Catholic's all- Division backcourt is already well-established. Brown, who is heading to Wagner, and Richardson, a Fordham commit, combined to score 21 of BC's 25 second quarter points.
Richardson had a steal and a dunk right out a Ramapo timeout and Brown hit 3s on consecutive possessions to Bergen Catholic (17-8) its first lead of the game, 26-24, with 4:38 left in the first half. Richardson hit a step-back jumper to give his team a 36-33 lead at the break and the Crusaders scored the first four points of the second half as the looked for some separation.
Ramapo, however, was not going anywhere. Seals scored 7 of the final 9 points of the period and the fourth quarter started with BC in front by just two, 54-52.
"We punched and when they punched back these guys never went anywhere, we never faltered," said Veir, himself a former Bergen Catholic point guard. "Peyton Seals is definitely an All-County player and he put on his shoulders. He probably played his best game of the season so far. He's super talented, but he is also a leader, and he is mentally so strong, which separates him from a lot of others."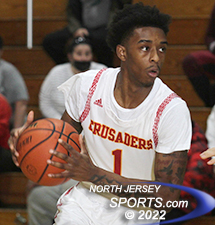 Will Richardson scored 25 points for BC, the No. 2 seed that will play No. 1 Don Bosco Prep in the Jambo final on Saturday.
The backcourt back-and-forth went slightly in BC's favor and Brown and Richardson combined for 50 points to Seals' and Eglinton Manner's 43. Burleson, Jr. (14 points), a slasher who loves to go hard on the baseline, gave Ramapo a solid third option, but Benjamin provided BC with a place to throw the ball every time it needed a basket down the stretch. Benjamin, who went for 25 points and 25 rebounds earlier in the week against Don Bosco Prep, scored four fourth quarter field goals from inside the paint and his conventional 3-point play with 4:28 to play may have been the dagger as it gave BC a 66-59 lead.
Benjamin scored 9 of his 17 points in the fourth quarter and BC never let Ramapo creep back to within a single possession the over the final 6:26. When the Raiders threatened to do so, BC had the answers. Burleson, Jr.'s 3-point play 2:21 to go got Ramapo to within 68-64, but the Crusaders used nearly a minute on their next offensive trip and ended it with a Elias Espinosa 3 from the top of the key with 1:24 left.
Eglinton Manner hit the last of his three 3-pointers to make it a 73-69 game with 36 seconds left and BC left the door open a crack by missing three straight free throws, but Espinosa and Brown each grabbed offensive rebounds to negate the damage and Brown scored four points in the final 20 seconds to ice it.
"We made some big shots at the end and we were able to gut out what was definitely a tough game," said Armstrong. "Sometimes people watch us play and say we shoot fast and we shoot some tough [shots], but we want to play fast, free and decisive and I don't want my kids thinking too much and that approach helped us in this game today."
Meanwhile, Ramapo (16-6) bowed out but not before changing the narrative of the Jambo, which has been owned by the non-publics of late. With four sophomores surrounding Grant Sloan (7 points), the loan senior on the roster, and a freshman team that made its way into the Junior Jambo Final 4 on Saturday, it is not too far-fetched to think that Ramapo will be a championship contender for the next two years at least.
"We are all really close friends and we all wanted to stay home at our public school. We thought it was the best fit for us and we would be able to play varsity and do well from a young age," said Seals, also a standout lacrosse player and also a participant in the growing sport of disc golf. "We just wanted to stay home and do what we can for our hometown."
David Musial grabbing a rebound for Bosco in its 58-36 win over Ridgewood. The Ironmen have now won 13 straight games.
The Jambo will conclude next Saturday in a 1:00 p.m. start at Hackensack High School. It will be chalk as Don Bosco Prep used the first quarter or so to get warmed up before posting its 58-36 win over Ridgewoood.
Up by just a just a point, 14-13, after a Sam Saraceno basket with 4:50 left in the second quarter, Bosco scored the next 9 points to open a double digit spread. Devon Musial made a 3-pointer from the corner and added a fastbreak dunk as part of the run, which was itself part of a larger 16-3 spurt that the Ironmen closed the half with to go up 30-15 at the break.
Evan Cabral and Isaiah Edmond finished with 11 points each and Dylan Harper added 9 for the balanced Bosco attack as the Ironmen improved to 22-3 on the season. Nicky Crane had 14 points to pace Ridgewood (19-4).
FOR MORE PHOTOS FROM THIS EVENT PLEASE CLICK HERE. TO BUY A COLLECTOR'S PRINT OF THIS STORY PLEASE VISIT 4-FeetGrafix.com.