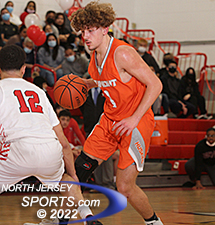 Dino Vasilakis hit for 27 points as Dumont won its fourth straight game, 53-49, in Ridgefield Park on Thursday night.
DUMONT – Dominick Barlow is the kind of player that comes through a Bergen County public school basketball program once in a generation or maybe just once ever. The 2021 graduate walked out of Dumont High School with a diploma and high six figure contract with Overtime Elite, a fledgling outfit that aims to provide a pathway to highest level of professional basketball without going the college route. No matter how far he goes, Dumont basketball will always be connected to Barlow and vice versa.
The flipside is that when a player like that, one who averaged 27.6 points, 17.0 rebounds last season, exits the high school stage, he is impossible to replace and a program with a player pool limited to just its geographical borders is usually in for a long rebuilding process.
For illustrative purposes, see Dumont's 0-8 start to this season with most of the varsity minutes being divvied up amongst an inexperienced crew of sophomores.
"It's what happens in a Group 2 school. A kid like Dom [Barlow] will come along once in my lifetime. When we had him every play I called worked. I'd look at my play sheet at the end of a game and it was like, 'They all worked.' Easy to look good when you coach a kid like him," said Dumont head coach Ken Martoral. "But when he goes, you get back to your roots. You get back to fundamentals, you teach them hard work and you get ready to take a few lumps."
Those lumps are starting to heal now and Dumont can see that its trip through the basketball wilderness might not be all that long of a hike. With a 53-49 win on the road on Thursday night, Dumont not only spoiled Ridgefield Park's Senior Night, but it also won for the fifth time in its last six games and for the fourth time in a row. Dumont has gone from 0-8 to 1-11 and now to 6-12 as the learning curve accelerates.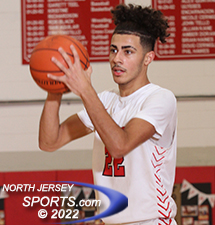 Ridgefield Park's Andrew Minaya hit 5 first half 3-pointers and finished with a team-high 19 points..
"We just stick with it. Coach [Martoral] pushes us so hard in practice and we have just come along so much since the beginning of the year," said Dino Vasilakis, one of those Dumont sophomores that has learned on the job. "We are all buying into the process. It's all-out effort from everyone all the time and we are just getting it done right now."
While Dumont has reason to celebrate it future, Ridgefield Park, in front of a throaty student section, used the night to toast its present group of seniors, which will leave quite a legacy when this season ends. As freshmen, this group became the first ever Ridgefield Park basketball team to win a county championship when it won the 2019 Junior Jambo, the Bergen County Freshmen Tournament.
Injuries have taken their toll this season as Romel Camilo, a first team All-County caliber player, has missed the last 11 games and point guard Jose Muniz tore his ACL and had not played at all this season except for a ceremonial start on Senior Night as he took an open lay-up off an assist from Camilo to open the scoring. That was matched by a basket for Dumont senior Noah Rodriguez before all three exited and the Huskies got hot shortly thereafter.
Dino Vasilakis three first quarter 3-pointers, his brother, Nick, scored on a putback to push Dumont into double digit lead for the first time at 19-9 and it was up 21-14 after the opening period. The Huskies led by as many as 11 in the first half with Dino Vasilakis, on his way to career-type night, scored 16 of his game-high 27 points before the intermission, which came with Dumont in front 33-27. Dino Vasilakis added 8 more points to his total in the third quarter and the Huskies held RP to just five points in the period to take a 43-32 lead heading into the fourth.
Ridgefield Park, through all of its injuries, has hung tough all season and did so again, spurred on by the crowd that was supportive the whole way. Donovan Perry sandwiched a pair of 3-pointers around a Giancarlos Camilo put back in a quick 8-0 spurt that got the Scarlets to within 45-42 with 4:45 left to play in the game.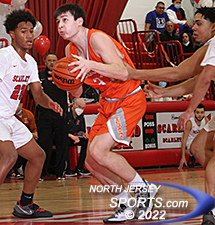 Freddy Herbst scored 12 points for Dumont, which improved to 6-12 on the season after an 0-8 start.
Ridgefield Park made just two more field goals the rest of the way, but Dumont could not deliver the knockout punch from the free throw line. The Huskies left their opponent hanging around by making just 5 of 13 fourth quarter free throws, but Freddy Herbst, another Dumont sophomore, made the last two and they finally put the game out of reach, turning a one-possession game into a four-point lead with a shade less than two seconds to play.
Dino Vasilakis and Herbst (12 points) led Dumont in scoring and each made three 3-pointers. Jackson Angeles (6 points) also made a trey, Nick Vasilakis added 5 points and Rodriguez and Nick Giangregorio split the other two field goals for the Huskies.
"We should have made more free throws, but no matter what we all trust each other to come through at the end of games and tonight we did," said Herbst. "We have 100-percent trust in each other and we give it our all. We had the worst start that we could. We were 0-8, but we never stopped grinding and we get better every single day. That is how we have progressed."
The progression is undeniable.
"We are on a nice little run now. We have won four in a row, we have won five out of the last six and we came back on our second round of league play and beat everyone that we lost to initially, except for Fort Lee, which went undefeated in our league and has had a great season," said Martoral, whose team has four games remaining. "This was a great win for us in a great atmosphere because [Ridgefield Park head coach Chris] Gaskin does a great job with this program year in and year out and that is a talented group of guys. If he had his two boys [Muniz and Camilo] available it might have been a different story, but we made some shots today and our team continues to improve."
Andrew Minaya made five first half 3-pointers and finished with a game-high 19 points for Ridgefield Park and Perry made two 3-pointers in the fourth quarter when he scored 7 of his 10.
FOR MORE PHOTOS FROM THIS EVENT PLEASE CLICK HERE. TO BUY A COLLECTOR'S PRINT OF THIS STORY PLEASE VISIT 4-FeetGrafix.com.