Junior Alexa Lora shooting one of the two straight three-pointers that gave Ramapo some breathing room in a 53-40 win over Montville in the North 1, Group 3 state sectional semifinals.
FRANKLIN LAKES – Struggling might be too strong a word, but Ramapo, the No. 2 seed in the North 1, Group 3 state sectional tournament playing on its own home floor in the semifinal round on Saturday was a little sluggish. The Green Raiders saw Montville come out of the locker room firing and were stuck in a back-and-forth contest midway through the second quarter.
Then junior Alexa Lora got two open looks from just about the exact same spot on consecutive possessions.
Swish on the first one, the same on No. 2 and Lora turned a tenuous 2-point lead into an eight-point edge in the matter of 41 seconds to officially turn the tide for good. After being outscored 12-2 in the first 4:23 of the game, Ramapo responded by outscoring Montville 31-12 in the middle quarters of a 53-40 win that send the Raiders on to the final, which will be played on the road at top-seeded Sparta on Monday.
"I had a rough last game against Teaneck. I couldn't get anything to drop. When I got the chance today to help my team put a foot on the gas I had to shoot those open shots and make them," said Lora, a junior and the only non-senior in Ramapo's starting lineup. "Ever since I got here we have played with a target on our back and we have gotten used to that pressure. We know everyone is coming for us and we have to show them who we are and what we can do."
Carey Werheim scored inside on the first possession of the game to get Montville off to a good start and Werheim also buried a 3-pointer from the win to cap the Mustangs' 12-2 run that lasted for the first 4:23 of the game. Ramapo turned the ball over six times in the first quarter and, on the heels of a 3-for-25 performance from behind the arc in the quarterfinal scare against Teaneck, there might have been a little bit of a crisis of confidence if momentum did not change quickly.
It did.
Carey Werheim scored a game-high 14 points for Montville.
Savannah Ring scored the final seven points of the first quarter to draw the Raiders back to within a single point, Madison Schiller gave Ramapo its first with a 3-pointer for the first points of the second quarter and a Maggie Murtha bucket broke the game's final tie and kicked off a 16-0 run that turned the game on its head. Lora's two 3s were a big part of that decisive wave against a Montville team that Ramapo beat by 39 points back on February 1.
"I'd say our start was very uncharacteristic. We knew they were not going to be the same team that we saw the first time around. The first time we played them they could not throw it in the ocean, this time they made every shot," said Ramapo head coach Sandy Gordon. "We were 3-for-25 in our last game and everyone might have started second-guessing themselves. I told Lora that even if she missed for first one to keep going. She is a shooter, she can get hot and those two 3s that she made helped us settle in."
Ramapo (26-1) led 28-19 at halftime and then had another strong close to a period when it scored the final seven points of the third to stretch its advantage to 42-24. The last two of those points came from Maddie Kellogg, a welcome re-addition to the rotation who is back healthy after a January 14th surgery to remove a benign tumor from her face.
"I just came off of a big surgery, so I have just been getting back into things and trying to get my stamina back. To be able to get back on the court before the season ends is just insane. I am so happy to be back," said Kellogg, a junior and also a goalkeeper on the Raiders' soccer team. "I was cleared to come back on the 14th of February. I have just really been able to get back into soccer and basketball and I am even just happy to be able to run again. I wasn't even able to get my heart rate up there for a while, so to be back and be able to contribute today is just amazing."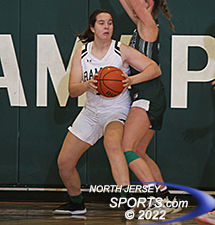 Junior Maddie Kellogg is back in the Ramapo rotation after returning from a senior surgery.
With such an experienced starting unit, Ramapo keeps its rotation tight, but with senior Lexi Wolfe nursing a bit of an injury, there have been a few extra minutes available and Murtha, Erin Saxton and Kellogg all cycled through on Saturday, Kellogg, who adds much-need length and a hard-nose approach, scored four points and could be an asset against Sparta and its formidable front line.
And then there are the usual suspects, the senior trio of Ring (14 points), Julia Corella (6 points) and Schiller (8 points, 12 rebounds), who have been through it all as multi-year starters. Along with Lora (17 points), they combined for 45 of the Raiders' 53 points against Montville.
They will be counted upon heavily in the rematch on the road at Sparta. Ramapo's state playoff winning streak has reached eight games and covers three seasons. The Raiders won the 2020 state sectional championship and the Group 3 state semifinal before COVID halted the postseason right there. Ramapo went a perfect 15-0 last year, but there was no postseason and this year they are 3-0 heading into the final against Sparta, the team they knocked off in the 2020 championship game.
"Sparta is beyond good. They have all the pieces, all the parts. They have the size, they have the guard play," said Gordon. "We'll get some film work in, we will come up with a game plan and we will go up there and fight like heck."
FOR MORE PHOTOS FROM THIS EVENT PLEASE CLICK HERE. TO BUY A COLLECTOR'S PRINT OF THIS STORY PLEASE VISIT 4-FeetGrafix.com.