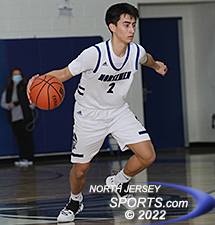 Senior Ryan Sabot made four 3-pointers and led NV/Demarest with 26 points in a 69-57 win over Pascack Valley on Tuesday.
DEMAREST – If there is a Bergen County Jamboree this season, Northern Valley/Demarest wants in. The Norsemen, a rare public school team that has made it through the first three weeks without a cancellation, improved to 6-1 with a 69-57 win over Pascack Valley, which was coming off a 10-day layoff and was playing just its third game of the year.
"This program has not been to the Jambo since the year they won the state sectional [in 2018] so none of these guys were involved. I think we are a good enough team to make it and these guys certainly work hard enough," said Pat Gabriele, Demarest head coach who is making his return to high school basketball after a decade as an assistant and Ramapo College. "They were pretty good last year but they didn't get the chance because of the shortened season, so I hope we can weather this storm, that the Jambo is not affected and that we make it."
One advantage that Demarest has and that has taken on even more importance in current times is depth. The Norsemen used 12 players, eight of them scored, and all of them helped wear down Pascack Valley, which had not played a game since December 19. The Panthers looked happy to be back as they scored 8 of the game's first 10 points, but Demarest reeled them back in quickly.
Ryan Sabot nailed a 3-pointer off an inbounds pass to tie the game at 11 as Demarest pushed the game to the high tempo that it prefers. Pascack Valley's last two leads came at 12-11 after a Jimmy Shea free throw and at 14-13 after a Christian Vargas drive, but Malcolm Solomon's buzzer beater gave Demarest a 17-14 lead after one quarter.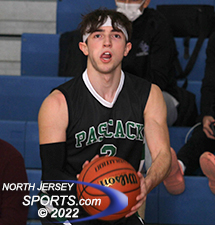 Christian Vargas scored a team-high 26 points for Pascack Valley..
There was one more as a 5-0 run by Pascack Valley, a 3-pointer by Vargas and a bucket in the paint by Shea, tied the game for the last time at 19 with 5:40 left in the first half, but the game changed for good the next time down the floor. Sabot was fouled while making a 3-pointer, he finished off the 4-point play and kicked off an 11-0 run that turned the game from back-and-fourth to a double digit Demarest lead in the span of 3:10.
"The style that Coach Gabriele wants us to play is much faster and with the personnel that we have it allows us to play to our strengths, to get out and finish in the open court," said Sabot, who scored a season high 29 points in win over host Wood-Ridge in the Herb Cohen Holiday Tournament last week and led Demarest with 26 on Tuesday night. "We get more open shots, more 3s and it also forces the other team to turn the ball over, which gives us more possessions. I really like Coach Gabriele's coaching style and we are very grateful to have him."
Sabot hit a step-back 3 and Jon Wu scored on the fastbreak to give Demarest the final five points of the second quarter and a 35-21 lead at the intermission. The Norsemen led by as many as 16 twice in the third period, held a 51-35 advantage heading into the final period and took their largest lead of the night at 53-35 after Sabot his two free throws, to fourth quarter scoring, but Pascack Valley hung in there.
The Panthers cut the deficit to 11 at 57-46 with a Connor Higgins 3-pointer with 4:08 to play and inside double digits at 60-52 at the end of a 6-0 run with 1:45 to go and to 62-55 with 1:26 to play when Vargas scored off an inbounds play, but that was as close as they could get. Demarest made 5 of 6 free throws in the final 1:20 to keep PV at bay.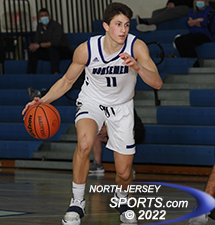 Brandon Srebnik (14 points) was one of three Demarest starters to finish in double figures.
"I will never question the effort of this team; we just have a lot to clean up execution wise. I thought, at times, our inexperience has shown through our first three games. It definitely did tonight," said PV head coach Al Coleman. "We are relatively young and we are going through some growing pains. My message to them today was to stick together. We need to create our own luck, get some of these bounces to go our way and when it turns it will turn for the better."
Vargas is the only Pascack Valley player with any previous varsity experience and that was gained last year in the COVID shortened season. The Panthers fell to 0-3, but those losses have come against three of the top public schools in the Big North Conference, Ramapo, Ramsey and now Demarest. Vargas finished with a team-high 26 including four 3-pointers. Shea (11 points) also reached double figures and Connor Higgins added 8. Devin Merker scored all five of his points in the third quarter and Ethan Silcher was 3 of 4 from the free throw line in the fourth quarter. PV finished 15 of 21 from the free throw line for the game, 12 of 16 in the second half and 8 of 10 in the fourth quarter. Trevor Kirkby, a freshman starter with a well-known last name in northern Bergen County basketball circles, added a field goal as did Elias Karalewski off the bench. Kirkby is the son of former Pascack Hills head coach Chris Kirkby.
Sabot led the way for Demarest, which had three players finish in double figures. Wu, in his first game back from quarantine, added 17 and Brandon Srebnick had 14, including a 6-for-6 performance from the free throw line in the fourth quarter. In all, Demarest finished 16 of 18 from the line in the game including a 12-for-14 showing in the fourth quarter, which kept PV from getting too close down the stretch. Sean Vadis and Sam Platin scored 4 points apiece and Solomon and Kyle Miller each made field goals for Demarest, which is building a solid resume.
"It's awesome to be on a winning team and we don't take anything for granted. Pascack Valley is a great program, we knew that coming in here tonight, but we stuck to Coach Gabriele's game plan and his schemes are obviously working for us," said Vadis, a three-sport standout and one of eight seniors on Demarest's roster. "A lot of us have been playing together since second or third grade, guys like Wu and Sabot, we clearly have the chemistry. We play well together and we are striving to make the Jambo and get to play in it together in a great atmosphere. Hopefully we can have the fans back by then."
Wu has a similar outlook.
"One of our best attributes is just how close we are, how bonded we are as friends and teammates," said Wu. "We put our all into every practice; every game and we think we are mentally prepared to have a great season."
FOR MORE PHOTOS FROM THIS EVENT PLEASE CLICK HERE. TO BUY A COLLECTOR'S PRINT OF THIS STORY PLEASE VISIT 4-FeetGrafix.com.