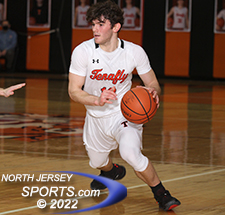 John Celli had 14 points and added 5 assists for Tenafly, which held off a spirited Pascack Valley, 63-62, in the opening round of the North 1, Group 3 state tournament.
TENAFLY – Up 12 points after the third quarter and by 15 after Yoav Regev hit a 3-pointer to open the fourth quarter scoring, Tenafly, the No. 2 seed in the North 1, Group 3 state sectional tournament, was cruising. Having led since John Celli hit a 3-pointer 35 seconds into the game, Tenafly spent most of the night pushing 15th-seeded Pascack Valley to the brink of being run right out of the gym.
Tenafly took its first double-digit lead 6:27 in the game, had PV doubled up on the scoreboard, 20-10, by the end of the first quarter and hit its high-water mark with a 17-point lead midway through the third quarter. If Pascack Valley was in the game at all over the first three quarters plus 23 seconds, it was just barely at best.
But what fun would a high school basketball playoff game, one played in front of a substantial crowd with dueling student sections be if it just followed the same script for the 32 minutes leading up to the handshake? The answer is no fun at all, and this game, starting with a Conor Higgins' free throw with 6:42 remaining in regulation, if nothing else, was fun.
In desperation mode that involved a 40-Minutes-of-Havoc type full court pressure, Pascack Valley nearly made it all the way back. In fact, the Panthers were, literally, an inch or less away from forcing overtime. Freshman Devin Merker, who played a brilliant second half and marked himself as a player to keep an eye on for the next three years, hit a jumper from the wing with five seconds remaining.
Merker's toe was not over the 3-point line, but on the 3-point line on his release with a hand in his face. With Pascack Valley out of timeouts and unable to foul quickly enough, the clock whittled away as Tenafly inbounded the ball for the final time in a 63-62 victory. The referees conferred briefly to properly confirm that it was a two-point field goal and the Tigers are on to the sectional quarterfinals where they will host No. 7 West Essex on Thursday night. West Essex was a 66-57 winner over 10th-seeded Northern Valley/Old Tappan.
"In the states if you win, you move on. It does not matter if you win by one or by 30, but what a high school basketball game that was. So scary at the end," said Tenafly head coach Jeff Koehler. "That Pascack Valley team is relentless. They never give up, they have good shooters, they are young and they battled."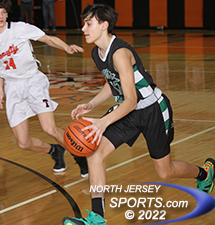 Pascack Valley freshman Devin Mercker scored a game-high 19 points and was inch or so away from tying the game on the last shot taken.
That the fourth quarter turned into a playoff classic was a complete surprise judging by the game's first 24 minutes. Tenafly pretty much picked apart the Pascack Valley defense with quick ball movement and unselfish play. John Celli (14 points, 5 assists) made two 3-pointers and scored 9 points and had two assists in the first quarter. His steal and layup with 1:05 in the opening period gave Tenafly an 18-5 lead.
"In the beginning we were moving the ball. A 20-point first quarter is great, we were getting open shots, hitting them and doing everything right," said Celli, one of Tenafly's five senior starters. "It was closer than we anticipated in the fourth quarter, especially when you look at the rest of the game. PV made a really great comeback. I have to give all the credit to them, their players and their coaching staff."
Pascack Valley scored the last three points of the first half on a Conor Higgins trey to make it a 38-27  game, but Reilly Benowitz (15 points) pushed the Panthers right back to the bottom of the hill with a pair of 3-pointers on consecutive possessions to make it 45-29 just over two minutes into the second half. Celli picked up some loose change under the basket to make it 56-44 Tenafly heading into the fourth quarter, Regev (13 points) tacked on three more at the start of the final period and then all heck broke loose as PV was forced into contesting all 90 feet.
The press did not show all that much early promise as Tenafly went up 63-49 with 4:09 remaining after consecutive Benowitz baskets, but Merker hit a 3-pointer at the other end and from there it was game on. Merker's bucket kicked off the 13-0 run that the Panthers closed the game with.
Jimmy Shea, who was held scoreless in the first half, came alive in the second half and, more importantly, in the fourth quarter. He scored underneath to get PV back to within single digits 63-54, Merker hit both ends of a one-and-one with 2:05 to play and Higgins made a steal and a layup. When Shea scored with 1:19 to go in the game, he drew his team to within 63-60, the first time that the Panthers had been within one possession since the score was 5-2. Further bolstering PV's comeback was its lack of second half fouls. It had five to give in the final two minutes, which allowed for free chances and aggressive attempts to steal the ball. When Tenafly finally got in the bonus with just under 30 seconds to play it missed the front end and then did so again with 18 seconds left to give PV the ball and a chance to tie.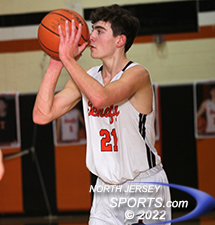 Reilly Benowitz scored a game-high 15 points for Tenafly, which will host West Essex in the quarterfinals on Thursday.
Merker scored 15 of his game-high 19 points in the second half and 9 of those in the fourth quarter, including the deep two on the last shot of the game. Although his final shot was launched from an inch close than he might have wanted, Merker saw a season's worth of hard work and varsity experience all come together in one brilliant quarter of basketball that bodes well for the Panthers' future.
"Devin Merker has a high ceiling. He is a puppy who is figuring it out right now. He has gotten better and better all year and when his body starts matching his skills, he is going to be a problem going forward," said Pascack Valley head coach Al Coleman. "I told [Merker] in the locker room that he is the Kevin Durant of the Tenafly game; that if his 14-and-a-half [sized shoes] were 12s we would be in overtime right now. He's a great kid and great competitor and he left it all out there tonight."
Pascack Valley rallied from an 0-3 start to make the Bergen County Jamboree and then won a game when it got there. It rallied to make the state tournament and then almost pulled a stunner on Tuesday night. The Panthers finished their season at 11-11 and laid the groundwork for what should be a sustained run of success of the next couple of years at least.
"Ethan Silcher is our lone senior. I have so much admiration and respect for what he has done all year and the leader he has been for these young kids. He will be missed," said Coleman. "But I am definitely looking forward to what the future holds."
Christian Vargas kept Pascack Valley afloat in the first half when he scored 13 of his 18 points. Shea and Higgins each scored 9 points and of their combined 18 points, 15 of them came in the second half. Silcher finished with 4 and freshman Trevor Kirkby had the other 3 points for the Panthers, which means that of the 62 points their scored, 58 of them were by players who will be back in the green and black next season.
Tenafly might not have closed out the game the way it wanted to, but it can take confidence that any win in the North 1, Group 3 state sectional bracket in any year is an achievement in itself. The section is notorious for being blown up in the opening round and this year is no different. In addition to the 15 seed pushing the 2 to the edge, the third-seeded Morris Knolls was whacked by No. 14 Teaneck (69-54), No. 11 Sparta eliminated No. 6 Fort Lee (45-41), and No. 13 Paramus kept its best season in decades going with a 46-43 upset on the road at No. 4 Wayne Valley. Paramus will visit No. 5 River Dell in the next round after the Golden Hawks survived in overtime against 10th-seeded Wayne Hills.
There is no use handicapping the rest of it as North 1, Group 3 rarely sticks to the plan and Tenafly has as good a chance as anyone, especially with home court advantage for the next two games at least if it can hang around that long.
"These are my best friends since forever. I love all of these guys and just being able to play another day is the best thing about this. Everything is about getting to play another day," said Tenafly point guard Ben Roberts, who will pick up the lacrosse stick as soon as this hoops season comes to an end. "This experience, state tournament basketball, I don't even know what to say. I am at a loss for words. I am just having a great time."
FOR MORE PHOTOS FROM THIS EVENT PLEASE CLICK HERE. TO BUY A COLLECTOR'S PRINT OF THIS STORY PLEASE VISIT 4-FeetGrafix.com.