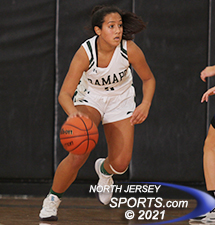 Junior Alexa Lora scored all 8 of her points in the second half to help Ramapo erase a halftime deficit on the way to a 48-41 win over NV/Demarest in the opening round of the Westwood Holiday Tournament.
WASHINGTON TOWNSHIP – These words come with  lots of knocking on wood, lots of crossed fingers and various other superstitions that might help lessen the liability of writing them if things go south, but here goes…Ramapo's girls basketball team has stayed one step ahead of COVID, which is again wreaking havoc on the winter sports season.
It was Ramapo that played one of the first games behind closed doors when they reached and subsequently won the Group 3 state semifinals in one of the last contests played in the state before the 2019-20 season ended prematurely. The Raiders were one of the few teams in North Jersey to avoid a shutdown and get in all of the 15 games they were allotted last season and won them all.
This year, as the field for the Westwood Holiday Tournament was reduced by positive tests and close contact tracing, Ramapo that kept its spot and was ready for the opening tip-off at high noon on Monday.
Maybe the Raiders are a scientific or statistical anomaly or maybe it is something a bit more simplistic.
"It's amazing but I think one of the big reasons is that on this team we just all love each other so much that we are with each other all of the time," said senior Madison Schiller. "We try to stay together, we try to limit our contact with other people and we get along so well that we are happy to hang out with each other all the time."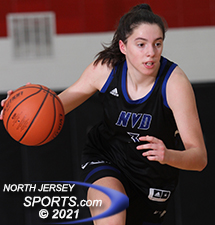 Demarest sophomore Cristina Parrela scored all 22 of her team's first half points.
Still, with Fair Lawn out of commission, Ramapo needed a new first round opponent and not every public school would be willing to get in the ring with the Raiders, contenders for a state championship and one of the best three or four teams in Bergen County. Enter Northern Valley/Demarest, which accepted the challenge on short notice.
"At this point I will play anybody and let's just have some fun," said Demarest head coach Jenny Jurjevic. "When the opportunity came up I was like, 'I am in.' We are 1-3 right now, but that doesn't bother me. Every game we get is a chance to get better."
The last minute match-making turned into an entertaining matchup as Demarest sophomore Cristina Parrela put on a show in the first half to the tune of scoring all 22 of her team's points before Ramapo turned up the defensive screws in the second half on the way to a 48-41 victory to run its record to 3-0 on the season.
Parrela hit three first quarter 3-pointers, including two in a row during a personal 8-0 run in the final 1:27 of the period to put the Norsewomen up 13-12 and her free throw with :02 left in the first half gave Demarest a hard-earned 22-21 advantage at the intermission.
"We scrimmaged them a couple of weeks ago, so we knew that [Parrela] was a good player. We just couldn't let her sustain it for the second half," said Ramapo head coach Sandy Gordon. "Some of it was us. We just did not do a good job defensively, but take nothing away from her. She made a lot of tough shots and we had to make somebody else beat us, make another one of their players put the ball in the basket."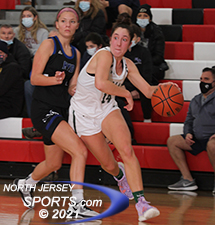 Julia Corella, one of four seniors in the starting lineup, finished with 5 points for Ramapo, which is now 3-0 on the season.
Ramapo has plenty of talent, too, so there was never any panic. In fact, the less they tried to do with the ball individually, the better the Raiders looked on offense. Nobody tried to make it a game of H-O-R-S-E.
Schiller, who recently committed to play Division 1 basketball at Colgate University, scored the first five points of the second half and of a 7-0 run that Ramapo used to go back in front for good, but it was one particular play that summed up the Raiders' offensive approach.
"One of the plays that really showed how we play when we are at our best came when [Savannah] Ring was driving, she kicked it to me and then I just handed right off to Julia [Corella] for the open layup [that made it 32-24 with 4:08 left in the third quarter]," said Schiller. "It was a 3-on-1 and the ball moved so fast, the whole crowd recognized it and that was the one play that showed what we can do."
Parrela made her only field goal of the second half to get Demarest back to within 32-26 with 2:21 left in the third quarter, but Alexa Lora nailed a 3-pointer to put the Raiders up by nine, Schiller hit a 3 from corner to push the lead into double digits for the first time, 38-26, 17 seconds into the final quarter.
Lora, a junior, is the only non-senior in Ramapo's starting lineup and did her best work in the second half when she scored all 8 of her points.
"I just try to play my role. We have our main scorers Schiller and Corella, so I do whatever can in support," said Lora. "Whether it is a 3-pointer or distributing the ball to the right places or working hard on defense, I just try to do my part to help us win."
Schiller made four of Ramapo's five 3-pointers and finished with a game-high 26 points with 16 of those coming in the second half. Ring scored all 6 of her points in the first half, Corella finished with 5 and the Raiders' only two bench points came on a foul line jumper by sophomore
"We are a very talented team and we are at our best when we share the ball. We are fortunate that we have a bunch of players that can make a shot for us on any given possession," said Gordon. "In fairness to Demarest, they played us tough and we are just thankful for the opportunity to play. They did not have to come and play us and we have to be excited every time we take the floor because any game in these times could be the last one we get to play."
Parrela was brilliant in the first half on the way to a team-high 24 for Demarest. Ramapo's switch to its tricky 1-2-2 zone helped slow the sophomore in the second half and the added attention is something she is getting used to as the player that every opponent is game-planning to stop.
"The key with her is getting her used to playing in a high school setting. She is used to AAU basketball, and high-level AAU basketball, which is great, but it is a little different here. Teams scout you, she has a target on her back now and she has to learn how to play through frustrations and she has been doing that the best that I could ask of her so far," said Jurjevic, who dressed just seven players for the game. "We need more consistency. We are a team that really got burned last year, like a lot of others. We needed more games under our belt and we only got 12. If we had more we might be a little bit further along that we are now, but we will keep working on it."
Liz Argenziano (10 points) did all of her scoring in the fourth quarter to reach doubles figures and Taylor Miller (4 points) and Sara Slowikowski (3 points) rounded out the scoring for Demarest, which will most likely play Westwood, which lost to Paramus Catholic in the nightcap, on Tuesday.
FOR MORE PHOTOS FROM THIS EVENT PLEASE CLICK HERE. TO BUY A COLLECTOR'S PRINT OF THIS STORY PLEASE VISIT 4-FeetGrafix.com.