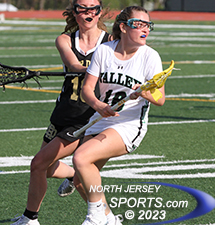 Sophomore Courtney Pellisson led all scorers with 5 goals and Pascack Valley extended its winning streak to six games with a 14-10 win over River Dell in Thursday.
HILLSDALE – With 15 seconds to go in the first half of Thursday afternoon's battle between two unbeaten teams, Pascack Valley had finally taken the lead for the first time. Having trailed by as many as three in the opening 25 minutes and chasing a talented River Dell side, two plays separated by just over one minute finally gave the Panthers some momentum.
Sophomore Courtney Pellisson scored off a restart with 1:17 to go in the half to get Pascack Valley even and then drew a charge at the other end of the field that gave the Panthers another possession, which resulted in a goal in transition for Jayden Rosenthal that put the home team up by a goal just 15 seconds before the intermission.
That advantage, however, did not even last until the air horn sounded. A crazy bounce of the hard rubber ball off the post gave River Dell's Megan Harnett a second chance off her own missed shot and she snuck it home just as the clock hit :00 on the scoreboard that still says "Home of the Indians" to pull the Golden Hawks even with Pascack Valley on Thursday afternoon.
Everything was still up for grabs when the second half started and another Pascack Valley sophomore, Ella Saxon, was up for the challenge. Pellisson won the opening face-off, Saxon turned it into a goal just 53 seconds into the second half and Pascack Valley was in front for good.
"I don't even remember how it all happened, but I know I was thinking that I just had to keep going to goal. The crease is my place," said Saxon. "I trust my teammates to get the ball down and put balls in and I know they trust me, too."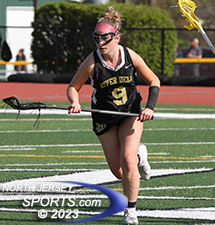 Megan Hartnett had three goals for River Dell, which is now 5-1 on the season.
Saxon's goal gave Pascack Valley a 9-8 lead and it was the defense that shined the rest of the way as the Panthers held River Dell to just one goal through the first 21-plus minutes of the second half in a 14-10 victory that runs PV's winning streak to start the season to six straight games.
"I personally did not eat a thing all day. River Dell/Pascack Valley has always been a great rivalry even when it is not two undefeated teams. Both teams just go really hard against each other and it is always back and forth until the very end," said PV head coach Melissa Velez. "Our defense has not gotten as much attention as I believe we should. We are playing some very tough teams and we have all sophomores and freshmen down there except for our senior goalie [Morgan Jones]. We have been awed by how well our defense has played."
River Dell got off to a fast start with three straight goals, the first by Megan Harnett and the nest two by Nicole Gangemi, giving the Hawks their largest lead of the game, 4-1, with 14:32 remaining in the first half. It was back-and-forth from there as PV crept to within one on three different equations before finally being able to get back even at 7 on Pellisson's goal, the first of three combined by the two teams in the final 1:17 of the first half that led to the 8-all deadlock.
"I think we were a little low on energy in the first half, so we knew we had to change that in the second half. We had to trust our teammates, trust in what we are capable of doing because we worked so hard for this," said Pellisson, who led all scorers with five goals. "We are a young team, but we have such a good bond. We fit well together."
Sophomore Ella Saxon had four goals, including the go-ahead score early in the second half for Pascack Valley.
Pellisson scored on spin move and a well-placed shot over the basket of River Dell keeper Samantha Idiculla (10 saves) to make it 10-8. The Hawks got back to within one goal for the final time on Hannah Esler's fastbreak tally, but Pellisson left a defender on the turf with another spin move to make it 11-9 with 17:07 left and the Panthers maintained their distance the rest of the way.
Harnett and Gangemi each scored three times to lead River Dell, while Isabella Gilmour, Ayva Gallagher, Mia Kurtz and Essler each scored a goal apiece. Gilmour and Logan Quinn each added two assists for the Hawks, who lost for the first time this season and are now 5-1.
Pellisson led the way with her five goals, Saxon added five and Mia Boretti finished with three for PV. Jenna Reinhart and Rosenthal had the other two goals. The defense, anchored by Jones, who made eight saves including the 200th of her career, was stout the whole way through, but especially in the second half. Reilly Hirsch, Celina Bussanich, Margo Perlman, Olivia Glasser and Emma Spence all played well in front of Jones.
With the 6-0 start overall and a 3-0 mark in the American North Division, the sky is the limit for PV this season.
"I don't think this group is intimidated by much. I think I stress more than they stress. They are young, but they are driven and they work really hard," said Velez. "The great thing is that I feel like they work even harder the tougher things get. This group is relentless, they will not give up and they are having fun playing together."
FOR MORE PHOTOS FROM THIS EVENT CLICK HERE. TO BUY A COLLECTOR'S PRINT OF THIS STORY PLEASE VISIT 4-FeetGrafix.com.