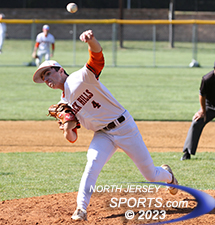 Junior Joey "Rook" Giordano allowed just one run in 6 2/3 innings for Pascack Hills, which advanced to the North 1, Group 2 state sectional semifinl with a 3-1 win over league rival Westwood.
MONTVALE – Joey Giordano earned the nickname "Rook" (short for Rookie) when he cracked the varsity rotation two years ago as a freshman. While he still goes by that moniker, Giordano is no longer a newbie. Now he is a seasoned veteran who, over the past couple of years, has added some finesse to his arsenal which has always been well-stocked with the hard stuff.
Using a changeup that he has developed over the last couple of seasons and the competitiveness that has made him a three-year varsity starter, Giordano just about went the distance in Thursday's North 1, Group 2 state sectional quarterfinal. His 110th and final pitch got the second out of the seventh inning and Giordano's heir apparent, freshman Kyle Wenckus, got the 21st out as Pascack Hills held off league rival Westwood, 3-1, in Montvale.
""It was mostly fastball/change-up with a few curves mixed in over the top on two strike counts," said Giordano (6 2/3 IP, 1 R, 1 ER, 5 H, 6 K, 3 BB, W)."It was tough pitching against [Westwood]. They are a very scrappy team, they have good at bats and we had to find a way to get past them."
These two teams split the regular season series with the first of those back-to-backs played on April 24 in Montvale, a 4-2 Westwood victory. That loss dropped Pascack Hills to 7-6 on the season, but it was also the turning point. The Broncos have won 11 of their last 12 games with the lone loss coming against Don Bosco Prep in the Bergen County Tournament.
Hills has been on fire as of late and gave Giordano a lead to work with in the bottom of the first inning with a mini two-out rally that was kept alive by Dominick Musco, who beat the relay on a potential double play ball. Musco, the senior catcher who does not give way to a courtesy runner, stole second and then scored on Matt Tortora's clutch two-out single to make it 1-0.
Andrew Dillingham allowed just two earned runs in going the distance for Westwood, whcih finished it season with an 18-10 record.
TJ Ardese (1-for-3, R, 2B), who was a perfect 3-for-3 in Westwood's opening round win over Dumont on Monday, got his fourth straight hit, a leadoff double in the top of the second. He scored to tie the game three batters later on Joe Klein's infield single, but Giordano limited the damage. Westwood had two hits, a walk and three stolen bases in the inning, but Giordano got three ground balls that were all fielded cleanly to keep the carousel from turning.
Pascack Hills traded bases for outs and Giordano helped his out cause by fielding a come-backer and cutting down a runner who was off from third base on contact. Musco applied the tag between home and third without the trail runner advancing and Tortora was smooth on a groundball to shortstop for the final out, which was recorded with two runners in scoring position.
Pascack Hills small-balled its way to a 2-1 lead in the third inning when Wenckus (1-for-3, R) reached on the lone error committed by either team in the crisply played game that took just 104 minutes to complete. Giordano got down a sacrifice bunt, a pitch that skipped to the short backstop allowed Wenckus to move within 90 feet of home plate and Musco (0-for-2, RBI, R, SB) lifted a sac fly to put the Broncos in front for good.
Musco would make a top-notch coach should he choose to pursue that line of work, In fact, he kind of already is. He is the rare high school catcher trusted with calling his own pitches and he knew the down and distance when he took his big at bat that delivered what turned into the game-winning run.
"That was a really good read by Kyle to get to third base on the passed ball the pitch before and I got a pitch up. I was thinking sacrifice fly all the way anyway, so I was able to lift it the right side," said Musco. "That is all we are really trying to do is win the situation every time and find a way to scratch some [runs] across."
The situation that Hills head coach Nick Evans pointed to as the one that turned the tide came in the top of the fourth inning. Sam Arcieri led off with a too-hot-to-handle single and went to second on Jack Dugan's ground ball. Joe Klein then lifted a fly ball to right field that looked like it might fall before Will Aschenbrand grabbed it on the run and threw in behind for the inning ending double play.
Pascack Hills catcher Dominick Musco starting the rundown that led to a big out in the second inning.
"There were a couple of plays that we were able to make. Joey [Gordano] fielding his position and getting that out at the plate was huge and then the play in right field by Will Aschenbrand making that catch and doubling up the kid at second," said Evans, who is in his second season as Pascack Hills' skipper. "If you watched our dugout when that happened that was when the air kind of got sucked out of their dugout and moved over into ours."
Andrew Dillingham (6 IP, 3 R, 2 ER, 4 H, 3 K, BB, 93 pitches) kept Westwood (18-10) in the game by varying his speeds and working the edges of the strike zone. The junior righthander allowed just four hits and just two after the first inning. One of them was a leadoff home run in the fifth by Arion Stern, who crushed one over the leftfield fence.
"All year I have been working on keeping my top hand on [the bat], sitting back and letting the ball get to me," said Stern, the junior third baseman whose homer was his third of the season. "I was trying to find a fastball, I got one over the plate and I swung. I didn't know if it was going to go out at first but it just kept going."
Giordano got more efficient as the game progressed. He needed 60 pitches to get through the first three innings, but then just 40 to get through the next three. That left him, at 100 even heading into the top of the seventh inning. The limit is 110, but that can be extended if it is hit during an at bat, in which case the starter can finish that turn. It took Giordano five pitches to strike out the leadoff hitter in the top to make it 105 and then five more to get a ground ball for out No. 2. His exit was forced and Wenckus, who is having an impactful freshman season, gave up an infield single before nailing down the save with a groundball.
"Just excited to get these chances," said Wenckus. "The wait for baseball season through the fall and the winter felt so long. I couldn't wait to get out here and play with these boys. This is kind of what I was expecting, to have this success and I can't wait to see what happens on Tuesday."
While Tuesday will officially be called the North 1, Group 2 state sectional semifinal, it is for all intents and purposes, the District Championship, a phrase coined by Pascack Hills alum and first base coach Billy Siegenthaler, who once stole home for the only run in a playoff win by the Cowboys as they were then known.
Tuesday afternoon in Hillsdale it will be third-seeded Pascack Hills visiting No. 2 Pascack Valley in an all Pascack tilt with a trip to a section final on the line. Get there early (or have a media credential and request a saved parking spot from Pascack Valley athletic director Joe Spafford).
"It is going to be the toughest ticket in town," said Evans. "We know they are a heckuva team, [head coach] Will Lynch does a heckuva job over there and they have had a heckuva season. They can swing it for sure, but we have embraced every challenge all year and this is the next one."
FOR MORE PHOTOS FROM THIS EVENT CLICK HERE. TO BUY A COLLECTOR'S PRINT OF THIS STORY PLEASE VISIT 4-FeetGrafix.com.