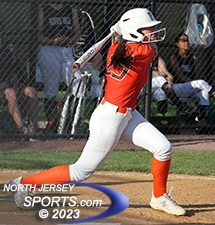 Lily Kelly had three hits and drove in two runs for Pascack Hills, which improved to 9-8 on the season by holding off River Dell, 4-3, on Monday afternoon.
ORADELL – To get this deep into a season without ever straying too far from the .500 mark a team is obviously consistently inconsistent, but also resilient. Pascack Hills' softball team is a case study as, after losing in the Bergen County Tournament's Round of 16 in almost inconceivable fashion, the Broncos were right back in sticky situation on Monday in a league game on the road in Oradell.
With Pascack Hills trying to protect a two-run lead heading into the bottom of the seventh River Dell's Maddie Roth smacked a one-out RBI triple to wipe out any margin of error. Roth was just 60 feet away from tying the game against Pascack Hills pitcher Alana Kimball.
"In that situation it was just really important to focus on one pitch at a time and to hit my spots," said Kimball, the senior right-hander who passed the 300 career strikeout mark earlier this season. "We had first and second [base] open, so giving up a walk was better than a hit. I was trying to hit spots because I knew a walk was okay."
There were no walks given as Lily Kelly grabbed a spinner at first base for the second out while keeping Roth anchored at third and then got a swinging strike three for the final out of a down-to-the-wire 4-3 victory that pushed Pascack Hills' record to 9-8 on the season.
The league win was also a nice bounce back from the county tournament loss on Saturday in which, down by three with the bases loaded late in the game against sixth-seeded Northern Valley/Old Tappan, Pascack Hills ran itself into a triple play that took the bat out of the hands of Kimball, its No. 3 and precisely the hitter the Broncos would have wanted up in that situation.
"This win was really big for us for a lot of reasons. It's my alma mater, so it is fun to come back here and play against these girls, and coach [Brian Calabrese]. He does a great job. For us we really needed this win after Saturday's heartbreak loss," said Pascack Hills head coach Lauren Brown. "We have been so up and down this season, so to get a win like this gets the momentum going back in the positive direction and we feel good again."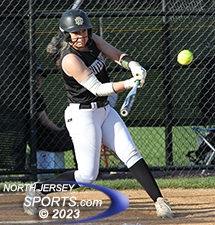 Maddie Roth cracking the RBI triple in the seventh that got River Dell to within 4-3.
All four of Pascack Hills' runs came in the top of the third inning; a rally that started with Christine Diaz's single out of the No. 8 spot in the order after River Dell starter Gabby DeGroat faced just one over the minimum through the first two frames. Emily Rennie's sacrifice bunt attempt turned into a bonus baserunner when no out was recorded.
Avery Marques' fielder's choice followed by an error allowed the game's first run to score and then
Lily Kelly, the Broncos' cleanup hitter, sliced one over the first base bag and just inside the line for a two-run single. Taylor Pawlyck followed with a single back through the box to make it 4-0.
"This pitcher [DeGroat] throws a lot of first pitch strikes and she wants to get ahead, so I knew I had to be ready to swing early [in the count]," said Kelly, who finished 3-for-4 with 2 RBI. "It was really important for us to move on from that game on Saturday and start to focus on the rest of the season. We still have the states to look forward to, so we wanted to come out, play well and stay positive."
Mixing in a crafty change-up, Kimball struck out five through the first three innings before River Dell put the ball in play in the bottom of the fourth and put some pressure on the defense. Three straight errors off balls hit by Bella Molina (1-for-4, R, SB), Grace Basil (1-for-4, R) and Sam Campos gave the Golden Hawks their first run and, with one out and the bases loaded, pinch hitter Erin Brady drew a walk that forced home a second run.
Kimball (7 IP, 3 R, 1 ER, 5 H, 13 K, 1 BB, HBP, W) struck out the next two hitters to leave the bases loaded. She retired eight of nine hitters leading up to the home half of the seventh inning. DeGroat (7 IP, 4 R, 0 ER, 6 H, 4 K, 0 BB) was similarly effective as none of the runs scored against her were earned and she did not walk a batter and did not allowed a run over the final four innings, which kept her team close enough to make a run at it in its final at bat.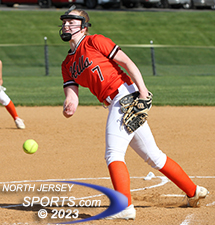 Pascack Hills' Alana Kimball allowed just one earned run and struck out 13, including the final batter of the game with the tying run at third base.
Helena Marcus led off the bottom of the seventh with a clean single up the middle and, two batters later, Roth roped the triple into the right centerfield gap to make it a one run game. Kimball, as she did all game and as she has all season, showed the kind of poise that only comes with experience. She knew the situation, knew she did not have to give in to either for the final two hitters, but retired them both anyway to close out the Broncos' ninth win of the season.
"We are a young team and mistakes are going to happen. I know my team has my back, though, and, no matter what, they are going to pick me, make the next play or come back and hit. I just try to stay positive and come back and make a good pitch," said Kimball, one of only three seniors on the Pascack Hills roster. "It stinks to lose in counties. It would have been great to go on and play in the next round, but you can't change the past so moving on and getting this league win was really important."
Kelly had three of Pascack Hills' seven hits in the game with Marques, Pawlyk, Rylie Sneath and Diaz picking up one apiece. Christina Reineke got down two sacrifice bunts and made a diving catch in centerfield to rob DeGroat in the bottom of the first inning and Emily Rennie got down sac bunt and scored a run.
It was a solid team effort, for a team that is not far off the pace in the league race and could be a tough out in the North 1, Group 2 state sectional tournament bracket.
"The story of our year so far have been some brutal close losses like by one run against Ridgefield Park and two against Indian Hills, 1-0 and then one in extra innings. There have been so many close games in the losses and the wins," said Brown. "To be honest it's like that everywhere. Look at the county tournament. Ramsey is so good and they won 4-3 against Ridgefield Park. We have been seeing that all year. There are outliers, but everybody else is so close and I like that. So many teams feel like they have a chance to win."
FOR MORE PHOTOS FROM THIS EVENT CLICK HERE. TO BUY A COLLECTOR'S PRINT OF THIS STORY PLEASE VISIT 4-FeetGrafix.com.