Ryan Cleary 2 two hits and 2 RBI for NV/Old Tappan, whcih came from four runs down to knock off Pascack Valley, 6-4, on Wednesday in Hillsdale.
HILLSDALE – As the defending Bergen County champion with experience up and down the lineup and competition for places where there is not, Northern Valley/Old Tappan's baseball team can afford to be patient. Offensively, rallies can start from anywhere. Defensively, routine plays are made and there is depth in pitching to rival any public school staff in New Jersey.
For those reasons and more, the Golden Knights had no reason to panic on Wednesday on the road in Hillsdale where host Pascack Valley had a four run lead midway through a game it really needed to win.
Using an error that allowed the leadoff man to reach in the top of the fourth inning, Old Tappan got two unearned runs that cut its deficit in half and then sent eight men to the plate and scored four times in the sixth to overtake Pascack Valley, 6-4, on Wednesday afternoon.
"That is a real good win. Pascack Valley is a good team and we showed good character and good fight," said Old Tappan head coach Tim Byron. "Some of the guys, not our big name guys, really came through today with big hits and that is what you need. Everyone has to contribute."
Alex Gioffre was in the middle of everything for Old Tappan. He started the game at shortstop with junior Eric Cha on mound, moved to third when Bryan Haden came on in relief and was the hitter who reached on the error to start the top of the fourth inning to set up the Golden Knights' first two runs. With two outs Ryan Cleary (2-for-3, 2 RBI, R) cracked a two-run single that got NVOT within 4-2.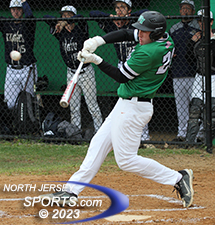 Trevor Kirkby drove in a run during Pascack Valley's four-run third inning.
Gioffre accounted for the final two outs in the home half of the fifth when he leaped to pick off a line drive and then threw behind the runner for a 5-3 double play and was also the eighth and final hitter to come to the plate in the top of the sixth inning that began with Pascack Valley starter Owen Shirey (5 2/3 IP, 6 R, 4 ER, 6 H, 2 K, 3 BB) still in the game and throwing well. Shirey had allowed just three hits, a walk and no earned runs through the first five innings, which he completed having thrown just 65 pitches.
A one-out walk to Anthony Onnembo (1-for-3, 2 R, BB) was the little crack that the Knights were looking for. Rocco Pierorazio and Cleary followed with singles to load the bases, Grant Maryott lifted a sacrifice fly to make it 4-3, Kai Ross tied the game with a long double off the fence and Cha walked to load the bases with two outs for Gioffre, who smoked a double into right center to cap the four-run rally.
"My first couple of at bats weren't too good, but I am always looking to pick up some of these guys. We were in a pretty bad spot for most of the game, so I wanted to come through," said Gioffre, NVOT's senior No. 2 hitter. "That is what this team is. We all want to pick each other up. A lot of us have played together since Little League, we know how each other plays, we know each other's strengths.  We all feed off each other at all times. We kept the energy up and got it done."
Cha, a transfer from Don Bosco Prep who has taken a circuitous route back to Old Tappan, a path that took him to South Korea during the pandemic, went the first three innings before turning the ball over to Bryan Harden (3 IP, 0 R, 0 ER, H, 0 K, BB), who threw three scoreless innings in relief to pick up the win. The save went to Maryott (1 IP. 0 R, 0 ER, 0 H, 2 K, 2 BB, S), who worked around two seventh inning walks, stranding the tying runs on base before striking out the final hitter of the game.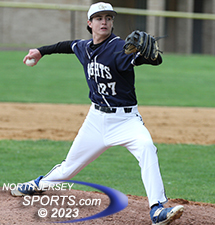 Bryan Harden picked up the win in relief for Old Tappan, which improved to 12-2 on the season.
The win moves Old Tappan, winners of six games in a row, to 12-2 on the season and it has one more game scheduled, Saturday against Don Bosco Prep, before the cutoff for the Bergen County Tournament. After a rainout last weekend, and no teams all that eager to schedule a team of OT's caliber on short notice before state and county tournament cutoff, the Knights are going to come up a game short of the 16 games needed to be eligible for a first round bye. It's not ideal, but also not a major worry for Byron, whose team will likely be seeded in the top handful pending the rest of this week's results.
"We had a rain out and I am sure other people are going to be in the same boat," said Byron. "But you know what? I am not going to worry about it. We'll play where and when we have to."
Pascack Valley will likely be included in the county tournament as well, but hit the seeding meeting as an 8-8 team that is 2-7 in its last nine games after a 6-1 start to the season. The Panthers could even be considered for a top 8 seed and a first round by based on some of their quality wins and their overall strength of schedule.
"We are not in the right place going into this time of the season. We have struggled on defense, we fly out weak instead of putting the ball on the ground. It's been frustrating," said PV head coach Will Lynch. "We have wins against quality teams. We beat Ridgewood, we beat Ramapo, we beat Ramsey and we have played tough at times. We are trying to figure it out."
FOR MORE PHOTOS FROM THIS EVENT CLICK HERE. TO BUY A COLLECTOR'S PRINT OF THIS STORY PLEASE VISIT 4-FeetGrafix.com.