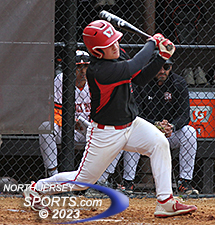 Mike Carcich had two hits, including one of four in a row in the decisive fifth inning as Westwood improved to 10-1 on the season with a 4-2 win at Pascack Hills on Monday.
MONTVALE – Through its torrid start to the season Westwood has crushed the baseball. Through their first 10 games the Cardinals had won nine of them and averaged a whopping 12.7 runs per game in those nine victories. Up against one of North Jersey's top arms in Pascack Hills junior Joey Giordano on the road in Montvale, however, Westwood was going to have to rely on the timing and quality of its hits, not just sheer quantity.
Westwood had only five hits against the hard-throwing left-hander, but strung four of them together in the top of the fifth inning when it scored three times. That big inning was enough for the Cardinals, who added to their dominant start with a 4-2 victory in the first game of the back-to-back divisional series on Monday afternoon. Westwood is now 10-1 on the season.
"We have been scoring a ton of runs, more than we have ever scored in my tenure, but today we were facing a very good arm and it was a battle," said Westwood head coach Nick Urbanovich. "[Giordano] competes his tail off and, unlike most high school pitchers, he throws three pitches for strikes. You just have to battle and grind it out against him."
Giordano faced just one batter over the minimum through the first three innings with Westwood's only baserunner, Mike Carcich, reaching on a one-out error in the first. Westwood starter Andrew Dillingham worked around a leadoff baserunner in the second inning before Pascack Hills got on the board in the bottom of the third.
After Joey Belcolle drew a leadoff walk and Ronin Stern was hit by a pitch, freshman leadoff hitter Kyle Wenckus got a bunt down to move both runners up a base. Giordano drove in the game's first run with a groundball to the right side and Dominick Musco made it 2-0 by beating out an infield single.
Joey Giordano threw five quality innings and drove in a run for Pascack Hills.
Sometime in the next inning, Dillingham found the touch on his breaking pitch and dominant the rest of the way. He allowed just three baserunners over the final four innings and he picked two of them off of first base on nearly identical 1-3-6-1 put outs. It took Dillingham (7 IP, 2 R, 2 ER, 3 H, 5 K, 2 BB, W) exactly 100 pitches to finish off his complete game victory.
"In the beginning I could only throw my fastball for a strike. My other pitches weren't going over [the plate], but once I made the adjustment I really started to feel the confidence," said Dillingham. "We couldn't ask for a better start [to the season]. We have been playing really well, we have been hitting the ball, we are making all the plays on defense, pitching and we have had players of all different ages, freshman all the way up to seniors all coming together to become a team and I am just proud that we are doing so well so far."
Westwood does have an interesting mix experience from very little to as much as possible. Behind Dillingham, a junior right-hander, the Cardinals started three different freshmen – Jack Walsh, Joe Cerritelli and Steve Klein – in their three games last week. Another freshman, Andrew Rodriguez, has also earned some varsity innings. In contrast, the everyday lineup is stacked with players that have been through the varsity wringer.
Third baseman Colby Loughton, Carcich, the first baseman and centerfielder TJ Ardese are all three-year starters as is shortstop Connor Roche, the super senior who is playing the extra season granted when the 2020 campaign was cancelled by COVID before heading off the Wagner University next year. Second baseman Joe Klein, catcher MD Cabral and leftfielder Sam Arcieri are all second year starters. The experience showed as the Cardinals stayed patient even when they fell behind one of Bergen County's best pitchers on the road.
Westwood got one run back in the top of the fourth when, with two outs and two in scoring position, a balk was called against Giordano (5 IP, 4 R, 3 ER, 3 H, 3 K, 1 BB) to make it 2-1. In the fifth Dillingham got the decisive rally started with a one-out single out of the No. 8 spot in the order followed by an infield single by Klein, the freshman who starts in rightfield when not on the mound. A double by Loughton and a single by Carcich made it four straight hits and a three run inning that accounted for the rest of the game's scoring.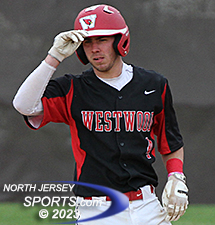 Colby Loughton had a double and scored a run in the fifth inning for Westwood.
"Joe [Giordano] is a great pitcher. I played with him growing up, I caught his bullpens and I have known him forever. He has three pitches that he can locate and he is one of the best pitchers around. We knew it was going to be a battle and it turns out that four runs was enough today," said Carcich, who had two of Westwood's seven hits and also stole a base. "We have scored almost 13 runs a game coming into today and everyone has really hit the ball well. We have like five guys batting over .500, Connor Roche is batting close to .600 with four home runs and we can hit up and down the lineup."
Every day in the Big North Patriot Division is a battle. Ramsey, Pascack Hills and Mahwah have all won outright Group 2 state championships in the last decade and the addition of Indian Hills this year only adds to the depth. Pascack Hills split with Ramsey, the defending Group 2 state champ, last week and will try to get back on the winning track in Westwood on Tuesday. The Broncos are now 6-5 on the season and in the mix for a coveted spot in the Bergen County Baseball Tournament with two weeks left before the cutoff.
Westwood has its eyes on the county tournament as well as some other goals that are certainly attainable with a 10-1 start to the season.
"Westwood has not won a league title since 2007 or 2008, it's been a while, so that is our first goal," said Urbanovich. "We play in one of the toughest leagues in the state, year in and year out. If you can win the title in this league that is a big accomplishment and that is what we are going for. That is our No. 17 goal."
FOR MORE PHOTOS FROM THIS EVENT CLICK HERE. TO BUY A COLLECTOR'S PRINT OF THIS STORY PLEASE VISIT 4-FeetGrafix.com.