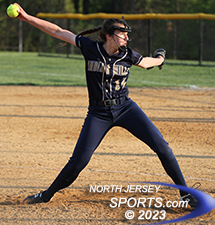 Freshman Audrey Amorus did not walk a batter in nine strong innings for Indian Hills, which pulled out a 4-3, 9-inning win on the road at Pascack hills on Wednesdsay.
MONTVALE – With its enrollment falling steadily over the past few year Indian Hills has been a fish out of water in terms of divisional alignment. The Braves had been in the Big North Conference Freedom Division with the likes of Ridgewood and Hackensack, Group 4 schools, and Ramapo and Northern Highlands, big Group 3s that dedicate a lot of resources to fielding competitive teams in just about every sport they sponsor.
So when Indian Hills, now a small Group 2 hovering not too far above the Group 1 cutoff, was moved into the Patriot Division with programs of like size, there figured to be some schedule relief. Indian Hills' softball team, a perennial contender for state and county championships, might have been the biggest beneficiary had there been any discernable drop-off in day-in/day-out competition.
None of that has happened.
"This division is murder. When we were in the Freedom with Ramapo, Highlands and Ridgewood it was tough, then we come here and everybody is like three or four games over .500," said Joe Leicht, who has seen it all over his 25 years as Indian Hills head coach. "Every single game in this division is competitive; either team has a chance to win and each out counts."
Case in point was Wednesday afternoon's road game in Montvale and the larger season series against host Pascack Hills. The first time around Indian Hills eked out a 1-0 victory and this time it needed extra time to pull off another one-run victory.
Celina Brown's infield single with two outs in the top of the ninth inning pushed home the winning run in a 4-3 victory that ran Indian Hills' record to 9-5. The difference between the Braves and Pascack Hills this season is a slim two run difference played out over 16 innings.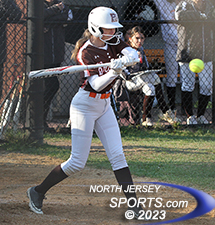 Rylie Sneath drove in Pascack HIlls' first two runs with a two-out single in the fifth.
The margin of victory this time really came down to Brown and her offensive production out of the No. 8 spot in the batting order. In four plate appearances she was 2-for-3 with two singles and a walk, three stolen bases, two runs scored and the game-winning RBI.
"Celina makes contact, she can run and the key here when you are facing someone as good as [Pascack Hills pitcher Alana Kimball] is, you have to make contact to give yourself a chance," said Leicht. "She found a way to get on, steal a base and made things happen. She did it all day today."
Pascack Hills was heading in the right direction under former head coach Erin Kirkby and has continued its ascendancy with Lauren Brown, the former River Dell standout, now in her first season. Kimball emergence has certainly helped and struck out the side in the second inning to give her four for the game before Celina Brown led off the top of the third with an infield single, the first hit of the game for either side, and promptly stole second. Lugia Mayer-Costa bunted her up a base and Sam Marker drove in the game's first run with a clutch two-out single.
Celina Brown also drew the lone walk that Kimball (8 IP, 4 R, 4 ER, 6 H, 14 K, 2 BB) issued in regulation, a leadoff pass in the top of the fifth and later made it 2-0 on Mikayla Amoruso's RBI groundout.
Meanwhile, Indian Hills pitcher Audrey Amoruso was cruising. The freshman right-hander had allowed just one hit and faced the minimum 12 batters through the first five innings, so it was kind of from out of nowhere that Pascack Hills got back even.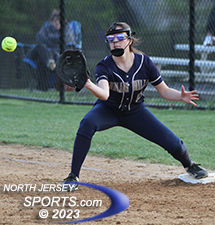 Sam Marker had a hit, an RBI and stole a base for Indian Hills, which improved to 9-5 on the season..
Lily Kelly led off the home half of the fifth inning with the Broncos' first hit of the game and Taylor Pawlyk added. Hannah Brinkman's grounder to the right side put runners on second and third and Rylie Sneath hard smash through the left side of the infield scored both runners to tie the game at 2-2.
Indian Hills jumped back in front on Gabby LiButti's two-out RBI double, the Braves' lone extra base hit of the game that scored Emily Morella, the courtesy runner for Audrey Amoruso, to make it 3-2 in the top of the sixth. Pascack Hills got that run back on consecutive hits leading off the bottom of the sixth as Christina Reineke doubled leading off and scored on Kimball's single.
Kimball and Audrey Amoruso cruised through the first two extra innings before Natalie Lorenzo led off the top of the seventh with a walk and that set in motion the game-winning sequence. A stolen base, a sacrifice bunt and a strikeout brought up Brown with two outs and runner on third and she hit one deep into the shortstop hole and beat the play as the winning run came across to score.
Audrey Amoruso worked around Brinkman's one-out double in the bottom of the ninth with the last out coming when she gloved a smoked line drive off the bat of Christine Diaz that was ticketed for centerfield.
"I just wanted to make sure I pitched strikes. I knew my fielder's would do the job if I gave them the chances," said Audrey Amoruso, who went the distance on an 8-hitter, struck out seven and, most importantly, did not walk a batter. "I was just trying to hit my spots and let the defense do the work
Pascack Hills fell to 6-5 with the loss playing against the similarly tough schedule that every team in the Patriot Division is facing.
The new head coach is learning right along with the rest of the young group that has just four seniors on the roster.
"I think we hung in there really tough. Getting over the hump to get victory in these close games in this league is definitely tough. We came back a couple of times against a good team and a good pitcher and those are positives," said Lauren Brown, who father is the Park Ridge athletic director and should definitely be reading this story. "It's been a lot of fun [being a first year head coach.]. We are a young team and we have a lot to learn. There are a lot of things that I am still learning as a coach and my girls are awesome. I couldn't ask for a better group of kids."
FOR MORE PHOTOS FROM THIS EVENT CLICK HERE. TO BUY A COLLECTOR'S PRINT OF THIS STORY PLEASE VISIT 4-FeetGrafix.com.