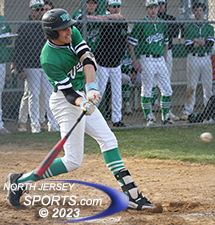 Evan Biener hit a 3-run homer in the first inning to get Pascack Valley off and running in a 7-2 win at Ramapo on Opening Day in Franklin Lakes.
FRANKLIN LAKES – With starters that run the gamut from freshman to "Super" senior, Pascack Valley got its first chance to see how all the disparate parts were going to fit. On the road against Ramapo in an Opening Day tilt between the last two North 1, Group 3 state sectional champions, PV put it all together pretty quickly.
Four if the first five Panthers to come to the plate came around to score, including three on Evan Biener's rocket over the left field fence, and sophomore JT Deriso threw five solid innings to pick up his first win in his first varsity start, which was a 7-2 victory on Monday afternoon in Franklin Lakes.
"It's a nice way to start the new season. These guys love to swing the bat. We came in last night and hit because they wanted to, we took BP again today before we got on the bus and we were ready to go," said Pascack Valley head coach Will Lynch. "It's kind of a funky situation we have. I have seniors in key spots, then I have two freshman and three sophomores that we rely on a lot like Deriso. He came out and gave us just what we needed in a tough first start on the road."
It was Zach Novakowski's one-out walk in the top of the first inning that got the decisive rally started. Charlie Saul, who is taking advantage of the extra year of eligibility granted due to COVID, then singled in front of senior Jimmy Shea (1-for-3, RBI, BB), who drove in the Panthers' first run of the season with a double. Then Beiner (2-for-4, 4 RBI, R), who hit the ball hard in all four of his plate appearances, busted it open with his three-run dinger.
"We were locked in, we were focused and this team's chemistry is on point and we came out firing. Four runs in the first, a big homer from our No. 5 [hitter], who is going to have a big year," said Saul, a first team All-County outfielder last season who will play at Bryant University next year. "This season is an awesome opportunity for me. I get my credits from Bergen [Community College] and I get college class experience. I am expected chirping [from opposing fans] all year, but that is not really going to bother me at all. My teammates have my back and we play for each other."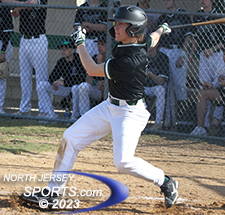 Jake Lopez drove in Ramapo's first run with a single in the top of the fifth.
Saul showed his worth defensively in the bottom of the first inning when Ramapo, the defending Group 3 state sectional champ, made its bid to get right back in the game. Payne Teel (2-for-3, R, SB) got Ramapo's first hit of the season, a one-out single and Jake Lopez followed with a single to put two on for sophomore Charlie Wingfield, the Green Raiders' clean-up hitter who sent one soaring in the left centerfield gap. Saul read it off the bat and made a running back-handed catch just in front of the fence to save at least one run and probably two.
Third baseman Trevor Kirkby then recorded the third out with a throw across the diamond, the first put out from the all sophomore left side of the infield that handled everything hit its way in an error free afternoon. Kirkby was 5-for-5 on groundball chances and shortstop James Narlinger initiated two 6-4-3 double plays that erased leadoff baserunners in the fourth and seventh innings.
Deriso was not overpowering, but his change-up produced a lot of front foot swings and he let his defense do the work behind him. He held Ramapo scoreless through four innings, stranded five on base over that stretch and got the first out of the fifth inning before the Raiders could break through. Jayden Amadeo (1-4, R), a transfer from Bergen Catholic, hit a one-out single out of the leadoff spot, Teel's second hit of the game put two on and Lopez (3-for-4, RBI, SB) singled back through the box to score Amadeo with Ramapo's first run of the season.
Wingfield then lifted a sacrifice fly to get the home team within 5-2, but Kirby handled the third out and Deriso then made way for Owen Shirey (2 IP, 0 R, 0 ER, H, 2 BB, 2K), a tall right-hander who worked around a hit and a walk in the sixth inning and a leadoff walk in the seventh to record the save.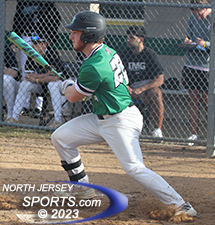 Zach Novakowski had two hits for Pascack Valley, which piled up 10 hits in the game.
"It was exciting. I was just trying to get ahead [in counts], stay ahead and get deep into the game to give my team the best chance to win," said the left-handed Deriso (5 IP. 2 R, 2 ER, 7 H, K, 2 BB, W). "My change-up was really good and then let me use my fastball ahead in the count. I starting getting a feel for my curveball later in the game and that gave me another option."
Michael Criscuolo (1-for-3, RBI) drove in PV's fifth run with a two-out single in the third inning and the Panthers tacked on two more in the top of the seventh, one on an errant throw in from the outfield on Saul's third hit of the game and the other on Biener's two-out single.
It's only one game, but it's a good start for Pascack Valley, which has moved down into the crowded North 1, Group 2 state sectional bracket this year after coming within an eyelash of winning the Group 3 state title in 2021.
"We have a lot of team chemistry building right now and that is a huge part of being able to mix the old guys and the new guys and win games. We have something special here," said Novakowski. "It's really exciting for everybody and we just have to keep working."
Ramapo dropped its home opener for the second straight year, but that is not necessarily a bad omen. Last year the Raiders were no-hit by Paramus in Game 1 and then went on to reach the Bergen County Tournament semifinals and win their first state sectional title since 2005.
"We need better situational hitting. We had nine guys left on base today and [Pascack Valley] did a great job of hitting the ball with two strikes today," said Garrison Ward, Ramapo's co-head coach. "We started last season 0-1, then 1-1 then 2-1 and 2-2. That is something we want to try to avoid. As hard a schedule as we play we want to string some wins together and give ourselves some breathing room instead of always scratching and clawing come county and state tournament time."
FOR MORE PHOTOS FROM THIS EVENT CLICK HERE. TO BUY A COLLECTOR'S PRINT OF THIS STORY PLEASE VISIT 4-FeetGrafix.com.