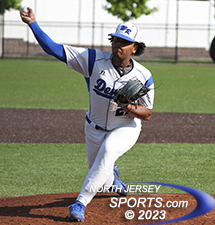 Devn Arce did not allow an earned run in 6+ innings of work for Wood-Ridge, which advanced to the Bergen County Tournament's Round of 16 with a 6-1 win over Emerson on Wednesday afternoon.
WOOD-RIDGE – Group 1 sports programs usually have to ride the wave. When a couple of classes of quality athletes come through in any given sport, that team makes its run. After the crest, the crash comes and the wait begins for the next set to come through. Wood-Ridge baseball looked like it might be in that boat after a talented group of seniors and COVID super seniors, six starters from a team that made it all the way to a state sectional final with a seventh inning lead, exited the program.
"This is a team, and even though we have the same goals every year, that had six new starters coming in. Being honest, we were looking to have a winning season let alone being able to contend for a league [title] or get into the county tournament," said Michael Carcich, who, as he put it, is in his 12th or 13th season as Wood-Ridge's head coach. "On paper we are not the best team that we have ever had, but we are a team of not just individuals, but of kids that genuinely like each other, root for each other and play hard for each other. We have 15-20 kids in the dugout where everyone is trying to come together for a common goal."
Those 15 or 20 kids will come together again on Saturday for a Round of 16 game in the Bergen County Tournament as not only has Wood-Ridge qualified for this year's field, it is the No.16 seed and a first round winner after a 6-1 victory over No. 17 Emerson on Wednesday at the WRAC, the Wood-Ridge Athletic Center which is indeed below Route 4 and at the southern edge of the northjerseysports.com coverage area.
"It's a huge win, especially because I am out here playing with my best friends," said Devin Arce (6+ IP, 1 R, 0 ER, 3 H, 5 K, 3 BB, W), Wood-Ridge's senior ace who threw 98 pitches to get through his 6-plus quality innings of work. "I just fun. It's not like I feel a ton of pressure out here even in a county game. We are just out here playing baseball with friends. It's like playing pickup…almost."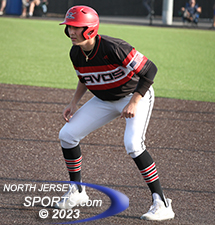 Matthew Sabatella two of Emerson's three hits and scored its lone run.
We'll pick up the action in the bottom of the second inning when Wood-Ridge broke the game open. The Blue Devils sent 10 hitters to the plate and scored five times in a rally spurred by the bottom half of the order. Liam Kelly was hit by a pitch leading off, Arce (2-for-2, R, BB) singled and Nick Roncaioli was hit by a 1-2 pitch to load the bases. Owen Caprio (1-for-3, 2 RBI), hitting in the No. 9 spot, then singled to the opposite field to drive in the game's first two runs that put the Devils in front for good. Gavin DeRobertis (2-for-4, 2 RBI) followed with a two-run double to double the lead and Evan D'Agnese (2-for-4, 2 RBI, SB) made it 5-0 with his two-out infield single.
"When someone makes a mistake we are always looking to pick each other up and when one of us gets a hit we all just want to keep it rolling," said DeRobertis, the senior leadoff hitter. "We are all just trying to play good team baseball."
Meanwhile, Arce was on top of his game. The right-hander with a variety of hard stuff, had his slider working. He retired the first six hitters he faced before running into his biggest spot of bother in the top of the third inning when Matthew Sabatella (2-for-3, R) led off with Emerson's first hit of the game, a clean single to right. Thomas Neuschwanter reached on an error and, with one out, Thomas Mulligan drew a walk to load the bases. Arce walked three in the game, but two of them came back-to-back and Patrick Walsh's free pass forced home the Cavos' lone run.

With the bases still loaded and just one out, Arce got a strikeout and a flyball grabbed by Braden Negro in right field to limit the damage. Arce allowed just two hits and three baserunners over his final three innings of work and was replaced by Sal Catanzaro after Neuschwanter reached on an error leading off Emerson's final turn at bat. The left-handed Catanzaro retired all three hitters he faced to close out Wood-Ridge's 14th win of the season.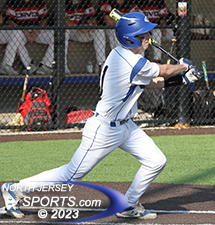 Owen Caprio drove in Wood-Ridge's first two runs.
The Blue Devils are a game up in the race for a league title heading into the final week of the regular season, they will be a high seed and a contender as they make the switch into the North 2, Group 1 state sectional tournament and they will get a chance to see where they stand amongst the Bergen County elites with they take on top-seeded Bergen Catholic in the Round of 16 of the Bergen County Tournament on Saturday.
"We always want to win one game [in the county tournament], to win two would be [crazy]. Honestly, if we can play a seven inning game with Bergen [Catholic] like we have done in the past with [Don] Bosco and some of these other teams, these big boys, I will be happy and if we get 10-runned I will still be okay with it," said Carcich, who has won five county tournament games in his 12 or 13 year tenure at Wood-Ridge. "We got in, we won one game and everything else is gravy. We are going for a league title which is more important than trying to win a second county game against Bergen Catholic. For a Group 1 school you want to be in it and then you want to win one game and it is job done."
FOR MORE PHOTOS FROM THIS EVENT CLICK HERE. TO BUY A COLLECTOR'S PRINT OF THIS STORY PLEASE VISIT 4-FeetGrafix.com.