Senior Sean Busanic struck out 11 in 5 1/3 innings and picked up the win for Pascack Hills, which advanced to the North 1, Group 2 state sectional final with a 7-4 win over Pascack Valley on Tuesday.
HILLSDALE – It was high school sports at its finest and for its intended purposes. Two local rivals, it does not get more local that Pascack Hills taking 4-mile, 8-minute "road trip" to Hillsdale to take on Pascack Valley and a crowd showed up to watch, lining the entire perimeter fence around the outfield and into the football stands.
Even though it was officially the North 1, Group 2 state sectional semifinal round, it was more than that. It was the "District Championship" between sister schools that have not met in a playoff game since the semifinals of the 1994 Bergen County Tournament. The stakes could not have been higher.
"It was a great opportunity not just because it was Hills/Valley, but we know how good the team we were up against is and how well we would have to play to pull this off," said Pascack Hills head coach Nick Evans. "Coming into this environment to play a team like Pascack Valley that does so many things so well, this was a real challenge and it was special for everyone involved."
There were twists and turns all the way through starting right from the get-go when the teams combined to strand five runners on base in the opening inning with neither able to push even a single run across. Pascack Hills opened a four run lead, Pascack Valley senior Zack Novakowski made up that margin with two swings of his bat before Hills' pitching was able to lock it down late in a 7-4 victory.
"We knew what we were getting into when we came in here. We knew they were aggressive at the plate, so the plan was to attack all of their hitters," said Sean Busanic (5 1/3 IP, 4 R, 4 ER, 5 H, 11 K, 4 BB, 111 pitches, W), Pascack Hills' senior southpaw who picked up the win with 5 1/3 solid innings of work. "I don't think I had all of my stuff, but we kept challenging them. We faced a lot of adversity, they had a lot of runners on base, but we came up with the win."
The win means that Pascack Hills, the No. 3 seed, will host No. 4 Ramsey in the state sectional final on Friday in Montvale. Ramsey edged No. 1 Glen Rock, 1-0, in Tuesday's other semifinal.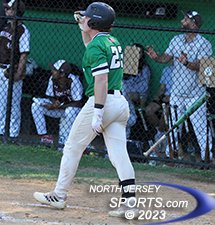 Pascack Valley's Zack Novakowski watching his three-run homer in the bottom of the second inning.
Pascack Hills put the pressure on immediately as it loaded the bases with one out in the top of the first inning before Matt Tortora smoked a line drive that was heading for centerfield before Pascack Valley starter Andrew Wallace got his glove in the way and started a 1-5 double play to escape the early trouble.
Their next time up, however, the Broncos cashed in. With two out and the bases loaded, junior Joey Giordano, the left-handed swinging No. 2 hitter, yanked one down the line to clear the bases. Kyle Wenckus, Ronin Stern and Will Ascherbrand all scored and Giordano did, too, as the throw to third got away and he got up from his head first dive and strolled home to make it 4-0.
Busanic had four of his 11 strikeouts in the first two innings, including two in a row after Ryan Manginelli's leadoff single in the second inning before Michael Criscuolo walked to bring up Novakowski, one of Bergen County's top sluggers and he unloaded on a 3-2 fastball, short-hopping the school building behind the rightfield fence to draw the Panthers to within 4-3. Novakowski added a two-out, run-scoring double in the bottom of the fourth inning to tie the game at 4.
Tortora, who hit into such tough luck in the bottom of the first, saw it even out in the fifth. Dominick Musco led off the frame with a double to left center and advanced to third on Ryan Belcolle's sacrifice bunt. Then Tortora lifted a flyball that might have been deep enough to score Musco from third, but it became a moot point when the ball was lost in the sun and Musco scored easily with turned into the game-winning run.
Tortora (1-for-3, RBI, R, BB) reached safely in three of his four plate appearances with the only out he made coming on the line drive smash with the bases loaded in the first.
Matt Tortora drove in the winning run for Pascack Hills, which will host Ramsey in the section final on Friday.
"I think it would have been an RBI anyway, but having [the fifth inning flyball] drop was huge. I feel like that kind of changed the game for good. We took the lead by one and I feel like it really got the dugout pumped and it got all the fans pumped," said Tortora, Pascack Hills' shortstop. "The one I hit in the first inning got caught, but when you barrel a ball like that you are going to have confidence for the rest of the game. I could have had some RBIs there, but I just kept my head down, kept battling and I was hoping for another shot."
With his pitch count rising, Busanic really settled in late in his outing. Pascack Valley loaded the bases with one out after Novakowski's fourth inning double, but Busanic got a pop up and a strikeout to limit the damage and then struck out the side in order in the fifth. He only had nine pitches available when he entered the sixth and left with one out and a runner at first in favor of Wenckus, the freshman who picked up the save in the quarterfinal win over Westwood.

Musco, the senior catcher, helped Pascack Hills escape the sixth in by cutting down a runner trying to advance on a ball to the backstop and Arion Stern handled a groundball to third base for the final out and Wenckus worked around a two-out error in the seventh to pick up his second save in as many state playoff games.
"I loved the environment and what was going on around here. There were a lot of fans, my arm felt great so I just wanted to let some fly. Everything felt good," said Wenckus. "I was really pumped up, really excited to go out in pitch in a game like this."
Pascack Hills, now just one of eight Group 2 teams left playing in the state, has now 12 of its last 13 games and improved to 19-7 on the season, while Pascack Valley, which was saw its season end with an 18-11 record. The Panthers won 10 of their final 13 games, reached the quarterfinals of the Bergen County Tournament and a section semifinal which adds up to another successful season in Hillsdale.
"At one point we were 8-8 and we finished 18-11. We played 29 baseball games, we made the semifinals of the state, the quarterfinals of the counties," said Pascack Valley head coach Will Lynch. "We lost to [eventual champion Don] Bosco [Prep] in the county and to a great kid on the mound today for Pascack Hills and we competed the whole way."
FOR MORE PHOTOS FROM THIS EVENT CLICK HERE. TO BUY A COLLECTOR'S PRINT OF THIS STORY PLEASE VISIT 4-FeetGrafix.com.