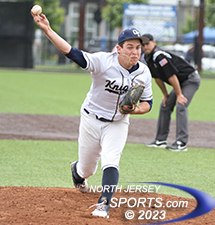 Senior Alex Kranzler needed just 77 pitches to throw a complete game two-hitter for Old Tappan, which advanced to the Bergen County Tournament semifinals with a 5-1 win over Glen Rock.
WOOD-RIDGE – Faced with the decision to use Alex Kranzler, his senior ace, in Sunday's quarterfinal round of the Bergen County Baseball Tournament or saving him for Monday's state tournament opener, Northern Valley/Old Tappan head coach Tim Byron made it clear where his priorities lie.
The Golden Knights, this year's No. 4 seed, are the defending county champions and they are going for a repeat.
"Bergen County [has quality teams] top to bottom and if you can win the Bergen County Tournament you have done a heckuva job. There are a lot of good teams," said Byron. "The states are tough; I just think it is tougher to go through the county. To repeat, that is pretty tough to do."
Choosing the tougher road yet again, Byron ran Kranzler out there on Sunday at the Wood-Ridge Athletic Complex and watched the Vanderbilt-bound righthander dominate and do so in a hurry. Kranzler carried a no-hit shutout through six innings, needing just 55 pitches to get there, before settling for a complete game two-hitter that took just 1:17 to complete.
Kranzler (7 IP, 1 R, 1 ER, 2 H, 7 K, 2 BB, W) struck out seven, walked two and threw just 77 pitches to go the route in a 5-1 victory over upstart Glen Rock, the No. 5 seed.
"I think we should have done a little bit better of a job slamming the door earlier in the game, but, at the end of the day, we fought and got the win. That is pretty much all that matters," said Kranzler. "We are just trying to win ballgames. We want win the county and the state. We got our league [title], so we are just trying to put games together and do whatever we can to end the season with a win."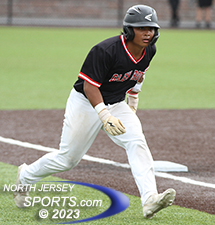 Hayden Yuzon led off the top of the seventh inning with a hit and came around to score Glen Rock's lone run.
What the Knights did on Sunday was stake Kranzler to a four run lead in their first turn at bat. Walks drawn by Eric Cha and Alex Gioffre set the table and a couple of miscues gave Old Tappan a lead before it got its first hit or recorded its first out. Cha scored on an error, Gioffre on a wild pitch and after Kranzler drew a one-out walk, Rocco Pierorazio tripled in a run and Elan Ofeck singled in another to make it 4-0 after the opening inning.
"I was in a two-strike count, so I shortened up, tried to put the bat on the ball and pass the baton to the next guy," said Pierorazio. "We are a team that likes to battle and that is what this tournament is all about. We are going to go against whoever, public school or private school, and play our best; play with heart."
Old Tappan's early offense put Glen Rock (19-5), which is having a tremendous season under first year head coach Steve Spitaleri, in an impossible spot. Kranzler, who was consistently in the low 90s with his fastball, was pounding the strike zone and every time a Glen Rock hitter stepped into the batter's box, he was there peering over the top of his glove ready to deliver the next pitch. With few baserunners, it was hard to break Kranzler's rhythm. Only three Panthers reached base through the first six innings and two of them were picked off of first base.
Old Tappan added an insurance run in the sixth when Ryan Cleary cracked a two-out double that was followed by Kai Ross's RBI single that made it 5-0 and the only drama left was to see of Kranzler could complete the no-no. Hayden Yuzon broke that up with a clean single to left first, he stole second, went to third on Nick Atme's infield single and scored on Sean Spitaleri's sacrifice fly that broke up the shutout.
The win pushes Old Tappan's record to 16-7 heading into Monday's North 1, Group 3 state sectional tournament opener where, as the No. 2 seed, it will host No. 15 Tenafly.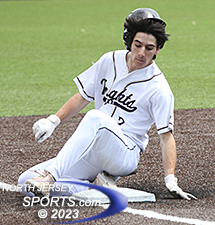 Rocco Pierorazio sliding in with a first inning that scored a run for Old Tappan, which will play No. 1 Bergen Catholic in next weekend's semifinal round.
Kranzler, who is in the home stretch of what has been one of the best pitching careers in Bergen County history no matter what happens from here on in, while Glen Rock's starter on Sunday is at the other end of the spectrum. Sean Spitaleri, the head coach's son, got the start for the Panthers and, after a shaky start, settled in nicely. A right hander with good heat for a freshman and an already crafty changeup, Sean Spitaleri hung in there for five innings and was obviously not overwhelmed by the moment.
His progression is indicative of the program, which is on the rise under Steve Spitaleri, who has a plan and is starting to put it in place. The Panthers, who hope to have senior ace Owen Lavatny back from injury at some point during what they hope is a prolonged state tournament run, are the top seed in a loaded North 1, Group 2 state sectional bracket. Now out of contention, they can turn all of their attention to the final tournament of the season.
"We are mad that we lost, but we understand that we have key guys coming back that can really help us make a run going forward. We needed to see Old Tappan, we needed to see Kranzler to get a gauge of where we are at and what we need to do," said Steve Spitaleri. "Coach Byron is one of the best to ever do it in Bergen County. Today we saw what that kind of program looks like and we want to be a program like Old Tappan. That is our goal; to morph into something like that in the next two or three years."
FOR MORE PHOTOS FROM THIS EVENT CLICK HERE. TO BUY A COLLECTOR'S PRINT OF THIS STORY PLEASE VISIT 4-FeetGrafix.com.