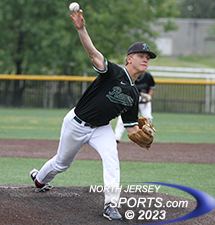 Junior Kyle Purvin needed just 91 pitches to throw a four-hit shutout in Ramapo's 4-0 win over Bergenfield in the Round of 16 of the Bergen County Tournament.
LYNDHURST -- "8 or 9?" That is the gist of the text message that former Ramapo head coach Mickey Hunt sends to current co-head coach Garrison Ward soon after the seeds for the Bergen County Tournament are released. It's an inside joke that rings true just about annually.
The Green Raiders play in one of North Jersey's toughest public schools league and then go out and schedule every good team that will take a game before the county and state tournament cutoffs. Rarely will Ramapo waltz into the Bergen County Tournament seeding meeting with a .650 winning percentage and a viable claim to one of the top couple of seeds unless, of course, strength of schedule was the only criteria.
So when the seeds are released Hunt asks Ward if the Raiders are No. 8 or No. 9 and this year the answer is 8.
"Mickey texts me every year and he says, '8or 9?' because that is just the way our schedule is," said Ward. "We play in a tough league, we look for highly competitive opponents out of the league and it seems like we do just enough to get that 8 or 9 spot and line up against the No. 1 seed [in the quarterfinals]."
Last year Ramapo was the No. 9, which necessitated a play-in game against Cliffside Park, a Round of 16 matchup against Pascack Valley and, when they got by that, the pulled the upset of the tournament when Niko Logothetis shut out top-seeded Don Bosco Prep in quarterfinals.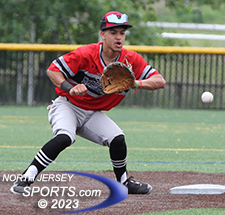 David Almonte had one of Bergenfield's four hits.
This year there was no play-in game. The Raiders hit the ground running on Saturday morning at the Lyndhurst Recreation Center and behind a complete-game gem by Kyle Purvin, advanced to the quarterfinals with a 4-0 victory of a scrappy Bergenfield team in a game that took just 1:37 to complete.
"I was on a pitch count because I threw earlier in the week against Ridgewood, so I really wanted to pitch to contact and trust my defense," said Purvin, a junior right-hander who was capped at 95 pitches, four more than he needed to go the distance. "I knew they would show up and they did. Two double plays, two great plays by [Jake] Lopez in center for the last two outs and just having the ability to trust my defense pushed me through this game."
To say that Purvin was in any trouble all game would be nitpicking, but he did walk Brendon Pinto, the first player to step into the batter's box. Then second baseman Jayden Amodeo turned a 4-4-3 double play against the next hitter and Purvin (7 IP, 0 R, 0 ER, 4 H, 7 K, 1 BB, W) was pretty much on cruise control from the there. He allowed just five base runners in the game, of which two were erased by tailor made double play ground balls and he picked off another that strayed too far off of first base.
Purvin allowed just one extra base hit, a two-out triple in the fifth by Christian Valerio, but struck out the next hitter to end the inning. Marcus Knowles' one out single in the sixth and Jael Martinez's single with one out in the seventh were one-offs as neither runner advanced to the next base.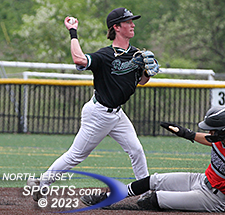 Shortstop Payne Teel turning one of two double plays for Ramapo, which will play top-seeded Bergen Catholic in teh quarterfinals next weekend in Wood-Ridge.
And, from the bottom of the first inning on, Purvin was pitching with a lead. Payne Teel (1-for-3, 2 RBI, R) reached on an error with one out during the Raiders' first time at bat and Lopez (1-for-3, RBI, R), one of just four seniors on Ramapo's roster, smoked a triple into the spacious gap in right centerfield to drive in the game's first run. Brendan McHugh (1-for-3, RBI) added a two-out single to make it 2-0.
"We wanted to get started early, get the momentum going. We came out with some fire and got the early lead, which was really important in a playoff game," said Teel, Ramapo's junior shortstop. "Kyle threw a great game today and Jayden started those two double plays that got us out of some innings. Kyle didn't need much help today but the defense gave it to him when he needed it and that is what got us through."
The Raiders got right back after it in the bottom of the second when they doubled their lead. Owen Wilson's (1-for-3) one-out single got it started, Tommy Sica (0-for-2, R, 2 BB) drew a two-out walk from the leadoff spot and Teel then painted the rightfield line with a triple that plated the last two runs of the game. Bergenfield starter DJ Lugo (4 1/3 IP, 4 R, 2 ER, 6 H, 5 K, 2 BB) pitched better than his final line might suggest as he allowed just two earned runs before handing the ball off to Pinto (1 2/3 IP, 0 R, 0 ER, 0 H, 2 K, 0 BB) with one out in the fifth and his team still on the fringes.
The Bears (14-6-1) bowed out of the county tournament, but still have plenty of season left. They are one game behind Northern Valley/Old Tappan in the league title race with the two team set for a back-to-back on Monday and Wednesday that will decide the championship and then there is the state tournament to look forward to.
"It's was a good run for us. Obviously not happy with the way it ended, but just to be here and compete against Ramapo, a team that has had our number for the last couple of years, it was a good showing," said Bergenfield head coach Chad Williams. "We'll look forward to Old Tappan, see what we can make happen with that and try to finish strong."
After a tough week, Ramapo is back on track and hoping that next weekend follows similar historical patterns. Playing the role of Bosco in the quarterfinals this time around will be top-seeded Bergen Catholic and hoping to duplicate the success of Logothetis will be Purvin (3-2), who has risen to the top of the rotation.
"Kyle is an incredible competitor. He wants the ball in a big game and he just attacks. He is going to stay somewhere in the mid 80s [with his fastball] and he is going to pound the zone and throw strikes. He had one walk today in the first inning and he turned that into a double play," said Ward. "Kyle is good. He reminds me a lot of Niko from last year and if you have a kid like that, a kid that likes to compete, you are going to have a chance to win big games."
FOR MORE PHOTOS FROM THIS EVENT CLICK HERE. TO BUY A COLLECTOR'S PRINT OF THIS STORY PLEASE VISIT 4-FeetGrafix.com.