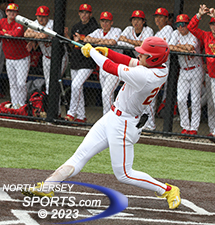 Luca Reyes hit a home run of prodigious length in Bergen Catholic's 5-2 win over Ramapo in the quarterfinals of the Bergen County Tournament in Wood-Ridge.
WOOD-RIDGE – As the top seed up against a team facing a different kind of adversity than high school baseball usually presents, Bergen Catholic was looking to strike quickly on Sunday in the quarterfinals of the Bergen County Tournament. Before Ramapo had a chance to adjust to the abrupt change in its dugout, the Crusaders were looking to pounce.
One 400-foot at least or maybe even a 450-foot home run in the bottom of the first inning certainly took care of that. Luca Reyes, Bergen Catholic's University of Miami-bound centerfielder, hit a shot that has already taken on its own legend. Someone said it short-hopped the NJ Transit facility over the right field fence, over the fence that separates the parking lot from the Wood-Ridge Athletic Complex and even over the parking lot fence, which is nine feet high. Then it bounced and hit the train maintenance building, according to recently created folklore.
"Luca has hit some home runs for us over the last couple of years. He hit one on the roof at Pascack Valley," said Bergen Catholic head coach Bob Muggeo. "But I think that one [today] might be the furthest one I have seen him hit. He is an exceptional talent."
The Crusaders scored twice in that opening inning and three more times in the bottom of the second to open a five-run cushion, but it was no comfortable stroll to the finish. Tommie Sica threw four scoreless innings in relief to stabilize Ramapo and Green Raiders had the tying run at the plate in the top of the seventh inning before Bergen Catholic could close out a 5-2 victory.
The win puts Bergen Catholic into next weekend's semifinal round where it will play fourth-seeded Northern Valley/Old Tappan, the defending champion. Don Bosco Prep, the No. 2 seed, and No. 3 St. Joseph Regional will square off in the other semifinal of an all chalk Final 4.
Senior Tommie Sica threw four scoreless inning of relief to keep Ramapo in the game..
When Bergen Catholic visited Ramapo for a regular season matchup in the first week of the season it was a come-from-behind 8-7 win in which BC wiped out a 7-2 deficit. It was the opposite this time around as Jamie Zee followed Reyes' prodigious blast with a double and scored on Dan Spierer's two-out single to make it 2-0 after one inning. In the bottom of the second, Mike Biscup, Ryan Marchina and Dhruv Vengurlekar, who occupy the 7-9 spots in the Crusaders' circular batting order, reached on a pair of walks and an RBI infield single, respectively, and sacrifice flies by Harrison Certo and Reyes made it 5-0.
While no one was willing to talk on the record about the change in the Ramapo dugout, what was clear was that co-head coaches Garrison Ward and Mike Esposito were not present nor are they expected to be when the Raiders open defense of their North 1, Group 3 state sectional title in the opening round of that tournament on Monday.
Down by 5 to Bergen Catholic after just two innings, it all could have fallen apart, but instead Sica gave the Raiders exactly what they needed. He worked four scoreless innings in relief and allowed just one hit over that span.
While Bergen Catholic starter Christian Charalambous (6 1/3 IP, 2 R, 0 ER, 3 H, 8 K, 4 BB, W) was sharp throughout and faced just one over the minimum through the first three innings, Ramapo was able to climb back in the game in the fourth with Jake Lopez's (2-for-4, R) one-out, opposite field single starting things off. He scored on Charlie Wingfield's single to center that took a high hop over an outfielder and rolled all the way to the wall. Brendan McHugh drove in a second run with a groundball to the right side.
Ramapo, however, managed just three hits against Charalambous, whose change-up was the difference maker in a full toolbox.
Christian Charalambous threw 6 1/3 solid innings to pick up thw win for Bergen Catholic, which will play Old Tappan in next weekend's semifinal round.
"I really just tried to have a clear head throughout the whole game and stay locked in," said Charalambous, a left-hander, who is one of 20 seniors on the roster looking to make a mark in their last go-round in the county tournament. "We have a lot of momentum coming into these games, so we are coming in loud, energetic and we want it. For the past three years we have not done much, so everybody is pretty hungry to get a statement out there that Bergen Catholic is one of the best programs in the state."
Ramapo got its first two hitters on in the sixth when Lopez beat out a bunt single and Wingfield walked, but Charalambous retired the next three hitters in order and got the first out of the seventh before exiting after Jayden Amadeo's one out double. Payne Teel beat out an infield single with two outs to bring the tying run to the plate, but Tyler Duffy cinched the save with a strikeout to push BC into the semifinals.
"If you get to Memorial Day weekend you have had a good year," said Muggeo. "I am nine years at Bergen Catholic now and this is the best group of kids that I have ever had. Not necessarily the most talented, although they are extremely talented, but these kids are all connected. This has been the best team that we have had so far."
There was a disconnect in the other dugout, but it was still a representative effort from Ramapo, which has a winning tradition that has been nurtured by the suspended coaching staff to fall back on even if the guy flashing signs in the third base box has changed, at least for now and maybe longer.
"Our guys fought for seven innings. We fell behind early and then Tommie Sica came in and did an incredible job. He threw 70 pitches in four shutout innings and he hasn't thrown that many all year. We scratched a couple of runs across and gave ourselves a shot in the seventh but sometimes it doesn't fall," said Nick Benvenuto, a volunteer assistant who was thrust into managerial role. "Our kids showed a lot of toughness today. The result did not go our way, but they did the things they had to do to stay in the game and we are proud of them."
FOR MORE PHOTOS FROM THIS EVENT CLICK HERE. TO BUY A COLLECTOR'S PRINT OF THIS STORY PLEASE VISIT 4-FeetGrafix.com.