Freshman Joe Ceritelli threw 6 1/3 solid innings for Westwood, which advanced to the North 1, Group 2 state sectional quarterfinals with a 6-3 win over Dumont.
WASHINGTON TOWNSHIP – A freshman making his first start in the state tournament might be overwhelmed, but not right-hander Joe Ceritelli, who already has big game postseason experience just eight months into his career at Westwood Regional High School. It was during the basketball playoffs when Ceritelli came off the bench and scored 11 straight points in an opening round, upset win on the road at Vernon, so when he was called upon to start in the first game of the baseball postseason he took it all in stride.
"I wasn't really nervous. I have been called on to pitch a lot this year. I have like 30 innings pitched so when they called my name I was ready for it," said Ceritelli, not one of those grey shirt freshman, but the 14-year old kind. "They trust me to throw strikes and I was able to locate for most of the game."
Ceritelli steered Westwood through most of the game as he went 6 1/3 innings, struck out five and walked just one in picking up the win in a 6-3 victory over 11th-seeded Dumont. Westwood, the No. 6 seed, will visit No. 3 Pascack Hills on Thursday in the quarterfinals for the rubber match after splitting the season series with the Broncos.
"Joe [Ceritelli] throws strikes. We didn't want to give away bases with walks and hit-by-pitches and things like that. He is usually around the plate," said Westwood head coach Nick Urbanovich. "Joe did a great job for us today and we have our pitching set up for the next round as well."
Baseball is a game designed to be played in series, but the high school structure leaves no time for that so every game is a one-off, do-or-die situation and Westwood kept the pressure on Dumont by taking the lead with two runs in the bottom of the second inning.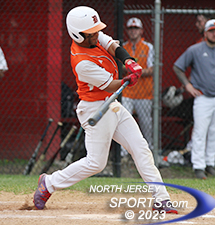 Dumont's Anderson Diaz drove in a run on this swing in the top of the sixth inning.
Back-to-back singles by Mike Carcich (1-for-3, R) and TJ Ardese (3-for-3, 3 R, 2B) and a walk drawn by Sam Arcieri loaded the bases with no outs before Jack Dugan (2-for-3, 2 RBI, R) knocked in a run with a single and Colby Loughton (1-for-3, R, SB) did the same with a groundball to the right side.
Dumont starter, senior lefty Nick Eder limited the damage in that frame and the Huskies cut their deficit in half with an unearned run in the top of the third, but Westwood tacked on again with two in the fourth. Ardese led off with a double and scored on a Loughton single to the opposite field and pinch hitter Joe Klein had a two-out RBI single to make it 4-1.
Dumont strung four hits together in the sixth to creep back within 4-3 as Tyler Mertz's (1-for-2, RBI, R) double scored Eder (1-for-4, R), who started the rally with a leadoff single. Tim Gander moved the runner up a base and Anderson Diaz knocked in a run with a single that painted the right field line to make it a one-run game, but Westwood never buckled.
Ardese's leadoff single in the sixth opened the door to two more runs, one on an RBI single by Dugan and the other on a single off the bat of Jack Walsh, who was pinch hit for in the fourth, re-inserted in the sixth and came through with a two out ribbie.
Ardese and Dugan had multi-hit games for the Cardinals, as did the leadoff spot where Walsh and Klein had one apiece in a 10-hit attack.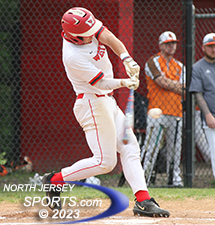 Colby Loughlon had 2 RBI for Westwood, which will visit Pascack Hills on Thursday.
"Our offensive approach was to stay back, look for off-speed [pitches] and drive the ball as hard as we possibly could. We wanted to keep grinding throughout the game to score as many runs as we could," said Ardese, Westwood's senior centerfielder. "I am pretty excited for that matchup [against Pascack Hills]. They have been big rivals since I came into the program. We love playing them, it's always a great game and we are ready to get at it."
Dumont's season, it's first under head coach Joe Algieri, came to an end with a 10-13-2 record with some good wins included. The Huskies were right in the league title race until the final week of the regular season and will have all but three starters (Eder, Mertz and Gander) from Tuesday's game back next year.
"We were right there, down 4-3 and with a real chance to win today. We fought all the way through today and through the whole season," said Algieri. "We have a lot of sophomores, some good juniors and the ones that were out there today got to see what this is like and that can only help us going forward."
Westwood (18-9) is going forward into the quarterfinals of one of toughest public school brackets in the state. There is nothing but good teams left in the final eight and two of them will get together on Thursday in Montvale.
"We played them tough two times. We beat them there and they beat us here," said Urbanovich. "Now it's Round 3 against [Pascack] Hills and we will see who is going to win the three game series."
FOR MORE PHOTOS FROM THIS EVENT CLICK HERE. TO BUY A COLLECTOR'S PRINT OF THIS STORY PLEASE VISIT 4-FeetGrafix.com.