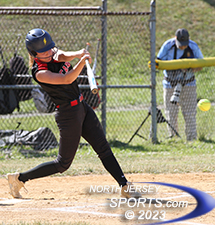 Junior Eliza Mulled had two hits and scored twice for top-seeded Ridgefield Park, which advanced to the North 2, Group 2 state sectional final with a 7-4 win over Passaic Valley on Wednesday.
RIDGEFIELD PARK – Ridgefield Park's rise in softball has been a true grassroots effort. A group of parents put together a feeder program, nurtured the players through the recreation and travel circuits and then dropped them off to the high school program. Those parents have retreated to the stands now where they only occasionally disagree with umpires. It was on the concrete bleachers at The Pit where they were on Wednesday watching as Ridgefield Park, the top seed in North 2, Group 2 played in its first state sectional semifinal since 2006.
Ridgefield Park has just two seniors on its roster, all but two of the players in the lineup against fourth-seeded Passaic Valley are from the town of Little Ferry and all of them played a role in a 7-4 victory that puts the Scarlets into a section final for the first time since before the turn of the century.
"Since 2006? I didn't know it has been that long [between sectional semifinals]. There have been some tough years, but these kids are phenomenal," said RP head coach Greg Hansen. "We only have two seniors and the baby Scarlets have grown up right before my eyes."
The road to the final was paved a couple of years ago when sophomore pitcher Gabby Rivera decided to stay home and stay with the girls she grew up with. A hard-throwing right-hander who has well over 300 career strikeouts in just two years of varsity softball, Rivera could be playing somewhere in the Non-Public state tournament bracket, but has instead made an obvious impact at her local public school.
Junior shortstop Eliza Mullen remembers what it was like before Rivera and the rest of the current sophomores and freshmen arrived.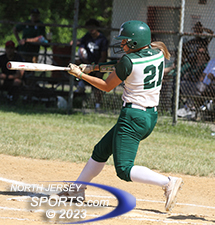 Sophia Guarente had two hits and drove in a run for Passaic Valley.
"My freshman year we were nowhere near where we are now. I would not have believed this was possible," said Mullen, RP's starting shortstop. "We didn't have the pitching back then and it just wasn't our year. We went 3-18 and now we are 24-4 and going to the finals. It's a little different now and our team chemistry is so good."
Mullen, who has 10 home runs hitting out of the leadoff spot, was the catalyst in Ridgefield Park overcoming its lone deficit. Passaic Valley's Rachel Harraka (2-for-4, RBI, R) doubled with one out in the top of the first inning and scored on a Sophia Guarente (2-for-3, RBI) single back through the box as the Hornets took an early 1-0 lead.
Mullen then led off the home half of the first inning with a single, and advanced to third on Mia Monteleone's sacrifice bunt, which was thrown into centerfield. Rivera (2-for-4, 2 RBI, 2 R) then gave herself the lead for good with a two-run double and her courtesy runner, Jhunelle Culala beat the play at the plate when Riley Fucci (2-for-4, RBI) got down a bunt single to make it 3-1.
Passaic Valley sliced its deficit in half in the top of the second on a Mackenzie Taylor RBI single, the Scarlets matched that with Rylie Nagle's (1-for-2, RBI) two-out RBI and the Scarlets kept putting runners on base until they could break the game open in the fourth. It was an almost grand slam by Alyssa Mayorga that was the big hit, a blast to right field with no outs and the bases loaded. Mayorga circled the bases a scored behind the three other baserunners without a play, but the ball was deemed to have rolled to and under a set of unused bleachers that turned the home run into a two-run, grounds rule double that made it 7-3.
Sophomore Gabby Rivera went the distance and added two hits and two RBI for RP, which will host Bernards in the section final on Saturday.
"That is two games in a row. Last time they said the ball went behind the tree out there [in rightfield] and today it was the bleachers," said Mayorga, RP's sophomore first baseman. "It's okay, though, I got the RBIs to help us win the game and that is all that matters."
To Passaic Valley's credit, it put the ball in play consistently and kept the pressure on the Ridgefield Park defense. The Hornets struck out only twice, had at least one runner on base in every inning but the third and went down swinging. DiPasquale hit a two-out double with the bases empty in the PV's final turn at bat this season, Harraka followed with an RBI single and the final out did not come without a bruise.
Lily Allmendinger smoked a low line drive that hit Rivera just above her cleat before she scrambled after the ball and made the throw to first to seal the Scarlets place in the final where they will host Bernards on Saturday in Ridgefield Park. The first pitch is scheduled for 11:00 a.m.
"I was just thinking, 'I need to get the last out,' and that is all that I was thinking. I did not care about my foot. I just needed to get the ball to first base," said Rivera. "We want to keep going. We are making school history."
FOR MORE PHOTOS FROM THIS EVENT CLICK HERE. TO BUY A COLLECTOR'S PRINT OF THIS STORY PLEASE VISIT 4-FeetGrafix.com.