Allie Shenloogian broke the game open in favor of Park Ridge in a 9-1 win over Kittatinny in the quarterfinals of the North 1, Group 2 state sectional tournament.
PARK RIDGE – To make a run at a state sectional title Park Ridge's softball team needs to peak at the right time. With a potential matchup against rival Emerson awaiting in the North 1, Group 1 semifinal round, the Owls raised their level in preparation. They left no doubt, even though they were up against Kittatinny's standout pitcher Gwen Lightcap, in Thursday's quarterfinal. Park Ridge had the bats going throughout the entire lineup. With contributions coming all over the field and in the circle, the Owls got the rematch they've been hoping for.
Allie Shenloogian broke the game open with a two-run single in the fourth. Paige McConville capped the five-run outburst with an RBI double as third-seeded Park Ridge methodically picked apart No. 11 seed Kittatinny in a 9-1 win in Park Ridge.
"We worked on going after pitches early in the count and also going the other way with outside pitches, both of which we did a great job of today," said Park Ridge head coach Rick Eichenlaub. "Everyone in our lineup hit the ball hard today, Caitlyn (Bratcher) did a tremendous job pitching and we played great defense. This was a complete team effort, one of the best we've had all season. This team is starting to click and it's the right time to do that."
Kittatinny gifted the Owls an early lead with a pair of errors on the same play that allowed two runs to score. After adding another run in the second inning, Park Ridge broke it open in the fourth. Lightcap threw hard and threw a high percentage of first-pitch strikes. The Owls made the adjustment and used that to their advantage. They were often aggressive early in the count and went up to bat looking to swing away. This strategy was effective as they quickly loaded the bases before Shenloogian's single scored two, followed by an RBI single from Erika Stewart to double their lead to 6-0.
"Our goal was to force (Kittatinny) to make outs by hitting the ball hard every time we were up," said Park Ridge junior Erika Stewart. "We communicated well and told each other exactly what we were seeing from their pitcher. I thought we brought a lot of energy today and that helped us get off to a good start."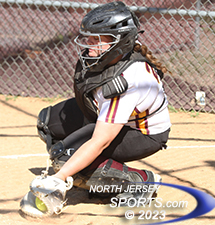 Paige McConville and Park Ridge will visit longtime rival Emerson in the semifinals.
The Owls led as many as nine before Kittatinny got on the scoreboard and still had the bases loaded with one out in the fifth. Any chance to get back in the game was shut down by senior right-hander Caitlyn Bratcher. She kept the ball low in the strike zone all game long and got out of the jam.
Park Ridge (17-8) also made some stellar defensive plays throughout the game. Shenloogian made a great catch on the run in foul territory, Stewart made a leaping snag at third, and Amanda Cicero showed off her wheels in center field with a pair of sliding catches, including one to end the game.
The Owls breezed into their long-awaited matchup with Emerson. They lost both of their regular-season meetings with Cavos, with the latter coming on a walk-off single in the bottom of the 7th by Alyssa Gabriele. However, Emerson will be facing a more confident team this time around. The Owls have scored 77 runs over their last seven games. They also have two quality pitchers in Bratcher or hard-throwing freshman Kate Broderick who can get the job done in the circle, which is a luxury for a Group 1 team to come state tournament time.
"We've had a really strong season, but now we're really coming around and playing our best at the right time," said Bratcher. "We're very happy with this win and we'll enjoy it tonight. Tomorrow it's right back to work and making sure we stay sharp. This win was great, but getting to play Emerson in the section semifinals is just the cherry on top."
FOR MORE PHOTOS FROM THIS EVENT CLICK HERE. TO BUY A COLLECTOR'S PRINT OF THIS STORY PLEASE VISIT 4-FeetGrafix.com.