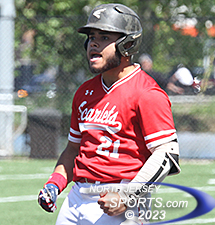 Brandon Potorreal's two-run single put Ridgefield Park in front for good in its second straight state tournament comeback, this time a 4-1 win over Passaic Valley in the North 2, Group 2 quarterfinals.
LITTLE FERRY – What was a great season was all but over. Down to its last strike in the first round of state tournament play, Ridgefield Park clawed its way back from a three-run deficit against Voorhees before eventually winning in 10 innings. So when the Scarlets were down by a run against upstart Passaic Valley in the bottom of the sixth, there was no panic.
While not an ideal situation by any means, it is a spot which they have grown to love by leaning on one another to grind out at-bats and figure out a way to pull out a 'W'.  Passaic Valley starter CJ Georgiou was dealing from his first pitch, but he was removed after five innings due to the pitch limit. Once the Scarlets got into the Hornets' bullpen, they saw the door that was closing on their season start to swing open once again.
After loading the bases, Brandon Potorreal stepped up by lining a two-run single to put the Scarlets in front. They tacked on two more runs, which was plenty for starter Sammy Aguilar. He went the distance to lift fourth-seeded Ridgefield Park back into the North 2 Group 2 semifinals for the second straight year with a 4-1 quarterfinal win over No. 12 seed Passaic Valley at Bassano Field in Little Ferry.
"We have confidence in each other and we'll keep fighting until the final out," said Aguilar. "I just had to keep doing my job, keep throwing strikes, and have the fielders behind me make the plays until we could get the bats going. I don't think we've even played our best baseball yet, but we're finding ways to win. We just want to keep it going as far as we can possibly take it."
Passaic Valley grabbed the lead in the third by executing a double steal. Eric Allmendinger beat the throw to second and Ronnie Manfredo scored standing up to give the Hornets a 1-0 lead. They had a chance to tack onto the lead with a runner on third and two outs. A line drive back through the box deflected off Aguilar, but shortstop Derek Bauernschmidt made a great play to pick up the ball and fire to first to end the threat.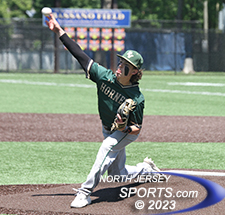 Passaic Valley starter CJ Georgiou threw five scoreless innings before running into the pitch limit.
The Scarlets' ability to lengthen individual at-bats proved fruitful as Georgiou was lifted after five strong innings. In the bottom of the sixth, Adam Conversano led off with a single. Victor Rodriguez followed with arguably the most productive at-bat of the game. Spoiling four two-strike pitches by fouling them off before working out a walk. Aguilar was also walked, which set the stage for Potorreal's heroics. After another long at-bat, Potorreal got a 3-2 fastball right over the heart of the plate and hammered it into left to plate score two runs and turn the one-run deficit into a one-run lead. Pinch-hitter Michael Buda then laid down a well-executed safety squeeze bunt to score another run before his brother Nick beat out a double-play ball to bring in another run for a 4-1 lead.
"When they came in with a new pitcher, it energized us," said Potorreal. "When I came up with the bases loaded, I just wanted to make that pitcher work. Once I got to a full count I felt comfortable. I knew he was coming with a fastball. If it was anywhere near my zone, I was ready for it."
Passaic Valley showed plenty of grit by loading the bases in the top of the seventh. Then with two outs, a full count, and the runners on the move, PV's John Bucher hit a chopper down the third-base line. Conversano reached up to snag the ball and landed right on the third-base bag, barely winning a bang-bang play for the final out to keep the Scarlets' season alive.
Aguilar pitched a 105-pitch complete game for Ridgefield Park (16-8-1). He scattered five hits with two walks, and six K's. Conversano had two of the Scarlets' four hits.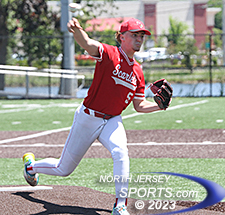 Sammy Aguilar went the distance for Ridgefield Park, which will face Hanover Park in the North 2, Group 2 semifinals.
Georgiou pitched lights-out while getting a no-decision for Passaic Valley (12-16-1). He allowed no runs, on just two hits with three walks and six strikeouts.
Last season, Ridgefield Park got to the North 2, Group 2 semifinals and fell to top-seed Caldwell. The Scarlets will once again face the top seed, this time though it is Hanover Park who will be in the opposing dugout. Last year, the Scarlets were happy to reach the semifinal round. This year, they feel they have the team that can win it.
"We've been in this situation before and after that first-round win, we believe that we can win these kinds of games," said Ridgefield Park head coach Scott Papetti. "It would be a shame not to get back to this round with the team we have. Now we have everything in front of us and I'd put our arms up against anyone. If we can play defense the way we know we can and we hit then we'll have every chance possible to win the game. We know we're facing a really good team, but we're a really good team too. At some point you've got to beat them."
FOR MORE PHOTOS FROM THIS EVENT CLICK HERE. TO BUY A COLLECTOR'S PRINT OF THIS STORY PLEASE VISIT 4-FeetGrafix.com.