Billy Siegenthaler took off on a straight steal of home in the bottom of the fourth inning and wound up scoring the only run of the game in Pascack Hills' 1-0 win over NV/Demarest in the opening round of the North 1, Group 2 state sectional tournament on Tuesday in Montvale.
MONTVALE – Pascack Hills' Billy Siegenthaler had never tried it before, at least not in a high school baseball game, but the situation called for some creativity. The innings were flying by and neither offense was making much progress in Tuesday's North 1, Group 2 state sectional tournament opener. Siegenthaler worked a walk leading off the bottom of the fourth inning of a still scoreless game; he went to second on Marc Hernandez's sacrifice bunt and to third on a ground out. When he arrived at the third base bag, Pascack Hills head coach Kevin Kirby was willing to gamble.
"I advanced on a ground ball and when I got to third base [Kirby] asked me if I wanted to steal home. I had never done it before unless we are talking about Little League when I was 10 years old, but I said, "Hey, if you want me to do it, I will do it," said Siegenthaler, who had already stolen two bases in the game. "He told me that as soon as [Demarest starter Travis Byrne] made his first move [to the plate] to take off."
Siegenthaler got the perfect jump off of third base on a straight steal of home and he just might have made it had the play reached its natural conclusion. But before the play at the plate could unfold, the home plate umpire called a balk. Siegenthaler had messed up the natural rhythm of the pitcher by more than enough to force the mistake and he cruised home with what turned out to be the game's lone run.
"With Siegenthaler's speed and timing, Kirkby's guts and the right arm of Jack Brodsky, Pascack Hills advanced to the North 1, Group 2 quarterfinals with a 1-0 victory that took just about an hour-and-a-half to complete. The Cowboys, the No. 4 seed that made it all the way to the section final as the No. 12 seed last season, will host this year's No. 12 Wallkill Valley, a 6-5 upset winner over No. 5 Lakeland, on Thursday.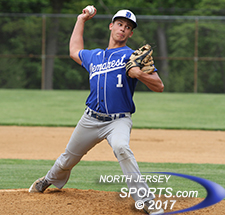 Demarest starter Travis Byrne threw a 3-hitter and did not allow an earned run in six quality innings.
In terms of offense, there is little else to write about as both Brodsky and Byrne were dominant. Brodsky threw strike one to just about every hitter he faced and there were 24 of them, just three over the minimum. Brodsky (7 IP, 0 R, 0 ER, 2 H, 7 K, 1 BB) threw a complete-game two hitter and walked just one while striking out seven. He flirted with a perfect game for a while and needed just 65 pitches to get through the first six innings and just 83 to complete the shutout.
"The last couple of games I have struggled with getting ahead in the count and my coach [Mike O'Brien] gave me some pointers in my last bullpen about staying ahead and staying low in the strike zone," said Brodsky. "After the first inning I knew I was going to have a good day. My arm felt good, the umpire was giving me the low strike and I was able to keep putting the ball where I wanted it. I just stuck with it and rode that momentum from the first inning."
Byrne (6 IP, 1 R, 0 ER, 3 H, 4 K, 5 BB) allowed just three hits in his six-inning complete game, but had to navigate through a little more traffic on the bases. Byrne walked five in the game, two of them in the bottom of the second inning when ran into his first bit of trouble. After getting the first two outs, Byrne gave up the first hit of the game to Siegenthaler (1-for-1, R, 2 SB, 2 BB), who smacked a single to right then stole second and third base. Hernandez and Tom Brown then drew consecutive walks to load the bases before Byrne snapped off a curveball to get a swinging third strike and escape the jam unscathed.
Byrne walked Siegenthaler to lead off the fourth inning and that led to the game's lone run, but the fact that it took to groundballs and a steal of him to finally get a run shows just how well Byrne threw the ball. He gave up a single to Anthony Cieszko in the fifth and a walk to Siegenthaler in the sixth, but worked around both. Christian Piantino had the only other hit, a two-out single in the third, for the Cowboys.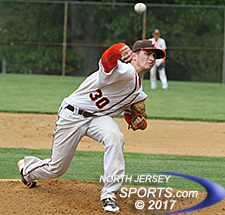 Jack Brodsky carried a perfect game into the fourth and ended up with a 2-hit shutout that put Pascack Hills into Thursday's state sectional quarterfinal.
"I think both pitchers did an outstanding job. They competed, they were in the strike zone consistently and they got outs when they needed them. [Pascack Hills] was able to generate more opportunities on the bases and they capitalized," said Demarest head coach Marc Houser. "That is the name of the game in high school baseball. When you are presented with opportunities you have to make the most of them. We got out of a lot of tight spots; all but one of them, but that one was the difference in the game."
Demarest managed only three base runners in the game. Nick Argenziano broke up the no-hitter with a two-out single in the fourth, but Brodsky then retired the next eight hitters he faced to carry his one-hitter in the seventh with one out. Argenziano, who had both of Demarest's hits, singled and Byrne then drew the lone walk that Brodsky issued to give the Norsemen two runners on base for the only time in the game. Brodsky got a groundball and a pop-up for the final two outs that put the Cowboys in the quarterfinals.
Brodsky was a key piece in Pascack Hills' run to the finals last year and he sees signs of that old Mojo starting to creep back in to the Cowboy's dugout.
"One hundred percent, especially after two great wins [over Cresskill and Northern Highlands] before the tournament and leading right into this game," said Brodsky. "I 100-percent feel like we are going to make a run just like we did last year."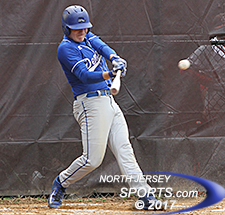 Sophomore Nick Argenziano had both hits for Demarest, which finished the season with 10-15 record.
The pieces are there.
"We have some great senior leadership. A lot of guys who were a big part last year are still here. Siegenthaler was huge for us down the stretch last year, Cieszko has been a four-year starter, Piantino has been hitting in the middle of the lineup for a couple of years and John Gifas as a courtesy runner has been a coach's dream," said Kirkby. "Those seniors have put it in the younger kids heads that we can do this. Hopefully it happens."
Pascack Hills improved to 18-8 on the season while Demarest saw its season come to a close with a 10-15 record. Of the 10 Norseman that were in the batting order or on the field to start Tuesday's game, eight of them will be back next season.
"After this type of game we will get on the bus and come together as a family. This is the last day for the seniors and I am just going to tell them that I am proud of them," said Houser. "For the guys we have coming back, and we are a young time, I will tell them to keep that pit in their stomach and hold it until next year. It will be the motivation so that when we do advance in the tournaments they will remember where we started and what it took to get there."