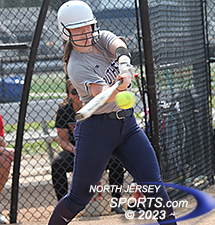 Abby Moller had a key hit for Rutherford, which advanced to the North 2, Group 2 quarterfinals with a 3-1 win over Parsippany.
RUTHERFORD – With the NJSIAA shortening of the spring season in general and softball in particular, teams were forced to play the same amount of games as usual in a condensed time frame. That meant the routine felt like almost every day was game day. Just when Rutherford felt like it was in a groove, a couple of cancellations meant that the third-seeded Bulldogs had to go into Tuesday's state tournament opener on a five-day layoff. Not to mention that their opponent, Parsippany, played much better than its No. 14 seed.
It was a precarious position, but one Rutherford's Giana Yaniero was prepared for in the circle. By reaching back to pull out of several jams, she helped give the Bulldogs a chance to play another day.
Yaniero escaped a pair of bases loaded jams and made some early runs stand up as Rutherford survived and advanced with a hard-fought 3-1 triumph over Parsippany at Memorial Field in Rutherford.
"We knew Parsippany was going to be a tough game and we had to be ready," said Rutherford head coach Cheryl Bott. "Our team stayed calm in pressure situations. Giana did her thing when we needed her to, and she stepped up big time. We made the plays behind her and most importantly was that we didn't panic."
Parsippany table setter Julia Budich slapped an infield single to lead off the game and came around to score on an RBI groundout to give the Hawks an early 1-0 lead.
It did not last long though as the Rutherford battery of Yaniero and Abby Moller had back-to-back singles. Then a pair of two-out errors allowed courtesy runners Mia Luciano and Leah Barna with the Bulldogs jumping back in front. They tacked on another run in the second inning on an RBI double from Ayla Hernandez to make it 3-1.
Rachel Dray and No. 3 Rutherford will host either No. 6 Bernards in the quarterfinals on Friday.
"You have to go up to the plate with a good mindset and go up there with confidence," said Hernandez. "I looked for a certain pitch to hit and went for it. Our lineup has been hitting and we just had to keep that going."
Yaniero ran into trouble in the third when Parsippany loaded the bases with one out. A year ago, it might have been a situation in which she unraveled mentally. A more experienced varsity pitcher now, the hard-throwing righty reared back to strike out the next two batters to preserve the lead.
She also relied on her defense to make the plays behind her. With two outs in the fifth, a long drive into the gap would have scored a run had it dropped. Senior centerfielder Rachel Dray refused to let that happen with a great jump on the ball for a tough catch in deep left-center to end the threat.
The Hawks kept putting pressure on Rutherford by loading the bases once again in the sixth. Once again though, Yaniero was up for the challenge. The count ran full before the sophomore showed her poise by getting another strikeout to end the inning before a 1-2-3 seventh inning closed out the game.
"I have definitely over the past year how to focus on the batter in front of you as opposed to letting the previous batter get to you," said Yaniero. "I always make an effort to throw a first-pitch strike. When you get ahead, then you have more control of what you want to do. I was in some tough spots today but was able to get a good outcome because I kept attacking."
Rutherford (18-5) advanced to the North 2, Group 2 quarterfinals and will be at home once again against sixth-seeded Bernards. With a wide-open section with no clear-cut favorite, Bott feels her team has the potential to make a run all the way to the section title.
"This is really anybody's section to win and we're right in that mix," added Bott. "We just want to stay loose and control what we can control. As long as we play the way we know we're capable of playing we have as good of a shot to win this section as anyone. It is something that has driven us all season and now we're one step closer to where we want to be."
FOR MORE PHOTOS FROM THIS EVENT CLICK HERE. TO BUY A COLLECTOR'S PRINT OF THIS STORY PLEASE VISIT 4-FeetGrafix.com.