Izzy Villar's first career hat trick did the trick for Paramus Catholic, which beat Dwight-Englewood, 5-2, to advance to the Non-Public North A state sectional semifinals.
PARAMUS – When the brackets were released for the Non-Public A North state tournament, Paramus Catholic was licking its chops. That is because Big North-United Division rival DePaul, who split two regular-season meetings with the Lady Paladins and also knocked PC out of the state tournament last year, was on the same side of the bracket. But ignoring the task at hand could have been a big mistake, which Paramus Catholic realized in the first few minutes against Dwight-Englewood on Thursday afternoon.
Alexa Levine's goal in the 5th minute Dwight-Englewood an early lead, but goal merely served to wake the home team up. Two misplays in the back led to the tying and go-ahead goals by Izzy Villar and she completed the hat trick to cap the scoring as third-seeded Paramus Catholic broke out offensively a 6-2 triumph over sixth-seeded Dwight-Englewood in the Non-Public A North quarterfinals at Paramus Catholic High School.
Dwight-Englewood moved up from Non-Public B to Non-Public A for the first time this season. While it was astep up in class come state tournament time, the Bulldogs made a statement that they were in it to win it. Paulina Quijano sent in a cross from the right wing and Levine redirected first time into the back of the net for a quick and surprising 1-0 lead.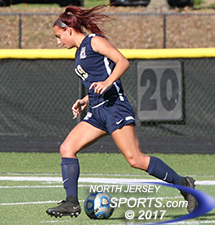 Northwestern University-bound Juliette Thron kept Dwight-Englewood dangerous all the way through.
"That goal took us by surprise but sometimes we need that extra push like we did today," said Villar. "We've been a team that has been good at being first to the ball and outhustling other teams and they did it to us on that play. We know that the way we play that 50-50 balls are going to win or lose the game for us. Even though we were down we had to keep working hard, force them into mistakes and then take advantage of them."
If there was any shock from being down early, the Lady Paladins did not show any panic. Elisha Cross picked off a short pass in the back and went in on a 2-on-1 breakaway. She fed Villar on her left, who laced a perfect shot into the side netting on the far post. Just 65 seconds after allowing the first goal, PC leveled the match at 1.
Villar took advantage another mishandled play in the back that put PC ahead to stay in the 15th minute. After a clearing attempt hit one of the Bulldogs and bounced right to her foot, Villar touched around a defender then scored from 10 yards out for a 2-1 lead. Then on a counterattack off of another giveaway, Tanaya Perez hit a shot nearly identical to Villar's first goal with Paramus Catholic regaining control by halftime, 3-1.
"That is the difference when you play some of the better teams in the county. When we made a mistake passing the ball they turned us over and turned that into a goal," said Dwight-Englewood head coach Eddie Ballas. "We have some experienced, talented seniors like Juliette Thron and Bella Patino, but we also showed that we are young in some spots on the field and those kids will learn something from this game and be better next year because of it."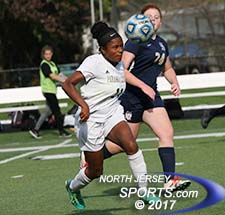 Elisha Cross and Paramus Catholic will play DePaul in the state sectional semifinals.
Perez scored again just minutes into the second half, but Levine responded with her second of the day to give the Bulldogs some life, cutting the deficit to 4-2. Dwight-Englewood's electrifying Thron caused problems for the Paladins all game long with her on-the-ball skills and pinpoint passes, but Villar was able to stay with the Northwestern University-bound midfielder in crucial moments to make sure that Dwight-Englewood (13-5-1) never got closer.
PC (12-5) put the game away on the absolute perfect strike from outside fullback Megan Ponce. She struck a 45-yard free kick that hit the bottom of the crossbar and bounced down over the goal line to make it 5-2. Villar finished off her first career hat trick on a beautiful give-and-go with Perez for the final margin.
With the win and No. 2 seed DePaul's win over Holy Angels in another Non-Public A North quarterfinal the Lady Paladins get their wish and will play the Spartans for a third time with a berth in the section final on the line.
"If you told my team at the beginning of the year that they would get this far they wouldn't have believed it," said Paramus Catholic head coach Bill McPartland. "I knew we had the potential but they had to realize themselves. We're a really hard-working bunch and a couple of positive early results has given us momentum that we've carried all the way up until this point and hopefully we can keep that going."
TO BUY A COLLECTOR'S PRINT OF THIS STORY PLEASE VISIT 4-FeetGrafix.com. FOR MORE PHOTOS FROM THIS GAME CLICK HERE!