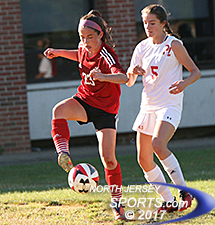 Tess Rooney's (left) cross led to the go-ahead goal for Glen Rock, which added another hard fought win to its resume, this one a 4-2 victory at Pompton Lakes.
POMPTON LAKES – Facing adverse situations is becoming the norm for the Glen Rock girls' soccer team. After ripping through the early portion of their schedule, the Panthers needed a late equalizer and a Lauren Patasnik overtime winner to survive an upset bid from Park Ridge in the first round of the Bergen County Tournament this past Sunday and the next time out, which came on Tuesday against Pompton Lakes, once again the Panthers found themselves in a tight game as Pompton Lakes fought back twice to tie it.
And then a lucky bounce broke things open. An own goal gave Glen Rock the lead and Patasnik's flick was the insurance goal the Panthers needed as they hung on for a 4-2 victory on Tuesday at Lakeside Middle School.
Glen Rock took control of the midfield early on with senior Olivia Traphagen leading the way. She consistently found space to operate and it resulted in the game's opening goal. Traphagen took a pass near midfield and went to goal with space in front of her. As a defender came out near the top corner of the box, Traphagen touched the ball around her and ripped a shot that hit the bottom of the crossbar and landed over the goal line to put the Panthers ahead, 1-0, in the 12th minute.
"I had some space and I was aiming for the upper-left corner, that's exactly where it went," said Traphagen, a senior midfielder. "I knew if I could just get it on net that someone would crash and put the ball in the net. When we won 50-50 balls we played well and did good things once we had possession."
Nicolette MacDonald's goal in the 29th minute got Pompton Lakes even at 1.
Just past the midway point of the opening stanza, Pompton Lakes started to find its footing. In the 29th minute, Elisa Zuta slid a ball through Glen Rock's flat four in the back. Senior striker Nicolette MacDonald ran onto the ball and blasted it home from close range to tie the game.
Glen Rock went deep into its bench throughout the game and got production from all of the players it put on the pitch. One of them was Sarah Kotwica, who pounced on a loose ball at the penalty spot and scored late in the half to give Glen Rock a 2-1 lead at the intermission.
The game turned on a dime as a point-blank shot from Patasnik was saved by Pompton Lakes keeper Maggie Horn and the subsequent rebound was cleared off of the goal line. On the ensuing rush down the field, the Cardinals earned a corner kick. Off of that restart, Julia Goodwin sent a cross in that bounced around until MacDonald beat a defender to the ball and scored inside the far post to knot the score at 2 in the 49th minute.
After working hard to grab the lead twice, the Panthers had to dig even deeper in the second half if they planned on pulling out the win.
Both teams had quality scoring opportunities with Horn making a save on a hard shot and Glen Rock goalie Caitlin Rundle making a diving save on a long shot from MacDonald. The Panthers got a lucky break on a cross from Tess Rooney. Patasnik and a Pompton defender were battling to get position in front when the ball bounced off the defender's leg and in with Glen Rock taking a 3-2 lead. Patasnik made sure she got to the ball first on her next touch with her flick going over Horn's head and into the side netting for a 4-2 lead with 15 minutes to go.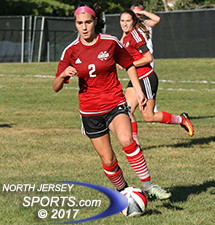 Olivia Traphagan and Glen Rock will get a shot at third-seeded Paramus Catholic in the Bergen County Tournament's Round of 16 on Sunday.
"I was just running hard and trying to get to the ball first," said Patasnik. "Scoring goals is pretty cool and we look to attack every time we have the ball. At halftime, we talked about playing the ball wide and everything else will come."
The Cardinals kept fighting and had a pair of scoring chances soon after Patasnik's goal. MacDonald hit the crossbar from the top of the box and Cristina Miller got off a hard shot but right at Rundle as Glen Rock stayed atop the stadnings in the NJIC-Colonial Division.
"We would have loved to get a better result out of this, but I thought we played closer to our capabilities than we did last week against some other strong teams from our league," said Pompton Lakes' head coach Tom Clarke. "I think we showed today that we can possess the ball against the better teams in our league, but when we make mistakes it can still cost us. We'll make some minor adjustment and try to play better against our league schedule the second time around."
After avoiding an upset in the preliminary round against Park Ridge, Glen Rock (9-1-1) will turn its attention towards the Bergen County Tournament's Round of 16 when they look to score an upset of its own when they face No. 3 seed Paramus Catholic at noon on Sunday.
"It's nice to be an underdog and we're excited for the game," added Traphagen. "We're not worried about the seeds or where either of us is ranked. It's just two good teams going head-to-head. Our team is just going to go all out just like they will and whoever plays better will come out with a win."
TO BUY A COLLECTOR'S PRINT OF THIS STORY PLEASE VISIT 4-FeetGrafix.com. FOR MORE PHOTOS FROM THIS GAME CLICK HERE!