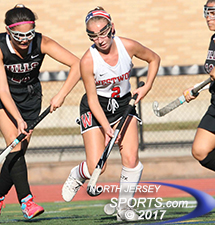 Lexi Santise scored twice in the second half to put Westwood in front of Wayne Hills in a 3-1 victory on Tuesday that was the Cardinals' fourth victory in a row.
WESTWOOD – Sometimes even the best of teams need a wake-up call, even ones playing in the midst of what is certainly the best season in program history. Such was the case for the Westwood field hockey team midway through Tuesday's game against visiting Wayne Hills. Coming off of three straight shutout wins, the Cardinals were halfway to another blank sheet when Wayne Hills scored the tying goal less than two minutes into the second half. That goal not only put the importance of the winning streak in perspective, but it woke the Cardinals up, especially standout forward Lexi Santise.
The speedy senior scored the go-ahead goal with just over 13 minutes remaining and added an insurance goal late to keep Westwood on the winning track with a 3-1 victory at Westwood High School.
"It speaks volumes for our kids to have done what they've done this season," said Westwood head coach Jaclyn Loughner. "We don't have kids who play all year round, so we need all 11 of us moving on a string and working together to get the results we want."
Both defenses were dominant, giving up a combined four shots over the first 20 minutes before the Cardinals started to push the pace. They passed effectively to keep the ball in the Wayne Hills' circle and peppered keeper Annisa Morales-Logue with shots. Morales-Logue made several sprawling saves before the Cards finally cashed in.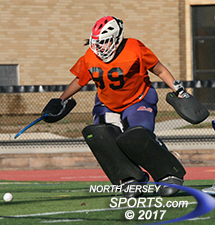 Annisa Morales-Logue made several difficult saves for Wayne Hills.
Off of a corner, the ball was sent around to Kristina Flores. She flicked it towards the cage and teammate Addison Kirk one-timed it inside the far post with 3:17 to go for a 1-0 lead that the Cardinals took into halftime.
"It was just quick touches off a corner and (Flores) sent a great ball into the middle," said Kirk. "I was just in the right place and one-timed it into the goal. We are such a close team and we rely on each other. That's when we perform best."
Wayne Hills had its best stretch of play in the opening eight minutes of the second half, which included the game-tying goal. Gwen Sangustin knocked in a pass from Erica Radler just 1:29 in to tie the game at 1.
The collective look on the faces of the Cardinals following the goal was one of shock and understandably so after having not allowing a goal for the past two weeks. That shock turned into determination after the Patriots made a push to score the go-ahead goal. Westwood keeper Lauren Catalano was right there to make the key save. It proved to be her last of the game as it was all Westwood from that point on.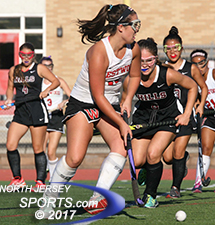 Lauren Podest assisted on the game-winning goal for Westwood.
"No team ever wants to be score upon; but I think it was the best thing that happened to our team today," added Loughner. "Some of the best lessons in life come from not-so-good experiences. It definitely shifted our focus and it was great to see the entire team step up."
Santise was a problem for the Patriots' back line all game. Despite being one of the smallest players on the field, she came up the biggest when it counted most. Lauren Podest sent a long ball into the circle that Santise ran onto. Morales-Logue came off of her line to challenge but Santise was able to flick a shot past the keeper to put Westwood in front, 2-1, with 13:05 to play.
"Westwood is a team that plays hard and is going to give you everything they have for 60 minutes. We didn't match that today," said Wayne Hills' head coach Jacqui Giammetta. "When you have two teams that are similar and one team wants it more than the other, the team that hustles more is going to win. We know what to do and we're capable of doing it. I think we just have to pick up our intensity and realize that there aren't a lot of games left in the season. We have to have the sense of urgency like Westwood had today."
With less than five minutes to play, Santise iced the game by scoring on a penalty stroke for the final margin.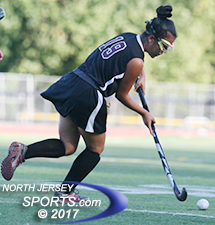 Gwen Sangustin scored the goal that got Wayne Hills even at 1.
Santise scored her 7th and 8th goals of the season for Westwood (8-3-1), which had a 19-6 advantage in shots. The eighth win of the season equaled the Cardinals' win total from the previous two seasons combined.
Morales-Logue had 14 saves for Wayne Hills (7-7). The Patriots will try to get back on track in a home tilt against River Dell on Thursday.
It is officially crunch time for the Cardinals. They will face off against Passaic County finalist West Milford in a tune-up for Sunday's showdown in the Bergen County semifinals against Demarest. That game will be played at River Dell High School in Oradell with a 1:00 P.M. start. A win there will put the Cards in the Bergen County finals for the first time in school history.
"We're a team that has to work for everything we get and we've worked really hard to get to this point," said Santise. "Our coach (Loughner) has really stressed if we focus on the basics and outhustle our opponent that we're going to be strong team this season. The pathway to success is right there in front of us. Now we just have to take advantage of the opportunity."
TO BUY A COLLECTOR'S PRINT OF THIS STORY PLEASE VISIT 4-FeetGrafix.com. FOR MORE PHOTOS FROM THIS GAME CLICK HERE!