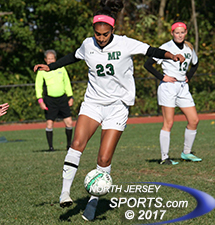 Victoria Vado had one of the three goals that Midland Park scored in the final 12 minutes of the first half on the way to a 5-2 win over Wood-Ridge in the opening round of the North 1, Group 1 state sectional toutnament.
MIDLAND PARK – Having just won the NJIC Tournament this past weekend, Midland Park's girls soccer team is peaking; playing its best soccer just in time for the into the state tournament. The Panthers had won nine of their last 10 games by keeping the pressure on their opponents and scoring goals in bunches.
That formula continued to work early against Wood-Ridge with the Panthers quickly taking the lead. But when the Blue Devils fought back to tie the game, it suddenly dawned on the Panthers that this ride could all be over with one bad performance on the pitch. After the shock wore off, the goal-scoring ways returned and the result ended up being one they have gotten used to.
Victoria Vado, Meaghan Healy, and Emma Lein all scored in the final 12 minutes of the first half to break open the game as No. 5 seed Midland Park locked up a 5-2 win over 12th-seeded Wood-Ridge in a North 1, Group 1 state sectional tournament first-round game on Tuesday at Midland Park High School.
"We were sliding all over the place today and we had to make some adjustments," said Midland Park sweeper Mackenzie Cleary. "I think maybe because of the seeds that we weren't as focused as we should have been. But when they scored we knew we had to wake up."
Wood-Ridge goaltender Angela Picheo finished with a whopping 19 saves on a busy day between the pipes.
On a soggy grass pitch, the conditions were sloppy. The conditions did little to slow Midland Park, which dominated early and had several scoring chances inside the box. Wood-Ridge goaltender Angela Picheo made one nice save after another, but could only hold off the Panthers for so long. Lein lofted a long shot that slid through Picheo's hands and into the net for a 1-0 lead.
Wood-Ridge had only one scoring opportunity in the first half but made the most of it. Natalie Cala was on the end of a long through ball and volleyed a high cross into the box. A misplay allowed the ball to drop and Gia Cannarozzi was right there to clean it up and tap it into the open net to knot the score at 1.
That goal gave the Blue Devils some confidence and put the Panthers on their heels, albeit briefly. Midland Park nudged back in front with Vado's goal in the 28th minute that put them ahead for good. She split two defenders to get to a perfect through ball from Kendra Cirino. With Picheo charging off of her line, Vado settled it with her first touch and got off a quick shot into the lower right-hand corner with her second to make it 2-1.
"I just saw that (Cirino) was about to send a through ball and tried to anticipate where it was going," said Vado. "I saw the goalie coming out and I had to make sure I got a touch on it before she could get there."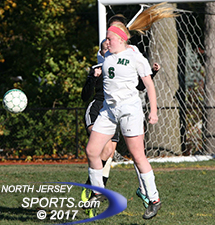 Mackenzie Cleary and Midland Park will visit Emerson on Thursday for the North 1, Group 1 semifinals
From that point on it was back to business as usual for the Panthers. Healy collected a cross from Liz Herlihy and scored for a two-goal lead. Lein followed with a backbreaking goal with just seconds to play in the first half as Midland Park regained control at 4-1 heading into halftime.
"For 28 minutes we were right where we wanted to be, but a team like Midland Park makes you pay for your mistakes," said Wood-Ridge head coach Jerry Cala. "That's been the story of our season. Starting six freshmen and two sophomores the entire season we knew we were going to have some growing pains. This game showed us a lot. We showed at times that we were strong defensively and could move the ball around a bit, but we also showed our inexperience against the better teams. We'll learn from this experience and it will make us better for next year."
Cirino scored a second-half goal off of a feed from Lein for Midland Park (16-5). Picheo was peppered all day but hung tough and finished with a season-high 19 saves for Wood-Ridge (6-14). Carly Cook scored the other goal for the Blue Devils on a 25-yard free kick to cap the scoring.
Midland Park moves into the North 1, Group 1 quarterfinals on Thursday and will hit the road to face fourth-seeded Emerson. The two teams could not be closer with identical records both within the NJIC-Patriot Division and overall. Fittingly, the teams split their two regular-season meetings. This time, each team's season is on the line and there is no doubt that both will leave it all on the field in the most important game of the season.
"When it comes to Emerson I think we'll step our game up because we know each other so well," added Cleary. "Our teams know each so well that it's going to be a good game. I don't think anyone thought we would be here after losing seven starters. That is what has driven us all season. We have to not just play well for a whole 80 minutes, but we have to want it more than they do."
TO BUY A COLLECTOR'S PRINT OF THIS STORY PLEASE VISIT 4-FeetGrafix.com. FOR MORE PHOTOS FROM THIS GAME CLICK HERE!