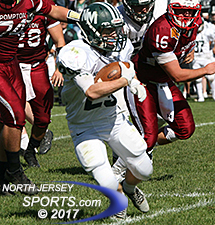 Bart Nativo scored with 2:32 left in the game to provide the winning score for New Milford, which topped Pompton Lakes, 27-20 on Friday afternoon.
POMPTON LAKES – As New Milford and Pompton Lakes prepared for Friday afternoon's showdown, each team knew that they could very well see each other again come state playoff time. The fact that this was just Round 1 of what might be high-stakes in-season rivalry created an exciting playoff-type atmosphere that everyone playing, coaching, and just spectating craved.
Both teams fell behind and fought back as the game was tied until late in the fourth quarter. With an undefeated record, a spot in the NJIC playoffs and a potential state tournament No. 1 seed on the line, New Milford trusted its playmakers to help pull out a win.
Bart Nativo's three-yard touchdown run with 2:32 to play put New Milford ahead and Nick Klein's interception secured a 27-20 triumph over previously unbeaten Pompton Lakes at Hershfeld Park on Friday afternoon.
"This was a big game and we knew we had to win the battle up front on both offense and defense," said New Milford lineman Tyler Dzadik. "We're both good teams, it came down to our depth being a factor and executing more plays in the fourth quarter."
New Milford got the ball to start the game and let its offensive line go to work. The Knights ran five straight times capped by Nativo breaking loose for a 30-yard TD run and a 7-0 lead.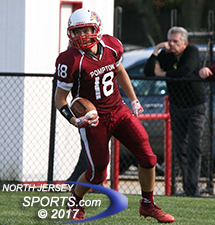 Pompton's John Tanis scored on a 61-yard catch and run, one of the many big plays made by both teams.
Pompton Lakes' second drive was derailed by an interception by the Knights' Rhys Farley deep in New Milford territory. The Cardinals were undeterred by the turnover. They came right back on their next possession by using a little trickery to find paydirt and then take the lead.
Tailback Frank Negrini started a sweep out to his right before stepping back and launching a pass up the sideline. Steve Sanders slipped behind the Knights' secondary to take the pass in stride and go in for a 32-yard score. Quarterback and holder on PAT attempts Ryan Shafer then pulled back on the PAT attempt and hit a wide-open Sanders in the end zone for an 8-7 Pomptonlead with 7:49 to play in the second quarter.
The Cardinals won the field position battle and forced a pair of turnovers to help keep the Knights' powerful offense off the field with the score still 8-7 heading into the second half.
Pompton Lakes got the ball to start the third quarter and needed less than a minute to score. Shafer's playaction pass was on the money to a streaking John Tanis up the seam for a 61-yard touchdown. The PAT attempt was botched but the Cardinals still held a 14-7 lead.
After five straight possessions without putting anything on the scoreboard, the Knights finally got back on track midway through the third quarter. They got a huge third-down conversion as quarterback Ryan Picinic hit his favorite target Farley for an 18-yard gain down to the Cardinals' 1-yard line. Picinic used every bit of his 6-foot-5 frame to sneak over the goal line for the touchdown with Brian Johnson tacking on the extra-point to knot the score at 14.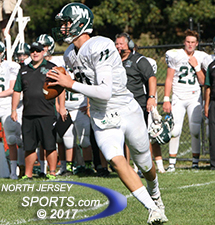 New Milford QB Ryan Picinic went 10-for-18 for 123 yards with a TD and an INT, along with 48 yards rushing and a score.
On New Milford's next drive, Picinic used a hard count on a fourth-and-two to draw the Cardinals offsides and keep the drive going. Four plays later, on a third-and-seven, he hit Nick Klein on a skinny post. Klein broke a tackle and went 32 yards to the end zone to make it 20-14 with two minutes remaining in the third quarter. Pompton Lakes lineman Drew Flynn made a push in the middle of the line and got his hand up to block the point after to make things interesting, which was exacerbated on a wild play in the waning seconds of the quarter.
New Milford had just taken over at its own 36. A fumbled handoff was picked up by one of the Knights' offensive lineman. He appeared to be rumbling towards a first down only to fumble himself with Sanders scooping it up for Pompton Lakes and returning it to the New Milford 25.
The Cardinals needed just three plays to cash in on a tough seven-yard touchdown run from Negrini. They had the chance to take the lead but the PAT was wide left and the game remained tied at 20 with 11:18 to play.
It was gutcheck time for the Knights and they put together their longest drive at the most crucial point of the game. Picinic hit Farley and Matt McElroy with pinpoint passes for third-down conversions before sweeping left for a 20-yard gain to convert another. He then handed it off to the closer, Nativo, who converted a big third-down conversion of his own. He ran for a tough seven yards on a third-and-six, then ran off left tackle before diving for the pilon for the go-ahead score. With 2:32 to play New Milford lead 27-20.
Pompton Lakes had one last chance and quickly moved the ball into Knights' territory on a 15-yard strike from Shafer to Negrini. Any hopes of a miraculous comeback were dashed as Klein stepped in front of a deep out for a game-clinching interception.
"They definitely punched us in the mouth a few times, but we're always a team that's going to comeback and we play the same no matter what the score is," said Klein. "We knew that time was on our side late and they had to throw the ball. Our conditioning was huge because we felt fresh in the fourth quarter. I knew one of us was going to make a play to get the ball back. On the interception, I just read his eyes and when it left his hand I just broke to make a play on the ball."
Nativo finished with 137 yards and two touchdowns on 21 carries for New Milford (3-0). Picinic went 10-for-18 for 123 yards with a TD and an INT, along with 48 yards rushing and a score. McElroy was his usual dominant self on the defensive end with a game-high 14 tackles.
Negrini accounted for 118 yards of offense (9 carries for 70 yards and a touchdown, two catches for 16 yards, 32-yard touchdown pass) for Pompton Lakes (2-1).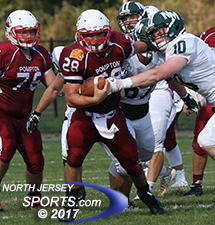 Frank Negrini's TD early in the fourth quarter got Pompton Lakes even at 20.
"The roles were reversed with us and New Milford last year but they ended up in a state final and we got bounced in the first round," said Pompton Lakes head coach Scott Mahoney. "This a game I'm proud to be a part of. With us, New Milford, Hasbrouck Heights you're going to get these types of games and I'm sure we'll all see each other later in the season. We're disappointed we lost but we're not a team that's going to stick our head in the sand. We'll learn something from this and get back to work."
New Milford remembers the sting of losing in the North 1, Group 1 section final last year. That has been the motivating factor for the entire program. Not only to get back to MetLife Stadium but also to become the first Knight teams to win a section title since going back-to-back in 1985-86, which are the only two football titles in school history.
"This is a tough place to come in and get a win and it feels great to finish it off the way we did," said New Milford head coach Bill Wilde. "This was a four-quarter game, that's our motto and that's what we did. To be a championship team these are the type of games you have to be involved in. We got dinged up, we were stagnant offensively for awhile, but we kept our poise and we kept working hard until we got things right."
TO BUY A COLLECTOR'S PRINT OF THIS STORY PLEASE VISIT 4-FeetGrafix.com. FOR MORE PHOTOS FROM THIS GAME CLICK HERE!