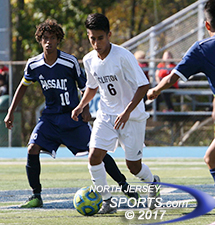 Damien Quirino was credited with the second goal, the game-winner, for Clifton, which won its first Passaic County title in five years and the 20th in program history, 2-1, over Passaic on Saturday in Wayne.
WAYNE – For most high school soccer programs, going without a county title for five years is not out of the norm, but when that program is Clifton, a North Jersey blueblood boys soccer program, going that long without hoisting a trophy is almost unthinkable. When Stan Lembryk returned to coach the Mustangs, the goal was simple: Win the Passaic County title and restore the pride among one of the most historically successful programs in the state. After years of watching other teams celebrate at its expense, it was finally time for Clifton to get back to the mountaintop.
Michael Algieri opened the scoring and Damien Quirino got a fortunate bounce on a long free kick for another goal. Senior sweeper Thomas Miazga and fellow senior Jake Padula made sure the stood up as second-seeded Clifton won the Passaic County Tournament for a record 20th time with a 2-1 triumph over eighth-seeded Passaic on Saturday at Wayne Valley High School.
"I've wanted this feeling for a long time and it feels great to be the ones celebrating," said Algieri. "We've played Passaic twice already so we knew each other really well. We had to come out hard right from the beginning and keep that energy up every single minute of the game."
The two teams were no strangers to one another after splitting their two regular-season meetings. Clifton set the tone early, but not only with its offensive prowess. Quirino led a midfield that consistently won 50-50 balls. Any ball that got into the defensive third was quickly cleaned up by Miazga and Co. Passaic goaltender Angel Hernandez (nine saves) has made huge saves throughout the Passaic County Tournament and made several more in the first 15 minutes against Clifton.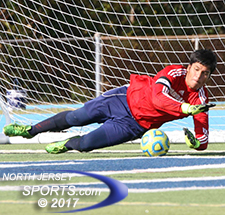 Angel Hernandez made nine saves for Passaic, which went from the No. 8 seed in the tournament to the county final.
The Mustangs broke through near the midway point of the first half on a shot that Hernandez could not do anything about. Algieri one-timed a cross from Oleg Voroshchuck into the lower right-hand corner from 15 yards out to put Clifton ahead, 1-0.
"I've been practicing shooting with my right foot a lot lately and I felt comfortable to let it rip when I had the chance," added Algieri. "Oleg gave a great cross. I just wanted to get a good touch and keep my shot low."
After years of being on the wrong end of some bad breaks in the county tournament the Mustangs finally caught a huge one on a free kick from 50 yards out off the foot of Quirino. With numerous players from both teams near the 18 trying to win the possession in the air, the ball cleared everyone. It then skipped off the turf and into the upper right-hand corner with 9:12 to play in the half to give Clifton an insurance goal that it turned out it would need.
The gameplan going in for the Mustangs was to shut down Passaic's dangerous Miguel Sencion. With a tight mark and a second defender often just an arm's length away in support, Sencion did not get a single shot off over the first 75 minutes of play.
Michael Algieri opened the scoring for Clifton, which will play Passaic again on Tuesday in the opening round of the North 1, Group 4 state sectional playoffs.
"(Sencion) is a real quick player on and off the ball; we really focused our attention on him and forcing him to go to his right more," said Miazga. "It's very important to be communicating and be strong mentally. We've been together every single day since August. Our goal was to bring the trophy back right where it should be in Clifton and that had been driving us to get to this point."
Sencion finally was able to carry the ball into the box, but had three Clifton defenders surrounding him. With no room to get off a shot, he got his heel clipped and wisely sold the call for a penalty kick and took advantage of it. Drilling the ball into the lower right-hand corner with 4:46 to play Sencion not only gave the Indians some much-needed life, but got the Passaic crowd into full-throated support.
Passaic (11-7-2) made one last push with just over two minutes to play but could only watch helplessly as a long shot from Jason Tiatelpa, who scored the game-winner in the semifinal win over Pompton Lakes, sailed over the crossbar.
As the final seconds ticked away, everything from elation to relief was felt by the Clifton players and coaching staff, who have put so much work into winning the program's 20th county title. With one season-long goal now achieved, the Mustangs will look ahead towards the opening round of the North 1, Group 4 state tournament on Tuesday. There they will play, guess who? Passaic for a fourth time this season. While it's back to business on Monday, this weekend will be about soaking up and enjoying what this Clifton team has accomplished.
"I couldn't be more proud of our guys and how hard they've worked," said Lembryk. "I'm happy not just for us but for everyone involved. For the Rossi family who started all of this, the booster club, and all the Clifton legends who still support this program to this day. Being county champions is always our No. 1 goal. It will be tough to play Passaic for a fourth time but we hope to take the momentum from today and have it carry over into states."
TO BUY A COLLECTOR'S PRINT OF THIS STORY PLEASE VISIT 4-FeetGrafix.com. FOR MORE PHOTOS FROM THIS GAME CLICK HERE!