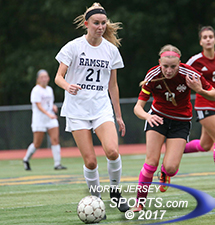 Corinne Kropas' goal with less than one minute left in the first overtime gave Ramsey a 2-1 win over Glen Rock and its first trip to the Bergen County Tournament semifinals since 2004.
OAKLAND – First the frustration was internal then it was visible for Ramsey senior midfielder Corinne Kropas after having several scoring chances in Sunday's Bergen County quarterfinal only to miss the net entirely each time. But as Glen Rock tied the game in the second half and the game headed to overtime, Kropas knew she had to stay poised. At best she might only have one more scoring chance the rest of the game and she had to make it count.
She did that and then some in the final minute of the first overtime. Her strike from the top of the box wedged perfectly between the outstretched hands of Glen Rock keeper Caitlin Rundle and the crossbar and rippled the back of the net with 45 seconds remaining to send sixth-seeded Ramsey to the Bergen County semifinals for the first time since 2004 with a 2-1 win over No. 14 seed Glen Rock at Indian Hills High School in Oakland.
"I was a little upset when they scored the tying goal but it's my senior year and we couldn't let one play get the best of us," said Kropas. "We haven't been in the county final four for 13 years and that was a big goal of ours coming into the season."
Glen Rock pulled the biggest upset of the Bergen County Tournament last week by knocking off third-seeded Paramus Catholic. The Panthers came out strong early on and held their own with Ramsey. Near the midway point of the first half, the tide started to turn and it was the Rams who kept the pressure on for most of the match.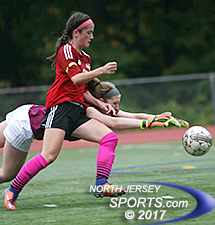 Tess Rooney scoring the goal that got Glen Rock even at 1.
After several scoring chances were handled by Rundle, the Rams finally broke through. Junior midfielder Alexa Correa made an electrifying run through the midfield and the back line. As two defenders converged she created enough space to rip a 15-yard shot that grazed the bottom of the crossbar and bounced in with 7:52 left in the half for a Ramsey 1-0 lead.
"I actually wanted to cross the ball but didn't see anyone coming open so I just went with it," said Correa. "With a little space in front of me I just took on players. I got enough room to have an opportunity at goal and went for it."
The second half was more one-way traffic but the Rams could not net the all-important insurance goal. Glen Rock made a push up the field and took advantage of a non-call to score the equalizer. Olivia Traphagen settled a ball that was close to being a handball but correctly not called. She moved laterally to allow Tess Rooney to make an overlapping run and slipped her a through ball. Rooney beat a defender to the ball and scored from close range to tie the game with 17 minutes remaining.
With just over 10 minutes left in regulation, Rooney nearly gave Glen Rock (13-2-1) a surprising lead. She showed off her speed along the flank to poke a loose ball between a defender and Ramsey keeper Katie Sylvester. Rooney had an open net but only had enough time to one-touch a shot that clanged off the post.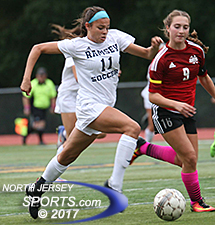 Junior midfielder Alexa Correa scored the opening goal for Ramsey, which will play second-seeded Ramapo in next weekend's semifinal round.
"That was a tough one because a few inches to the left and we feel like we're in a good position to essentially steal the game," said Glen Rock head coach Lona Ozrek. "It was a tough shot to make though with a girl right on her hip. The bottom line is that Ramsey did a good job of putting a lot of pressure on us. We never got a rhythm and didn't knock the ball around the way we usually do. We hung in there but Ramsey kept coming in waves and unfortunately we couldn't hold them off through the two overtimes."
Ramsey regained control heading into overtime and netted the game-winner on what started as an innocent throw-in by senior Lauren Chamberlin. The ball was flicked on twice into the box before a failed clearing attempt left it rolling for Kropas. She got her shoulders squared to the net, put her head over the ball and unleashed a blast from 15 yards out that Rundle could do little about despite a valiant effort.
After all of the frustration that built up throughout the game, Kropas let it go with a loud scream that was matched by all of her teammates as the Rams reached their first Bergen semi since 2004.
"I think the 15th time was the charm," added Kropas. "I had a few chances and I didn't take advantage of them. I knew I had to step it up in overtime and just reacted when I saw the ball coming to me."
Ramsey (10-1-3) moves into next Sunday's Bergen County semifinal round to face second-seeded Ramapo, a 1-0 winner over Westwood. With all county tournament expectations having already been fulfilled, the Rams are excited to play as an underdog and see if they can take this joyous ride one step further.
"We have nothing to lose from here, we just have to play as well as we can and want it more than whoever we play," said Correa. "Our team chemistry is great and we've really stepped up all season. It gets tougher each round but we're excited for the opportunity."
TO BUY A COLLECTOR'S PRINT OF THIS STORY PLEASE VISIT 4-FeetGrafix.com. FOR MORE PHOTOS FROM THIS GAME CLICK HERE!