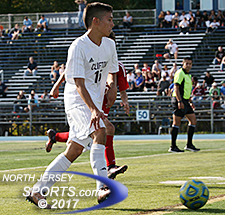 Miguel Aristizabal came off the bench to score a goal that broke the game open as Clifton posted a 4-0 win over Lakeland in the Passaic County final on Saturday.
WAYNE – As Clifton jogged off for halftime of Saturday's Passaic County Tournament semifinal it had a one-goal lead that provided some comfort, but the Mustangs knew all too well from previous years that anything can happen in a one-and-done tournament setting. Tired of watching other teams celebrate at their expense the team took matters into their own hands by getting back to playing good ol' Clifton soccer.
Miguel Aristizabal came off the bench with a much-needed spark. His goal provided some breathing room and Michael Algieri scored soon after to put the game away as second-seeded Clifton did not allow a shot in the second half en route to a 4-0 win over third-seeded Lakeland in the semifinals of the Passaic County Tournament on Saturday at Wayne Valley High School.
Before the teams could even get loose Clifton grabbed the lead. Just 2:20 into the match Oleg Voroshchuck found the back of the net to make it 1-0. The Mustangs were in control the entire way but a lack of communication in the back led to two dangerous crosses from Lakeland. Although neither led to a shot on net, it was enough for head coach Stan Lembryk to bring his team in tight at halftime and make his point known that communication was paramount to their success.
"Things can turn on a dime in this tournament and I needed to remind them of that," said Lembryk. "I thought we were hesitant for most of the half and that's not how we play. We needed to be more aggressive on the 50-50 balls and just play once we had possession. Our midfield really controlled the second half and that led to scoring opportunities."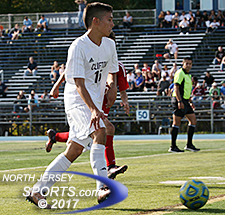 Michael Algeri and Clifton will play Passaic in the county final on Saturday.
After the rough patch to end the half the Mustangs regained control quickly in the second. It was not until 15 minutes in when substitute Miguel Aristizabal came up with a nice run off of a long free kick to collect the ball in stride. He ran in on goal by himself and ripped a shot past Lakeland keeper Ethan Dispoto to make it 2-0.
"Our team really stepped up in the second half and I had to do my best to be a part of that," said Aristizabal, through a translator. "We got shots in the first half, we just weren't putting them on net. I had my head up so that when I received the ball and was going towards the net I could pic out a spot to shoot for."
The Stangs put the game away with in the 67th minute starting with a long throw-in from Carlos Mesa. Kevin Salensky got a touch on the throw and put it perfectly into space for Algieri, who scored to make it 3-0. Enam Thompson came on as a sub late and scored his first career goal to cap the scoring for Clifton (11-5-1).
Clifton will play in the Passaic County Championship match this coming Saturday at Wayne Valley against No. 8 seed Passaic. The Mustangs have not won a county title since 2012. The teams met in Big North-Liberty Division league play twice with each team winning on the other's home field. This time it will be on a neutral field with more than just bragging rights on the line.
"Passaic is a team that we know well, but our focus on us taking advantage of this opportunity," added Lembryk. "It's got to be a full 80 minutes from everyone. The end result of a lot of hard work this season is to be in that game next Saturday. Our goal is to be in a position to win this tournament every year and now that opportunity is here. Hopefully we can be ready for the challenge and put together a complete game."
TO BUY A COLLECTOR'S PRINT OF THIS STORY PLEASE VISIT 4-FeetGrafix.com. FOR MORE PHOTOS FROM THIS GAME CLICK HERE!