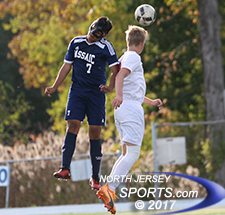 Jason Tiatelpa's flying header with 2:45 left to play put Passaic ahead and the eighth-seeded Indian;s reaced the Passaic County final with a 3-1 win over Pompton Lakes.
WAYNE – Through 70 minutes of play against Pompton Lakes it appeared like eight-seeded Passaic's run through the Passaic County Tournament, which included an upset of top seed Passaic Valley last weekend, was going to come to an abrupt end. Pompton kept Passaic's dangerous attack in check and controlled play in the midfield. Down a goal late, the Indians' confidence never wavered but they were running out of time. After having shown a flair for dramatic victories, the Passaic showed that it was far from a fluke with another crazy comeback.
Malic Moncrieffe scored the tying goal and Jason Tiatelpa the game-winner with 2:45 to play as eighth-seeded Passaic scored three goals in the final eight minutes to secure its first berth in the Passaic County final in 30 years with a 3-1 semifinal victory over No. 4 seed Pompton Lakes at Wayne Valley High School.
"All of the training we did, all of the running we did was for this run we've been on," said Tiatelpa. "It's about running through every ball, playing the right way, believing in each other. When you do that you always have a chance."
Passaic nearly took the lead five minutes in when a shot from Edwin Martinez went just wide. Just two minutes later, the Indians' sweeper went down from an injury and did not return. That forced Martinez to move back to sweeper and allowed the Cardinals' defense to focus on slowing down the dynamic Miguel Sencion.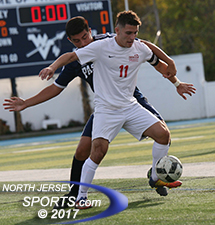 Pompton Lakes's Carlo Gonzalez opened the scoring with his goal in the 53rd minute.
Pompton did that effectively and had several chances from in close during the first half. Passaic goalie Angel Hernandez came up with a trio of saves from point-blank range to keep the game scoreless heading into the second half.
Sencion looked like he gave Passaic the lead, but his goal was waved off for offsides. Five minutes later, it was the other standout striker in the game who found the back of the net. Pompton Lakes' Carlo Gonzalez took a cross from Rigon Abedini and fired a shot from 10 yards out that Hernandez got a hand on. Gonzalez got to the loose ball first and slipped a shot into the open net to put the Cardinals ahead, 1-0, in the 53rd minute.
A pivotal play that could have put the Indians in a deeper hole came midway through the second. Yianni Ekonomides had a fantastic individual effort to weave his way through three Indian defenders for a breakaway. He sidestepped a charging Hernandez and stared at a seemingly open net. Passaic outside back Brandon Garcia never stopped hustling on the play and came all the way back to block the shot with his chest.
A goal there and Passaic's chances for another comeback would have decreased significantly. Garcia's clear kept it a one-goal game and kept the spirits of the Indians high.
Malic Moncrieffe scored the equalizer for Passaic, which will play Clifton for the county title next weekend.
"If they scored there we would have had a really hard time coming back," said Tiatelpa. "But that's the type of team we are. We never stop hustling on any play and we always pick each other up. In a big game like it's all about heart. Down by one goal instead of two, we just had to keep playing our game and put one in the net to tie it and give us the momentum."
After not doing much offensively for most of the game on set pieces, the Indians finally made something of a corner kick in the 72nd minute. Sencion hit a left-footed swinger just outside the six-yard box. Moncrieffe slipped in front of the defender marking him and one-touched a shot into the back of the net for the equalizing goal.
"We had to make something happen and we knew there wasn't too much time left," said Moncrieffe. "I didn't even see the defender on me on that corner kick. I just looked for the ball and went after it. We're a team that never stops fighting and we always think that we'll find a way to win. Coach (Marc) Pollaro has taught us how to play together and how to fight for each other."
That got the Passaic crowd right back into the game and the team fed off of that energy. The Indians could have sat back after tying the game, but chose to do the opposite. They sent numbers forward and that strategy worked. Victor Cueva sent in a long cross from just inside the sideline into a traffic-filled box. Tiatelpa came out of nowhere at the far post to put in a diving header in the 77th minute that gave Passaic a 2-1 lead. Just over a minute later, Moncrieffe capped the wild ending by one-timing home another corner kick to ensure Passaic's first berth in a Passaic County final since the 1980's.
Martinez did an admirable job playing out of position at sweeper for Passaic (11-5-2). Moncrieffe's two goals give him five in his last two games and Hernandez played well once again, making nine saves.
Pompton Lakes (11-3-1) will turn its attention towards the state tournament where it will likely be the top seed in North 1, Group 1.
Meanwhile, Passaic's attention will turn to Clifton, a familiar foe that goes all the way back to the days of the old NNJL. The teams split their two regular-season meetings and now have a third with a Passaic County title at stake. It is not where many expected the Indians to be when the season began. It is an opportunity to do something against all odds that only the Indians themselves believed they were capable of.
"This is a true team that's what we are," said Passaic head coach Marc Pollaro. "It's a different person every time we step on the field who steps up. We know Clifton is a very good team but they know we're a good one too. It doesn't matter who we play. It's about giving it everything you've got; playing with heart and desire for 80 minutes. If you can do that and execute the things you've been practicing all year, you'll be the team that comes out on top."
TO BUY A COLLECTOR'S PRINT OF THIS STORY PLEASE VISIT 4-FeetGrafix.com. FOR MORE PHOTOS FROM THIS GAME CLICK HERE!