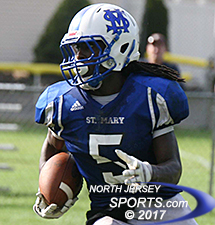 After running for 314 yards last week, St. Mary's Shawan Gresham added another 292 and four TDs as the Gaels won their third straight game, 41-19, over Cresskill on Saturday afternoon in Rutherford.
RUTHERFORD – When a team relies heavily on running the football and controlling the clock, getting off to a good start and playing with a lead are often paramount to its success. For decades, St. Mary has prided itself on moving the chains and the clock and in a game the Gaels needed to keep alive any hopes they might have of making the NJIC playoffs, they got off to the fastest start a football team could possibly have. Thanks to standout tailback Shawan Gresham, St, Mary got the early jump on Cresskill and never looked back.
Noah Rincon returned the opening kickoff 79 yards for a touchdown. Gresham followed up last week's 314-yard performance against Saddle Brook with 292 yards on the ground and four TDs as St. Mary won its third straight game, 41-19, over Cresskill on Saturday afternoon at Tamblyn Field in Rutherford.
Cresskill kicked away from the speedy Gresham to start the game. However, that did not go as planned with Rincon showing that he could also be a playmaker with the ball in hands. He received the kickoff at the Gaels' own 21, hit a hole to his right and turned the corner before racing down the sideline untouched for the tone-setting touchdown.
"I got a great block from Shawan and everyone held their blocks to open up a hole for me," said Rincon. "It's just an exciting feeling when you don't see anything but the end zone. I just kept my feet moving and running as hard as I could until I saw the ref put his hands up."
Gresham's sack on third down completed a three-and-out on Cresskill's first possession and he made the Cougars pay on the other side of the ball by running through and around the Cresskill defense throughout St. Mary's first offensive possession. Gresham capped it off with a two-yard TD run and a two-point conversion to make it 14-0 less than six minutes in.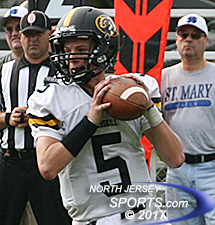 Sophomore Aidan Feulner filled in admirably at quarterback for a Cresskill team that has been hit hard by injuries.
Cresskill stayed within striking distance even though its offense has been ravaged by injuries. Sophomore quarterback Aidan Feulner hit Jack Morgan for a key 21-yard completion on a third-and-12 to keep a drive alive early in the second quarter. Feulner finished off the drive with a TD on a QB sneak with Yianni Tolos tacking on the extra-point to cut the Gaels' 14-point lead in half.
Gresham atoned for a lost fumble on the previous drive by breaking loose for a 31-yard run to the end zone with just 41 seconds remaining in the first half as St. Mary's regained momentum heading into the locker room, 20-7.
"He's a strong back with speed. If you don't wrap him up it can be costly like it was for us today," said Cresskill head coach Kevin Quinn. "We got down early and couldn't dig our way all the way out of that hole. But we've been battling injuries and at times have seven sophomores playing on offense. I like the way we fought hard from the first play to the last. We just have to be able to put four quarters together and we'll keep working to get towards that goal for next week."
It took just one play for the Gaels to add to their lead. On their first offensive play of the third quarter, Gresham made a nifty spin move through a hole created by Chris Buchta and Brandon Flynn and broke a tackle on his way for a 73-yard TD and a 26-7 lead.
"We had a mentality that we can win at the line of scrimmage, I knew if we did that we'd be fine," said Gresham. "Any time there's a gap that opens up I've got to take advantage of it."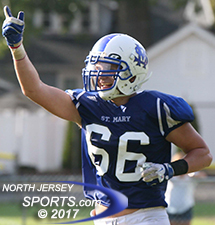 Chris Buchta scored his first career TD for St. Mary, which is now 3-2 on the season.
The Cougars had one last shot on the first play of the fourth quarter with the southpaw Fuelner rolling out to his right and hitting Morgan on a skinny post for a 27-yard TD to trim the deficit to 13. On the ensuing onside kick, the Cougars had two players get their hands on the ball but it was St. Mary's Danny Justo who wrestled it away and gave the Gaels possession.
On his final carry of the day, Gresham stiff-armed a defender and raced 42 yards for a TD before gritty two-way player Buchta (who also had five tackles) put icing on the cake with a 50-yard interception return for his first career touchdown.
"For my first time in the end zone it felt pretty good," said Buchta. "I can't explain how excited I was. We all work really hard and it's paying off."
Gresham, North Jersey's leading rusher, averaged over 12 yards per rush for St. Mary's (3-2). Eugene Kim also caught a TD pass from Feulner for Cresskill (2-2). The Cougars will try to get healthy and get on track when they face Elmwood Park this coming Friday.
The NJIC playoffs are still a long shot for the Gaels as they trail Hasbrouck Heights by two games, but they are still mathematically alive heading into Friday night's game against Secaucus.
"It starts with having confidence and we're playing with a lot of confidence right now," added Gresham. "Last year we didn't make to the playoffs and that's been on our minds this whole year. Now's the time we have to step up. We just have to beat every team from here on out."
TO BUY A COLLECTOR'S PRINT OF THIS STORY PLEASE VISIT 4-FeetGrafix.com. FOR MORE PHOTOS FROM THIS GAME CLICK HERE!