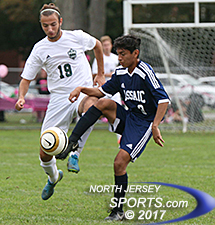 Ulysses Miranda (right) converted the final penalty kick that capped off eight-seeded Passaic's 2-2 (3-2 PKs) upset of top-seeded Passaic Valley in the quarterfinals of the Passaic County Tournament on Saturday.
LITTLE FALLS – After years of being kicked around, pushed down and taken lightly by its opponents, Passaic's boys soccer team has simply had enough. The effort the Indians have put in under first-year head coach Marc Pollaro has already shown as Passaic had already doubled its win total from last year heading into Saturday's Passaic County Tournament quarterfinal against top-seeded Passaic Valley. However, respect can only truly be won by making a run at a county title and the Indians' road was supposed to end on Saturday on Little Falls.
Apparently, Passaic never got the memo as it battled through regulation and two overtime periods to send the game to penalty kicks. It was there where Passaic pride was restored thanks in large part to Angel Hernandez and Ulysses Miranda.
Hernandez saved two penalty kicks and Miranda's goal in the final PK round touched off a wild celebration as eighth-seeded Passaic scored one of the biggest upsets of the season and also one of the most important wins in school history with 2-2 (3-2 in PKs) triumph over Passaic Valley.
"When we got to penalty kicks we were confident we would win because we believe we have the best goalie in the county," said Pollaro. "Our captains did most of the talking to get us going and keep us focused. I just let them do their thing."
Passaic Valley goalkeeper Alex Cruz making a save in the penalty kick shootout.
Passaic wasted no time in showing the Hornets that it was much more than just a plucky underdog. On a miscommunication along the PV back line, a defender attempted to play the ball back to the keeper from short range. That resulted in a miskick right onto the foot of Passaic's streaking striker Anderson Aguilar. He settled the ball and tapped into the open net to put the Indians ahead just 1:29 into the game.
The Indians had two quality chances to score over the next 10 minutes on a blast from Sencion that was saved by PV keeper Alex Cruz and a header off a Sencion cross that went just over the crossbar.
After taking advantage of a misplay in the back for a goal, the Indians fell victim to one of their own. PV's big target up top, Facundo Frascolla, ran onto a through ball and got a flick on it near the top of the box. It could have been cleared out by a defender or by a charging Hernandez, but a lack of communication allowed the ball to roll all the way into the net to make it 1-1.
Passaic had the better of possession for most of the first half, but it was the Hornets who ended up with the halftime lead. Hernandez made a diving save on a blast by Frascolla but could not corral it with the rebound popping right to PV's Matt Sytsma, who tucked it inside the right post with 1:04 to play to put the Hornets in front, 2-1, at the break.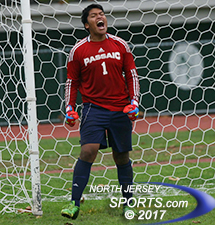 Passaic keeper Angel Hernandez celebrates after making a save in PKs.
"It was tough to be down at halftime because we felt like we were playing well but we never put our heads down or started pointing fingers at each other," said Hernandez. "We're tired of giving up. We're tired of losing close games. We're tired of letting other teams get the best of us. We're just tired. This team isn't going to give up and we work too hard every day in practice to give up in a game like this. We feel like we'll find a way to win."
After a passionate speech from the team's captains, the Indians came out blazing to start the second half. Sencion was Passaic's most dangerous player all game. On a 25-yard free kick just over five minutes into the second half, Sencion bent the ball over the wall and into the net to knot the score at 2.
From that point on neither team scored in regulation or the overtime periods, but there was plenty of action and some controversy down the stretch. Sencion was taken down in the box for a penalty kick with just under 18 minutes to play, but the kick was saved by Cruz and the game remained deadlocked.
Then with 1:13 to go PV's Mohammed Oudah nearly drew a penalty kick but there was no call, much to the chagrin of the PV players and coaching staff. That anger was compounded seconds later when a PV player received a second yellow card for a hard foul and was sent off. This left the Hornets playing with just 10 men for the two overtime sessions.
Despite being down a man, the Hornets controlled both overtime periods, but they had a couple of tough breaks that allowed the Indians to stay in the game. Hernandez made a great save on a rocket off the foot of Frascolla and a potential game-winning goal late in the first overtime was waved off for offsides as the teams needed penalty kicks to decide who advanced and whose county tournament run would end.
Hernandez used not only his big frame but his instincts to come up with a big save on the first kick. He dove to his left to make a diving save near the right post. Cruz also came up with a save on Passaic's second kicker before Hernandez answered right back with another to put the game back in his team's hands.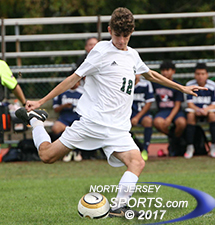 Stefano Turano made his penalty kick for Passaic Valley.
PV's Jacob Leonard and Stefano Turano kept the Hornets alive with PK goals but Sencion's goal on the fourth kick set the stage for Miranda as the final kicker for either team. It is a situation that every kid dreams of and that was not lost on Miranda. He thought about how far he had come, how much this Passaic team had grown, and refused to let himself get swallowed up by the moment.
Even with a frenzied crowd going crazy, Miranda made sure he was the calmest player on the field. He placed the ball down, counted his steps and ripped the ball inside the right post. As he slid to the ground and pointed skyward following his game-winning goal tears streamed down his face as his teammates mobbed him. 
"When coach (Pollaro) put me out there as one of the five and wanted me to shoot fifth I knew I had to score if it came down to me," said Miranda. "I already had a spot picked in my mind. Just wanted to hit it hard and low. If he made the save, fine, but I was going to give it my best shot. To watch it go in and win the game like that, it is really a dream come true."
Hernandez finished with 14 saves for Passaic (9-4-2). Jason Tiatelpa scored the other penalty kick goal for the Indians. Cruz finished with 10 saves for Passaic Valley (9-3-2).
Passaic has finally gained respect with a rare Passaic County semifinal berth. The Indians advance to play fourth-seeded Pompton Lakes and its high-scoring striker Carlo Gonzalez. No matter what happens in that game, Passaic has already beaten the odds and come out on top. Now there is a new goal: become the first boys' soccer team in school history to be Passaic County champion.
"This is the feeling you want when you play," said Passaic's rock solid captain Edwin Martinez. "This was a great game and we just beat a really good team. We don't want this to be the end; we hope it's just the beginning."
TO BUY A COLLECTOR'S PRINT OF THIS STORY PLEASE VISIT 4-FeetGrafix.com. FOR MORE PHOTOS FROM THIS GAME CLICK HERE!