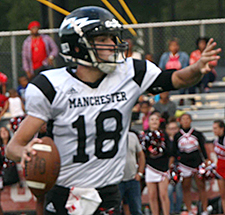 Manchester quarterback Antonio Biscotti was quite efficientm completing 7 of 10 passes for 114 yards with one touchdown and no interceptions in a 27-7 win at Glen Rock on Friday night.
GLEN ROCK – When Rande Roca took over for his second stint as Manchester Regional's head football coach, he was taking over a program that would have a long climb back to respectability. But when, three years ago, Roca came across a group of freshmen that were truly ready to accept the challenge of making Manchester a playoff team, he knew he might be onto something. With those players now seniors the Falcons have their sights on loftier goals than the program has had in decades. After a win over Lodi to open the season the Falcons set their sights on a Glen Rock team looking to find its legs after a close Week 1 loss to Rutherford.
After years of having the breaks go against it, Manchester finally got one in its favor. A nullified tying touchdown pass with just seconds left in the second quarter allowed Manchester to keep the lead going into halftime. The Falcons' defense did the rest by shutting out the Panthers in the second half to improve to 2-0 on the season for the first time since the 1990's with a convincing 27-7 victory over Glen Rock at Alan Daeatt Field in Glen Rock.
"This feels really good, we took our lumps for a few years now but there's a burning desire in these kids to get better," said Roca. "We went to watch a few playoff games together as a team just to see what that atmosphere is like. We're treating this entire season as one playoff game at a time and we're happy to get this one."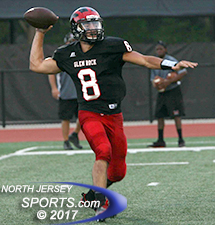 Glen Rock QB Dom Patania accounted for 166 yards of total offense (99 passing, 67 rushing).
The Falcons set the tone right from the opening drive on a 67-yard drive in which they converted all three third-and-long situations, the last of which involved some trickery. They used a double handoff and flip back to senior quarterback Antonio Biscotti. The only problem was that nobody was open. Biscotti rolled out to his right and bought some time before lofting a pass towards the back of the end zone. Kristian Kaca outleapt a Panther defender for the jumpball and kept his feet in bounds for the 18-yard TD.
"I knew my O-line was going to give me time, the key was keeping my eyes downfield," said Biscotti. "Kristian (Kaca) is a pretty tall receiver who can go up for the ball. So I pointed him to go across the end zone and just threw it up there for him."
Manchester followed that up by forcing a three-and-out, which eventually gave it the ball back in Panther territory. Once again, Kaca outjumped a defender for a deep ball on a crucial third-down play. This time, he hauled it in for a 38-yard gain. Two plays later, Biscotti snuck in from a yard out and added the PAT for a 14-0 lead.
Just as dominant as Manchester was in the first quarter, the Panthers turned the tables in the second quarter. On fourth-and-three from the Panthers' own 39, Seve Bilbao snuck out the back side on a misdirection run for a 31-yard gain to keep the drive alive. That led to a touchdown pass from Dom Patania to fellow senior Matt Sapoff to cut the Falcons' lead in half, 14-7.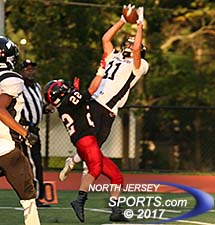 Manchester's Kristian Kaca making the circus catch that went for an 18-yard TD.
Glen Rock got the ball back with just 50 seconds remaining in the half. That was enough to make something happen and the Panthers nearly did just that. After a long completion over the middle to Conor Egan at the Falcons' 18, the Panthers hustled to the line to, seemingly, clock the ball. But the Panthers had a designed play for a fake, which Patania executed to perfection for an apparent tying touchdown to Will Scherer. It completely fooled the Falcons' defense, but unfortunately it also fooled the referee, who blew the play dead on the fake spike with an inadvertent whistle. The TD was nullified and a pass was knocked down in the end zone on the final play of the half as Manchester escaped with a 14-7 halftime lead.
"That was definitely a big break for us and a tough one for them," added Roca. "We've been on the wrong end of some bad breaks for a few years now and we were fortunate to be on the other side."
Glen Rock forced a three-and-out to start the second half and converted a fourth-down run as it looked to gain some momentum. The Falcons buckled down from there with Rich Jest dropping a running back in the backfield and Louis Rodriguez recording a sack on the next play to force the Panthers to punt. Glen Rock did not get another first down until the final minute of the game with the outcome well in hand.
Osman Kanu's 39-yard run on a jet sweep set up a two-yard TD run by Shasmar Hughes to make it 20-7 late in the third quarter. Biscotti capped the scoring by keeping his legs on a quarterback sneak and scoring from seven yards out.
"We got the three-and-out we wanted right after halftime but we couldn't capitalize on it," said Glen Rock head coach Jim Kurz. "I thought we got smacked in the mouth early before we bounced back. To say that I'm not concerned is an understatement. But that's a good football team we faced tonight and they put us on our heels early. No excuses though, they outplayed us in every facet. There's nowhere to go but up for us. Football is a character building sport and every one of us in the program from the head coach on down has to check themselves and see how we can band together to fix this thing and get back on track."
Biscotti was quite efficient under center for Manchester (2-0). He completed 7 of 10 passes for 114 yards with one touchdown and no interceptions. Roberth Umana, Jeremiah Williams, and Dustin Lewicki were consistent on the offensive line that did not allow a sack all night.
Patania accounted for 166 yards of total offense (99 passing, 67 rushing) to lead Glen Rock (0-2). The Panthers will have a bye week before facing a tough Waldwick/Midland Park squad.
Manchester will not have to wait that long though. The Falcons will get Waldwick/Midland Park at home this coming Friday night. A win there would put them in the driver's seat for both a first-ever berth in the NJIC playoffs and a berth in the state playoffs for the first time in 15 years. The Falcons know just what it at stake and cannot wait for an opportunity for opponents to take them seriously as a legitimate title contender.
"Waldwick/Midland Park is a huge game for us," said Biscotti. "Beating them would give us a big confidence boost and would let us feel like we could really do some damage in the playoffs. We've wanted to be in the spotlight for years and now we're finally here."
TO BUY A COLLECTOR'S PRINT OF THIS STORY PLEASE VISIT 4-FeetGrafix.com. FOR MORE PHOTOS FROM THIS GAME CLICK HERE!