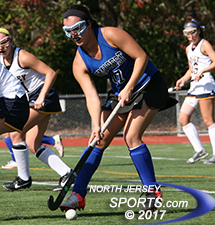 Orcin Akman scored the game's only goal with 3:58 left in the second overtime to give NV/Demarest a 1-0 win over Ramsey and its first Bergen County field hockey title since 2001.
ALLENDALE – This senior class at Northern Valley/Demarest had a rude introduction to high school field hockey. It was a season in which the Norsewomen did not win a single game and it was hard to envision them ever being mentioned among Bergen County's elite teams at some time during this four year cycle.
After an upset win in double overtime against Westwood in last week's Bergen County semifinals, Demarest had officially made itself relevant again, but beating three-time defending champion Ramsey the county championship game was going to be its toughest challenge to date.
That group of seniors, the one that did not win a single game four years ago, continued the magical run they have been on this season and capped it with a game and an ending that they will never forget.
Orcin Akman scored the game-winner in double overtime against Westwood last week and the Norsewomen scratched and clawed their way into another double overtime game against the dominant Rams. Demarest looked comfortable in the pressure situation right up until Braden Renke sent a long ball up to Akman, who then went on a scintillating run from midfield.
Akman weaved her way through several defenders before whacking a reverse-stick shot just inside the right post with 3:58 to go in the second overtime to lift third-seeded Northern Valley/Demarest to its first Bergen County title since 2001 with a thrilling 1-0 triumph over top-seeded Ramsey on Sunday at Northern Highlands High School in Allendale.
"I don't even think we thought this was possible at the beginning of the season but it feels great to be here now," said Akman. "As the game went on we settled down and we started to spread the field better. Once we got to overtime, we felt comfortable because we've been there before."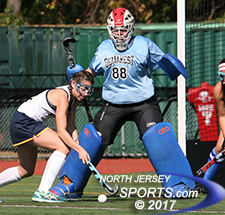 Demarest was outshot 20-6, but goalkeeper Sophia Mottola stood up to all of them.
Ramsey has been a terror for opposing defenses this entire season but especially over the past three weeks with 34 goals in its past seven games. It was more of the same early on as the Rams earned corner after corner. Demarest goalie Sophia Mottola came up huge all game long, including a pair of point-blank saves off the stick of speedster Jane Pless. The Norsewomen finally got their footing late in the half and had a quality shot of its own when a blast by Renke went just wide.
The second half was a mirror image of the first with the Rams keeping the ball in Demarest's defensive third. After Mottola had to pounce on a loose ball to prevent what would have been a sure goal, the Rams were awarded a penalty stroke just over five minutes into the second half. Mottola was up to the task though and made the save to keep the game scoreless.
"I tried to read the shooter's body language and her hips the best that I could, but in the end I just picked a side in my head and went for it," said Mottola. "I try to be as focused as I can for every game, but this is the most focused I've ever been for one. I knew because of how good Ramsey is and how they put constant pressure on you that I was going to face some tough shots and I had to be ready."

Despite being under attack for the majority of the game, the Norsewomen stayed poised behind the play of their captain, Renke. The TCNJ-bound senior was making great plays all over the field and sending the ball down field consistently to give her teammates a much-needed breather.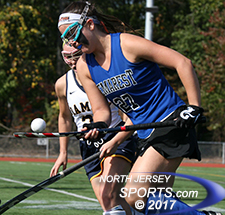 Braden Renke was all over the field for Demarest and started the final rush that led to the game-winning goal.
In the final 10 minutes of regulation, the Norsewomen once again started to flip the field and put the pressure on the Rams' back line. But a pair of scoring chances went wide and the teams headed towards overtime, where instead of 11-on-11, both teams only have seven players including a goalie. That makes for more space and essentially more scoring opportunities.
Ramsey regained control right off the opening whistle in the first overtime with three straight corners and a chance to win its fourth straight county title. First it was Renke then Charlotte Norden then Rebecca Kang who blocked shots and cleared them out of the danger zone. With the flow of traffic generally going toward the Demarest cage the only question seemed to be whether the Norsewomen could hold on long enough to get through two 10-minute overtimes and be declared co-champion.
But for a team that has been through an awful lot of losses throughout the past three years the Norsewomen knew that maybe, just maybe, it was their time to do something special. That something started with a long clear from Renke that went right to the stick of Akman at midfield. It looked as if Akman was going to be stopped on two different occasions, but the junior somehow kept the ball on her stick. She carried into the Ramsey circle where two defenders converged. Without any hesitation, Akman tapped the ball to her left and set up a reverse-stick shot that she struck perfectly into the lower right-hand corner for the game-winning goal. After a few seconds of the entire Demarest team being in total shock, the team rushed Akman and celebrated the school's first Bergen County championship in 17 years.
"I'm skilled at getting around players and I use my speed to bring the ball up," added Akman. "I pulled around two players and saw the goalie leaning a little to my left so I went to the reverse and it went right to the right corner."
Renke has had plenty of great games for Northern Valley/Demarest (10-6-1) over her four-year career but none better than this one. She did a little bit of everything on both ends of the field and her leadership was crucial along the back line. Mottola came up with 11 saves and Akman's goal was her fourth of the season.
Ramsey (15-2) held a 17-5 advantage in corners and 20-6 in shots. The Rams still have plenty to play for as they are the top seed in the upcoming North 1, Group 1 state tournament.
Regardless of what happens in state tournament play, with a Bergen County Tournament trophy already in hand the remainder of the season is gravy for a Northern Valley/Demarest squad that has come full circle under second-year head coach Mollie Kearns.
"For us seniors we remember what it was like our freshman year losing game after game after game and finishing 0-17. It was a horrible feeling," said Renke, who also shines on the softball diamond. "Even though we were 0-for-the-season, I dreamed about playing in this game and being in this moment. Coach (Kearns) really changed the culture of this program and we all bought in. We worked really, really hard just to earn respect and turn the program around for the future. To win a county title in our senior year, that's really a dream come true."
TO BUY A COLLECTOR'S PRINT OF THIS STORY PLEASE VISIT 4-FeetGrafix.com. FOR MORE PHOTOS FROM THIS GAME CLICK HERE!