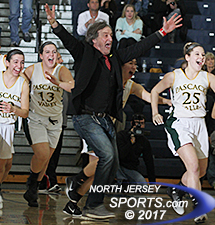 Pascack Valley head coach Jeff Jasper has celebrated 990 wins in his career heading into the 2017-18 season. We will follow his march to 1,000 wins right here.
Editor's Note: Follow along with JC Baumuller as he chronicles Pascack Valley head coach Jeff Jasper's road to 1,000 career wins. Scroll down or CLICK HERE!
HILLSDALE -- Pascack Valley girls basketball coach Jeff Jasper begins the 2017-18 campaign with 990 victories, which means he should reach the 1,000 victory milestone sometime in January. Jasper is the one and only girls basketball coach in school history.
He began teaching at PV in 1971 and in 1973 he approached then Indians Athletics Director Joe Talamo for a coaching job. Talamo told Jasper they were starting a girls basketball team and if he would take the job he could be the boys junior varsity coach the following year. Jasper accepted the offer and for the first day of practice 70 girls showed up. A few days later Jasper went back to Talamo and told him to forget about the boys junior varsity position -- he was staying with the girls team.
In the 45 years since Jasper's teams have won 34 league titles, seven Bergen County championships, 13 state sectional title and six state championships.
He has coached several girls who went on to play in college, including Janet Schwarz, Kim Beezer and current NV/Demarest coach Jenny Jurjevic. The leading scorer in Indians history is Laura (Dougherty) Ely, who tallied 2,276 career points. She also led the Indians to the state title in 1981 before heading to Notre Dame, where she played for four years. What made Dougherty's scoring prowess even more impressive is that when she played there were no three-point shots and the girls used a boys-sized basketball.
Jasper has also coached two generations of players from the same family. After graduating from Notre Dame Dougherty married John Ely and the two provided Jasper with three players, their daughters, Sara, Maggie and Terry. All three were on the 2008 Group 2 State Championship team.
The March met its endpoint on Thursday, January 11, 2018 and, fitlingly in Hillsdale where it all began.
No. 1,000
January 11, 2018
Pascack Valley 73, Northern Highlands 25
Pascack Valley got off to a slow start for the first time all season, falling behind 12-5 four minutes into the game. But the offense got going and the defense held the Highlanders to a mere 13 points the rest of the way, including holding them scoreless in the fourth quarter.
Junior Brianna Smith led the comeback with three three-pointers as Valley closed out the first quarter with a 17-2 run. By halftime the Indians led 44-22 and coach Jeff Jasper was on his way to becoming only the second basketball coach in New Jersey to earn 1,000 wins. St. Anthony's legendary boys basketball coach Bob Hurley was the first.
"It was just another game for a lot of people," said Indians senior Kelly Petro, "but for so many more people it has so much significance. It's so much more than just a game of basketball."
After the game Jasper gave an emotional speech to the audience about his journey. He praised and thanked his three teams: his family, Pascack Valley High School and the players, parents and fans who have supported him through the years.
He saved his best remarks for "the love of my life," who has been with him since Day 1.
"My wife, Lois, is as special as they come," he said. "Anyone who can put up with me going on 46 years is a special woman. Without her I would be living in a cardboard box on a street corner and this would never have happened. I know how lucky I am."
He closed with a quote from the late college coach Jim Valvano.
"As Jim Valvano said, 'if you can laugh, if you can cry and if you can think and do all three things every day, you've had a heck of a day.' Well, I've had a heck of a day."
No. 999
January 9, 2018
Pascack Valley 73, Bergenfield 20
The Indians jumped out early with a 32-point first quarter, more than enough for coach Jeff Jasper to position himself to make history. As of now St. Anthony's High School's legendary boys basketball coach Bob Hurley is the only high school basketball coach in New Jersey to amass 1,000 wins. Jasper hopes to join him Jan. 11.
Senior Brianna Wong tallied 13 points and junior Brianna Smith added 10. Sophomore Olivia Jones chipped in with nine, while senior Kyra Gynegrowski pulled down eight rebounds. In all, 21 Valley players hit the court and 13 of them scored points.
Jasper knew early on in 1973 that he wanted to coach girls basketball. He said he saw it as a challenge and a way to make a difference.
"But not [making a difference] like I did," he said. "I never thought I would still be doing it 45 years later. I'm a pretty simple guy. If I'm not enjoying something I go on to something else. I'm not a masochist."
As previously mentioned above in the introductory paragraphs, then Athletics Director Joe Talamo offered Jasper the boys junior varsity basketball coaching job for the 1974-75 season but first he had to coach the newly formed girls basketball team for a year.
"It took three days to decide I'm staying with this," he said. "I thought it was a calling. They were so hungry, they were thirsty to do what they had to do. They were so enthusiastic, so excited; they had so much energy. I never knew how it would turn out.
"They knew zero about basketball. It was like coaching aliens. I thought it would be fun."
It wasn't always fun, however. There were ups and downs, especially in the first few years.
"A handful of times in the early years I thought, 'what am I doing?'" he said. "After a difficult practice or after we played it looked like they were never coached or had ever practiced. I thought I was not making a difference. I would hang my head and think, 'seriously, what am I doing?'
"I would walk into the locker room and ask them if I was the only one who cared. They would say, 'what - no, we care.'I would respond, 'really? You don't pay attention to anything."
Nevertheless, Jasper hung in there and now after 34 league titles, seven Bergen County championships, 13 state sectionals and six state championships he is on the doorstep of an historical event.
Next up: A home game against Northern Highlands on January 11. This game will be Jeff Jasper's first opportunity for win No. 1,000.
No. 998
January 5, 2018
Pascack Valley 73, Paramus 21
A total team effort earned Pascack Valley a 73-21 victory over Paramus Friday afternoon, a day after Thursday's game was snowed out.
The Indians got contributions from no fewer than 34 members of the team.
"They were all excited about playing," said Pascack Valley coach Jeff Jasper. "It was great to see the joy on the kids' faces when they had the opportunity to get in front of a crowd. It was one of those rare moments when you can get so many in."
Valley jumped out to a 16-0 lead in the first three and one-half minutes of the game, behind great ball movement between seniors Brianna Wong, Kelly Petro and Kelly Smith to set up easy baskets and the Indians never looked back.
Junior Brianna Smith led the team in scoring with 20 points, including four three-pointers. Wong chipped in with 15.
There was a time back in the day when Valley had 30 players on the freshmen team alone and 50-60 players in the program but Jasper thinks that 34 players is the most that have played in a game.
"It's hard to do that because it means there are a lot of different combinations out there," he said with a laugh.
PV seniors Kyra Gynegrowski and Lindsay Rohde distributed assists while senior Sofie Wolf (with her first career points) and sophomores Sofia Bautista, Olivia Jones and Paige Skene hit key buckets.
"The place erupted [when Wolf scored]," Jasper said. "We have a great student section and they were into it for her. She comes to practice every day and works hard."
The main reason 34 players were available to contribute is that Jasper has never cut anyone from his teams.
"I've never cut a player in my 45 years," he said. "If they want to play, they're here. Who am I to tell a 14-year-old kid they cannot develop to be a good player or a person who could help our team. I make room for everyone."
Once in awhile a player might come to Jasper after her freshman or sophomore year and tell him they are leaving the team.
"Some will say they can't make the commitment," he said. "Others just want to do something else. I tell them they are retiring. I say, 'You will always be a part of the green-gold line. You will always be welcomed back anytime if you change your mind.'
"Some kids belong [to the program] because they really want to play. Some want to be with their friends. There are a ton of reasons why kids want to be involved. I've never believed it's a decision I should make for them. If they want to play for any reason it's good enough for me."
Next up: Valley travels to Bergenfield Tuesday, Jan. 9 for a 7 p.m. matchup with the Bears.
No. 997
Saturday, December 30, 2017
Joe Poli Tournament Final
Pascack Valley 42, Immaculate Heart Academy 33
Pascack Valley faced its toughest competition of the 2017-18 season to date in the Joe Poli Tournament final on Saturday afternoon and turned up the defense accordingly in an intense, physical game to top Immaculate Heart Academy, 42-33, and win its second consecutive title at the Holiday Tournament it hosts in Hillsdale.
"Words from me or the team cannot do justice to how we feel about winning the game," said Jasper. "There was a sell-out crowd (around 1,100 fans), including a lot of Pascack Valley alumni. There was a community euphoria."
Indians junior Brianna Smith, who has been a scoring machine all season, was held to six points. Fortunately for Valley, other players picked up the slack.
"They doubled Bri Smith and made it difficult for her to get open," said Jasper. "So she had two or three outstanding assists. She also guarded [sophomore] Brittany Graff, their top scorer."
Smith held Graff to two points.
Senior Kelly Petro led the way for Valley with 10 points, six assists and nine rebounds. Senior Kelly Smith pulled down 10 rebounds and scored seven points and seniors Cerina Dunkel, Toriana Tabasco and Brianna Wong combined for 19 points.
"The key play was when Cerina (Dunkel) took a charge from [A'Nyah] Barker," said Jasper. "That really brought the crowd to its feet. Then she hit a couple of three pointers."
Valley, specifically senior Kelly Petro, held 6-foot-3 sophomore Anna Morris, already drawing plenty of Division 1 attention, to two points in the game.Junior Eliya Herriott and Barker (a freshman) each scored 10 points for the Blue Eagles.
Joe Poli was the principal at Pascack Valley until his untimely death in 1989. He made a favorable impression on everyone who knew him and was one of Jasper's closest friends.
"Whenever he talked to you, he made you feel like you were the center of the universe," said Jasper. "Whether you were a CEO or the person taking your order at the McDonald's takeout window, whatever you had to say was critically important to him.
"He was non-judgmental, never offered advice, never patronized you, never finished your sentence. He was a remarkable leader and was humble. Short of my father, he was the most important male influence on me. He was just an incredible man."
Jasper and Poli ran marathons together and competed in the Ironman Triathlon. So it was a shock to everyone when, while on a bike ride in August 1989, that he suffered an aneurysm and died at age 51.
The holiday girls basketball tournament was renamed the Joe Poli Holiday Tournament in 1989.
Jasper praised his team for being mature enough and humble enough to realize that they were playing for more than a basketball title.
"They know this is significantly more than a basketball game," he said. "They play for Joe and what this represents. This group is philanthropic; they want to make the world a better place. They are generous with their time for causes and charities."
As discussed in the Dec. 17 entry of this diary Valley has participated in a tournament to raise funds for juvenile diabetes and autism since 2007. The Indians will also play in a tournament January 14 at IHA for a local charity in Glen Rock.
"The girls are wonderful role models for the old and young people who follow us," Jasper said. "We use girls basketball as a vehicle to give back by doing good work for other people.
"This generation gets a bad rap for being self-absorbed, clinging to their cell phones. They are so selfless and so charitable about what they do and how they feel. They see these tournaments as an extension of their philanthropic ideals."
Poli also had an influence on an accessory Jasper wears to all the games - a smiley pin.
"When Joe came to work he wore a green blazer, white and green tie, khakis and red wing boots," Jasper said. "He also wore a smiley pin. His goal was to make everybody's life better each day. "I began giving out pins for the kids to wear, put on their backpacks, whatever they chose. I started giving them out 30 years ago and the kids still have them."
Against IHA the Indians trailed 11-8 with less than two minutes to go in the first quarter when Dunkel came off the bench to drain a three-pointer to tie the game. Petro swished a trey with 57 seconds to go to give Valley a 14-11 advantage, a lead that the Indians would not relinquish the rest of the way.
Valley took a 25-18 lead into halftime and led by as many as 14, 42-28, with less than a minute to go in the fourth quarter. IHA scored the final five points of the game but it was too little, too late.
"IHA is a tough team; they're really good," said Jasper. "The matchups did not favor us. The game was a slugfest - like the Old Tappan game. It was physical and gritty, a gut-check. They are a great defensive team but we have good players who made balanced contributions.
"It was a community effort in the tradition of the Joe Poli Tournament."
No. 996
Thursday, December 28, 2017
Joe Poli Tournament Semifinals
Pascack Valley 66, Holy Angels 39
With a 66-39 victory over Holy Angels, Pascack Valley has a chance to become the back-to-back champion of the Joe Poli Tournament on Saturday, when it takes on Immaculate Heart Academy, which won its semifinal, 47-39, over NV/Old Tappan.
"The beauty of the Poli Tournament is the remarkable, quality coaching - Sue Liddy, Brian Dunn, John Sterling, Julie Haledjian, Lindsay Steffner. It's basically the heavyweights of North Jersey basketball coaching," said Jasper. "They're special. No matter who you play you're getting a well-coached team."
Valley wasted no time against the Angels, running out to a 10-point lead by the end of the first quarter.
"It's always a challenge to play them," said Jasper. "[Angels coach] Sue Liddy is a good, classy person, a quality individual and great coach. Holy Angels is well-coached, competitive and well-schooled. They are a reflection of Sue. This is her 43rd year of coaching and my 45th so we've met many, many times.
"What's great is playing against them makes you better, regardless of the result."
The Indians opened the second quarter with an 18-4 run to boost their advantage and, despite an 8-0 run by the Angels, Valley took a 41-21 lead into the halftime intermission.
Valley junior Brianna Smith led all scorers with 18 points, including four three-pointers. Senior Brianna Wong tallied 10 points and had five steals. Senior Kelly Petro scored nine points and dished 10 assists. Senior Elena Pulanco led the Angels with 17 points.
Indians senior Kelly Smith contributed 16 points, including going 8-for-8 from the free throw line, and an impressive 21 rebounds.
"She was in the right place at the right time," Jasper chuckled. "She's relentless. She has a knack to end up around the ball by showing incredible heart and guts."
Jasper was asked if he was excited about the prospect of winning a second straight title.
"That's not really my focus," he said. "If it happens I would be ecstatic. I relish the opportunity to play - that's what excites me. I'm excited when we take the court for a game or a practice. I'm always on the upswing - that's what I do. I've felt that way with all the games we've played and all the kids I've coached.
"Every day I've learned from them. I walk in as one person and walk out as another person because I've learned more. I'm a teacher and I'm in it for the kids. It's a two-way street. Whatever they learn from me pales in comparison to what I get from them."
Next up: The championship game of the Joe Poli Tournament against IHA on Saturday, Dec. 30 at 5:45 p.m at Pascack Valley High School.
No. 995
Tuesday, December 26, 2017
Joe Poli Tournament
Pascack Valley 71, Northern Highlands 37
The Indians got off to another great start, tallying 22 points in the first and second quarters to grab a 17-point lead in the first quarter and boosting their advantage to 30 points at the end of the first half.
But Jasper does not take anything for granted.
"I approach it like Groundhog Day," he said. "Just because we had a good game doesn't necessarily mean there will be a carryover. You can go from 'you're awesome' to 'have you ever practiced before?'
"You have to start all over. You can't assume anything - you have to get better. Just when you think everything is going right, the car breaks down. At practice tomorrow we'll try to get better. Anyone who does not feel that way is doomed to failure."
With a big lead there were plenty of Valley players who got into the game to contribute to the victory. Junior Brianna Smith led all scorers with 22 points, including three three-pointers. Seniors Kelly Petro (13 points, 8 assists), Kelly Smith (11 points, 12 rebounds) and Brianna Wong (8 points, 7 steals) also had a big hand in the victory.
"These are high school kids with many distractions," said Jasper. "They have mood swings. Things that seem to mean nothing to adults mean a lot to them. You have to be on top of things."
One way Jasper maintains a good relationship with his players is by shaking hands with each player after every game, practice or any time the team gathers for a basketball activity.
"There are a lot of layers to this - It's not just for show," he said. "It's one of the most important things I do. I'm hard-nosed in what I do and I'm also mildly sarcastic. So there's a chance I could have said something that rubs a player the wrong way. I look into their eyes and observe their body language. I tell them what they did well and what area of the game they need to work on. I give them a chance to say something or get a clarification.
"It's about communication and personal relationships. The game of basketball is minor. You have to know them - what makes them tick, the way they function. You can't use one brush. They travel to their own beat. They're all great kids from good families. They can get lost in their own lives. This (the handshake) forces me to know every kid. That's what it's all about."
Next up: Round 2 of the Joe Poli Tournament vs. Holy Angels Dec. 28 at 4:15 p.m.
No. 994
Thursday, December 21, 2017
Pascack Valley 71, NV/Demarest 35
The Indians broke the game open in the third quarter, outscoring the Norsewomen 24-7 to boost a 10-point halftime lead to 27 points heading into the fourth quarter.
Jasper was asked if he expected this team to be this good this soon.
"I never think about it," he said. "I'm totally thinking about how we can get better from where we were yesterday. What didn't we do well that we have to work on and get better? It's all about the skill work. If you get better, the team gets better. If the skills get better, we get better."
Junior Brianna Smith was on fire, draining six three-pointers to finish with a game-high 20 points. Senior Kelly Smith scored 11 points and snagged eight rebounds. Norsewoman senior Hannah Schwartz scored more than half of Demarest's points, finishing with 18, including four three-pointers.
The star of the game was likely Valley senior Kelly Petro, who showed her versatility by scoring 15 points, pulling down eight rebounds, distributing six assists and grabbing five steals.
"Her primary game is being the floor general, getting the ball to them in the right spots," said Jasper. "She's among the best I've ever had and she's incredibly unselfish. Her first look is to see how she's getting them the ball. She delivers them the ball on time in stride. The game is played by being able to pass and catch. She's the best. We all benefit."
The Indians are off until Tuesday where they will play in the Joe Poli Tournament in their home gym.
"Every year this tournament is the jewel of North Jersey," Jasper said. "All the teams are in the Top 20 of The Record. "We've won it, Old Tappan has won it, Northern HIghlands has won it, Holy Angels has won it and IHA has won it. It's pretty equal.
"It's seems that if you win this tournament you're going to win something else that year - a county title, a section title or a state title. Old Tappan won it two years ago and they won a state title. We won it last year and we won a state title. It kind of flows that way."
Next up: A 4:15 p.m. game vs. Northern Highlands on Dec. 26 in the opening round of the Joe Poli Tournament.
No. 993
December 19, 2017
Pascack Valley 44, Old Tappan 32
Editor's note: Full game story and photos available by CLICKING HERE
The Indians faced their toughest challenge of the season when they played longtime rival Old Tappan on the road in an afternoon start in Old Tappan.
Valley got off to a 6-0 lead early and led by as many as 13, 22-9, before the Golden Knights came back to trim the lead to 30-29 with a little more than two minutes left in the third quarter. But a 9-0 run to end the third quarter and begin the fourth quarter gave the Pascack Valley faithful a chance to breathe easy.
Junior Brianna Smith led all scorers with 17 points, including a three-pointer from about 40 feet away. Senior Kelly Smith tallied nine points and pulled down 12 rebounds. Senior Brianna Wong scored 14 points and had three steals. Jaclyn Kelly had 15 points for the Golden Knights.
After the game Wong was asked about Jasper's streak.
"I haven't really thought about it," she said, "because I'm taking one game at a time. I remember seeing when he got 900 and I was like, 'Wow.' He's the only coach that's even close to 1,000. Seven games away."
Next up: An away game against NV/Demarest Thursday, Dec. 21 at 5:30 p.m. What makes the game interesting is the Norsewomen are coached by former All-Stater Jenny Jurjevic, who played for Jasper in the early 2000's.
No. 992:
Pascack Valley 63, Lakeland 35
Sunday, December 17, 2017
Victory No. 992 was another came in blowout fashion as the Indians grabbed a 17-5 lead after one quarter, increased their lead to 14 points by the halftime intermission and outscored the Lancers 18-11 in the third quarter to put the game away for good.
"Lakeland is a good team," Jasper said. "They were ranked No. 8 by The Record. They are an experienced team that made it to the Passaic County Tournament last year and brought back most of the team.
"It was a great test for us. Smith and Wong were great and Petro was Petro. She put the ball in the hands of her teammates where needed. A lot of kids played and they all contributed."
Junior Brianna Smith drained five 3-pointers to finish with a team-high 21 points, as did Keira Marks who led Lakeland with 21. The eights were wild for the Valley seniors as Brianna Wong had eight rebounds, Kelly Petro had eight assists, Kelly Smith snagged eight rebounds and Cerina Dunkel scored eight points.
The PV/Lakeland contest was the first of four of the Benefit Games at Pascack Valley, a girls basketball tournament to raise funds for North Region Three, a center for young autistic adults aged 18-21.
"The day was awesome," said Jasper. "We had four great games, a great crowd. There were basketball people there for a good cause. Everyone was very supportive."
Jasper and NV/Old Tappan coach Brian Dunn began the games in 2007, raising funds for autism and juvenile diabetes. Now all the money raised goes for this local organization, which Dunn's 19-year-old son Thomas attends.
"Everybody loves Brian Dunn," Jasper said with a laugh. "If people hear he's involved in an event they start writing checks.
"It's all about paying it forward. That's what the games should be about. It makes the kids better people. They learn life lessons about being charitable, compassionate and caring. It allows the kids to learn that there are some bigger things than the game itself."
High Point topped NV/Old Tappan in the second game in "an incredible, phenomenal game," according to Jasper. Secaucus topped NV/Demarest in game three and a late surge by Westwood enabled it to win the finale over Cresskill.
"It was four really good games," said Jasper. "We had teams with classy coaches and classy programs."
Next up: The Indians travel to NV/Old Tappan for a contest between two top North Jersey teams on Tuesday, Dec. 19 at 4 p.m.
Friday, Dec. 15, 2017
Pascack Valley 71, Teaneck 46 (Win No. 991)
The Indians ran out to a 22-7 lead in the first quarter as the Highwaywomen got off to a slow start.
"We played really well," said Jasper. "Teaneck is really good - they're going to win a lot of games."
By halftime Valley led 37-17 and although Teaneck fought back in the second half it was not enough, as the Indians outscored the Highwaywomen in each quarter.
"We rose up - I was really pleased," said Jasper. "They were unselfish and they played hard. There were so many touches. They were looking to make the next pass. They had a good shot, made a pass for a better shot and made another pass for the best shot."
PV junior Brianna Smith led all scorers with 22 points, including six 3-pointers. Senior Brianna Wong contributed 20 points and had four steals, while senior Kelly Petro pulled down 12 rebounds, distributed 10 assists and tallied six points. Tamia White led Teaneck with 14 points.
Teaneck 7 10 9 20 46
PV 22 15 11 23 71

PV: Kelly Petro: Senior
12 rebounds
10 assists
6 points
Brianna Wong: Senior
4 steals
20 points
Brianna Smith: Junior
22 points (6 threes)
Next up: A benefit tournament game vs. Lakeland at 9:30 a.m. Sunday, Dec. 17. It is the opening game of the Benefit for Autism Tournament.