Senior Sung Jae Lee scored the only goal of the game after a scrum in front of the net to give Ramapo a 1-0 win over Tenafly in the quarterfinals of the Bergen County Tournament.
MAHWAH – Sung Jae Lee came back from the academy to play for his hometown team in his final year of high school. These stories have become common place over the years, but Lee's situation is refreshingly different than those pitting the professional-track soccer factories against high school set up. The academy that Lee left for was the Bergen Academy, the ultra-competitive academic institution open to any Bergen County resident with the smarts to meet the rigorous entry requirements.
"His ACT score is four times as high as what mine would be if I took the test twice," said Ramapo head coach Evan Baumgarten. "To have the opportunity to be around [Lee] and so many other kids with that kind of intelligence, we have a lot of them, it forces me to be smarter. I have to pick up my game."
Lee, a Wyckoff resident who sat out the first 30 days of the season as per NJSIAA transfer rules, was smart enough to put himself in the proper position on a corner kick late in Sunday Bergen County Tournament quarterfinal against Tenafly. With 70 of the 80 minutes having already been played and with the game still scoreless, Lee got himself involved at the front post when Andrew Furman's service came in from the flagstick.
"It was a corner kick and Andrew Furman sent in a nice cross. I think it was one of my teammates that hit it towards the goalie and the goalie was rolling in to try to grab the ball," said Lee. "I got to it first and hit right under him."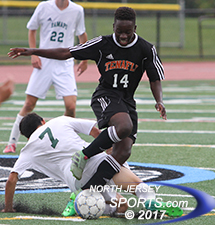 Freshman Tapiwa Shumba helped Tenafly apply some pressure from the midfield.
Two weeks after beating Tenafly by four goals in the regular season, Ramapo, the three-time defending county champion, had to sweat out the 1-0 victory and advanced to semifinal round where it will play upstart Glen Rock, a 'Golden Goal' upset winner over previously unbeaten Fort Lee, in Franklin Lakes.
"We had a good result, a real good result, against them the last time we played [Tenafly] and I think they wanted to show that they could play," said Baumgarten. "They gave great effort, they played with great energy and they put a lot of good things together. I give them a lot of credit."
After opening the season with two straight losses, Ramapo has now reeled off 10 straight wins and the momentum continued through the first 10 minutes. The Green Raiders were the clear aggressors; they owned possession and were close to breaking through on more than one occasion. But once Tenafly got through that flurry unscathed, it started to settle in and create chances of its own. Just short of 10 minutes in Tenafly's Eita Nakagawa drew the keeper toward him in the corner and then sent a cross in for Alexios Avrassoglou, whose volley flew high of the mark.
With freshman Tapiwa Shumba using his speed to fly around the midfield, and the Tigers' focused on limiting the time that Ramapo's Sebastian Varela spent on the ball, Tenafly was giving as well as it got for most of the first half.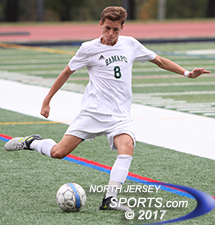 Connor Finn and the Ramapo defense posted a second straight county tournament shutout.
"They really took it to us two weeks ago when we played them so we had to make some adjustments and we tried to mark Varela. We couldn't let everything run through him, we couldn't let him pick us apart and I think we did a good job doing that," said Tenafly head coach Bill Jaeger. "If we would have been able to play a quick change of field a little more often we might have been more successful because every time we were able to do it we were able to get some opportunities with some crosses."
The marking tactic employed by Tenafly to harass the Lafayette College-bound Varela opened up more space for Matthew O'Shea, who took advantage for three different first half testers. He drilled a low liner in the 17th minute that caused some trouble for Tenafly keeper Tino Shumba and O'Shea forced Tino Shumba into action twice on the same sequence 11 minutes before the half. O'Shea teed up a Varela feed from 20 yard out that Shumba denied and the Tenafly keeper than scrambled back in time to mess up the timing on Andrew Krauss' rebound attempt. O'Shea also pulled off a nifty reverse step over before shooting high of the target in the 37th minute.
Long story short, there were a lot of potential goals but no real ones until Lee traded paint in the box and scored a mucker's goal with 9:20 remaining in regulation.
"Our boys worked really hard. I think they tired out at the end of the first half and we were holding on there for maybe the last eight or 10 minutes, but other than that I think we were ready to step up," said Jaeger, who welcomed back senior Eric Dragon to the rotation after missing several weeks with a gash near his left eye but was still without the services of the Kodai Ueyama, his standout senior midfielder. "But sooner or later if you give up enough corner kicks and long throw-ins against a team like Ramapo, you are going to give one up. We needed to try to stop them in the middle of the field and not let them into the final third."
Ramapo got good work from its keeper Jeremy Andreoli and it back line to keep the clean sheet. Dylan Zane and Matt Suchora were strong contributors on the outside while Chris Heffernan and Connor Finn handled the work in the middle of the field for the Raiders, who are now off to the semifinals.
"There is a very high expectation here and there is a legacy here that has been continued for decades and I did feel a little anxious before stepping into this team," said Lee, who is this deep in the county tournament for the first time. "But my teammates have helped me make the adjustment and now I am just happy to be a part of this run."
TO BUY A COLLECTOR'S PRINT OF THIS STORY PLEASE VISIT 4-FeetGrafix.com. FOR MORE PHOTOS FROM THIS GAME CLICK HERE!