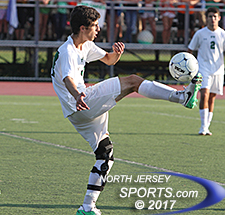 Senior Andrew Tateossian scored with less than five minutes left in regulation to draw Pascack Valley even in a 1-1 tie against rival NV/Old Tappan on Monday in Hillsdale.
HILLSDALE – The Pascack Valley vs. Northern Valley/Old Tappan rivalry has gotten so competitive that special accommodations have had to be made. Because the two schools bring an army of fans when the two rivals meet up in any sport, night games have taken a hiatus and a couple more crowd control personnel take up stations in front of each section of supporters. But those modifications did not dim the enthusiasm for Monday afternoon's boys soccer match as the atmosphere was fitting for a contest between two programs in the top tier of public school soccer.
A couple of fans on each side tried to outdo the other with cartwheels, handstands and backflips while their fellow partisans cheered them on. And that was just during breaks in the action.
It was exactly the kind of atmosphere that drew Old Tappan senior Sam Kang out of the Academy structure and back to his hometown high school team.
"High school is a lot different because the game is a lot more physical. The Academy is mostly passing, everything is mostly one or two touches, and here players, a lot of times, are looking to take people on," said Kang. "It's my senior year, I never got to play high school [soccer] and I felt like it was a part of my high school experience that was missing. It's fun and I am glad I am out here playing."
Daniel Oakes (center) celebrating the goal that gave Old Tappan the 1-0 lead.
While Academy soccer is designed to ready talented players for what comes next, high school soccer is more about the now and there was an urgency right from get-go on Monday and the emotion did not wane even through the extra 20 minutes put on the clock. Old Tappan scored midway through the first half, Pascack Valley answered inside the final six minutes and the two overtimes were void of goals, which meant a 1-1 stalemate that was more fun to watch than the final score might have suggested.
"I think it was a fair result. We created some good chances, but what I was most happy with was the thought that we were up for the battle," said Pascack Valley head coach Roy Nygren. "We really competed, we had really good shape and everything was in control. We were aggressive, but we able to control the emotional aspect of it in our first big game of the season."
Old Tappan head coach Mark Torrie
"They definitely had the better of the first half, especially the start of the first half. They were competing harder, but in the second half I thought we were the better side. It was two evenly matched sides with different strengths in an early season game, so a tie was probably about right," said Torrie, whose team is now 0-0-2 after opening the season with a 1-all draw against Bergenfield. "It a tough start. Our schedule is front loaded and there is have been a lot of minutes on the legs in just the first two games, but I think was good for us to get out here against a good side in the kind of environment we played in today. An experience like this is one we needed and can use once it gets to be October and November."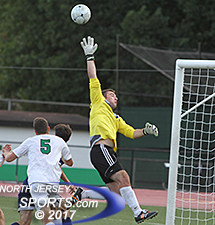 Pascack Valley keeper Josh Ulin was his usual aggresive self in helping to keep PV in the game.
Pascack Valley did come out on the front foot in the early stages and owned at least the first two minutes. The Indians found everything to their liking, but could not find the back of the net against Matt Burstein, who has taken the starting spot in goal after the graduation of Jake Fiore, now playing at Stevens Tech. Burstein was kept busy early and his best save came midway through the first half when Alex Lin, PV's left-footed striker, hit a right-footed rip while on the run that Burstein did well to palm away from danger.
Almost immediately after returning to pitch after the halftime break in a still scoreless game, Burstein held his ground on a restart and it paid off. Off a corner kick by Jahren James that rattled around in the box, Ryan Mastkowski found enough space to get a full foot on a follow-up blast that Burstein sprawled after and pushed around the post.
Josh Ulin. PV's senior keeper and one of the best in the county, was put under for the first real time 15 minutes into the second half and saved not only a shot, but also a teammates blushes. Colin Eifert hit a service into the box that went off a PV defender's head on right on net. Ulin had his crossbar covered, however, and parried the ball over. But the resulting corner kick led directly to the game's first goal as Danny Yun scissor kicked an attempted clearance back into the box before the ball found its way to Brett LaFronz, whose diagonal pass fell right into the path of Daniel Oakes, who went back across goal and into the lower right hand corner to put NVOT up 1-0 in the 56th minute.
Old Tappan kept the pressure on with two more quality chances in a one-minute span as JeeHo Yun tested Ulin low to no avail in the 62nd minute and the senior keeper raced off his line to do just enough to disrupt a potential Danny Yun break out in the 63rd.
Deenae Sujak had a late goal disallowed for Old Tappan, which is off to an 0-0-2 start to the season.
Pascack Valley was running out of chances as a free header in the 67th minute sailed high and then was running one key man down for the final seven-plus minutes of regulation and beyond. Senior Justin Schaumburger, who means so much to the Indians in the middle of the park, when down with a knee injury and, while the severity is yet unknown, he did not return after being helped to the bench in the 72nd minute.
The Indians kept charging and it finally paid dividends. A restart from the right side led to a goal on the back post for senior Andrew Tateossian with 5:35 left in regulation.
"The ball was played in over the top and Nygren always says to come in from as wide as possible. I was outside the number and ran in on it," said Tateossian. "The defender kind of misread it, it bounced once and I just had to hit it home."
Old Tappan's Deenae Sujak knocked in Kang's cross in the 86th minute, but it was ruled that he did so from an offside position, so there was not more scoring in regulation and the overtimes were fast-paced but scoreless as neither side really tested the opposing keeper.
So it is just one more game off the schedule for two teams with championship aspirations. They will see each other again in league play and possibly in the Bergen County Tournament and/or the North 1, Group 3 state sectional tournament.
"We are hungry and we know we are right there with the best teams out there," said Ulin, who helped lead PV to last season's Bergen County Tournament final and the state sectional semifinals. "Nygren tells us that we are good enough to beat anyone and I agree. That has to be the mindset."
TO BUY A COLLECTOR'S PRINT OF THIS STORY PLEASE VISIT 4-FeetGrafix.com. FOR MORE PHOTOS FROM THIS GAME CLICK HERE!