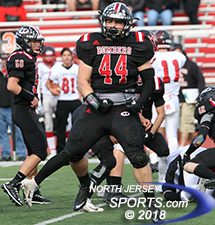 Joe Cannizzaro ran for 204 yards and four TDs for Boonton, which ran past Emerson, 35-21, in the opening round of the North 1, Group 1 state sectional playoffs.
BOONTON – Boonton senior Joe Cannizzaro is the type of player every coach would love to have. A hard-nosed, old school, team-oriented guy who will do whatever it takes to win. He is highly-regarded as a rugged linebacker, but has shown lately that he can also punish opponents on the other side of the ball. After busting out for a career-high 213 yards rushing in a win over Mountain Lakes last week, the senior fullback kept the hot hand going when the Bombers opened state tournament play against Emerson.
After never rushing for over 200 yards in a game for the first time, Cannizzaro has now done it twice in back-to-back games. He bulldozed his way to 204 yards and a career-high four touchdowns as third-seeded Boonton led wire-to-wire in 35-21 win over No. 6 seed Emerson in the North 1, Group 1 quarterfinals on Saturday afternoon at Boonton High School.
"It's a great feeling to win a home game in the states and head off to the semifinals," said Cannizzaro. "It all starts with our guys up front and they were the difference today."
Boonton set the tone early with a 61-yard scamper by senior quarterback Trey Cabalar down to the Emerson 3-yard line. Two plays later, Calabar went to sneak into the end zone from inside the 1 but fumbled with the Cavos' Joey Lacorozza recovering in the end zone.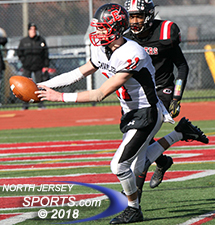 Emerson quarterback Pete Durocher finished with 233 yards of total offense.
After Cannizzaro stuffed the Cavos on a fourth-and-two, Cabalar showed his poise on a nearly identical play to the long run he had just minutes before. This time Cabalar faked the handoff and went untouched 56 yards to the end zone for an early lead.
"I really didn't have to do much on that play but run," said Cabalar. "Our line did a fantastic job to open up a hole and I got great blocks downfield from the split ends."
The Bombers had a solid drive going on their next possession before being derailed by another fumble with Emerson's Nico Savino pouncing on it at the Cavos' 10-yard line.
After forcing a punt the Bombers received the ball back with just under two minutes to play. Going into a swirling wind Boonton could have easily just ran out the clock and been content with a halftime lead. However, the Bombers had other ideas and ran their way quickly into striking distance. They had five straight runs of nine yards or more, including a 21-yard burst by Corey Dempster and a 16-yard pitch to freshman Hunter Van Zant down to the Emerson 2 with 18 seconds left when Boonton called its final timeout of the first half. On the ensuing play, Cannizzaro got stuffed for no gain and it looked like Emerson was going to get a huge momentum boost. The Bombers hustled to the line and went right back to Cannizzaro, whose second effort got him over the goal line with no time remaining as Boonton took a 13-0 lead into the locker room.
That momentum spilled over into the second half when Cannizzaro showed he is more than a three-yards-and-a-cloud-of-dust type of runner. He broke a tackle in the hole then turned on the afterburners for a 60-yard touchdown run that made it 20-0 just 51 seconds into the third quarter.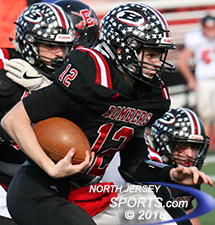 Boonton QB Trey Cabalar, who attempted just one pass, notched a career-high of 175 yards rushing on just 11 carries.
"The run at the end of the half and the one to start the third quarter were tough," said Emerson head coach Nick Calandrino. "I thought we did a good job of getting past that and kept playing hard as we always do. They just made more plays than we did, especially on third down."
Emerson refused to give up and kept fighting until the final whistle behind elusive quarterback Peter Durocher and tailback Ryan Shaw. Two big runs of 32 and 21 yards set up a Durocher eight-yard TD run that capped a 90-yard drive and got the Cavos on the scoreboard with 1:49 to play in the third quarter.
The Cavos had a big chance to get back in the game when forcing a third-and-five from the Boonton 21. Dempster looked to be corralled at the line of scrimmage but evaded two tackles and went for 17 yards to keep the drive alive. From there it was all Cannizzaro up the middle. He ran for 61 yards on the drive and finished it off by scoring from four yards out to make it a 20-point lead early in the fourth quarter.
The Cavos answered right back with a fourth-down conversion for a touchdown. Durocher rolled out to his left then hit Savino, who made a leaping catch in the end zone to slice the lead to 27-14. The Cavos nearly put a scare into Boonton when the ensuing onside pooch kick appeared to be recovered by Savino deep in Bomber territory. But it after the officials talked it over it was ruled that the ball touched out of bounds first. Cannizzaro put the game away minutes later with his fourth TD run of the game.
"Our team showed what we can do, smashmouth football at its finest," added Cannizzaro. "We just had to keep doing what we've been going the past seven games. If we play our game and take care of the ball it's going to be tough to beat us."
Cannizzaro was a force on defense, leading all players with 12 tackles for Boonton (7-2). Cabalar, who attempted just one pass, also notched a career-high of 175 yards rushing on just 11 carries. The Bombers had 476 yards of total offense, every one of those yards coming on the ground.
Durocher finished with 233 yards of total offense for Emerson (6-3). He completed nine of 16 passes for 127 yards and two touchdowns along with rushing 16 times for 106 yards and another TD. Shaw also topped the century mark on the ground with 122 yards. Savino caught both touchdown passes from Durocher. Dylan Demagistris also had a solid overall effort with four catches for 57 yards and six tackles on defense.
Boonton will hit the road next week to take on No. 2 seed Park Ridge, a 49-34 winner over Cresskill on Friday night. Having won seven straight games, the Bombers come in flying high and are no longer playing just for each other.
"Boonton is definitely a special place and football really brings this community together," said Cabalar. "You have alumni who played here 20 years ago and coaches on the sideline who played two years ago. It's an exciting time here and we're looking forward to next week."
FOR MORE PHOTOS FROM THIS EVENT PLEASE CLICK HERE. TO BUY A COLLECTOR'S PRINT OF THIS STORY PLEASE VISIT 4-FeetGrafix.com.