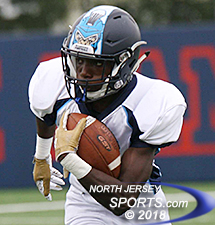 Rashawn Markman rolled up 282 all-purpose yards before leaving with an injury late in Waldwick/Midland Park's first win of the season, a 31-28 thriller at Lodi.
LODI – For any football team from a small school, depth is always a concern. Even combining two of those small school into one team does not always alleviate the problem and players are often forced into action in positions they are not accustomed to. So when Waldwick/Midland Park senior captain Harry Parker went out with a broken collarbone in the season-opener then Rashawn Markman got injured on the first play of the second half the Warriors were left without their two best players in the secondary for the entire second half against Lodi.
As a 17-point second half lead was whittled down to three points in the fourth quarter, role players had to step up and make big plays down the stretch.
Jack Dunich picked off a pass at the goal line to prevent a touchdown and Ben Schierloh nabbed the game-clinching interception with just over a minute to play as Waldwick/Midland Park held off a late surge to hang on for its first win of the season in a 31-28 thriller over Lodi on Saturday afternoon at Lodi High School.
"We came limping into here and we didn't know what to expect," said Waldwick/Midland Park head coach Greg Gruzdis. "We have 30 guys on our roster and being down four guys we're down to 26. So guys who never played before I'm looking to the sideline to come in and make plays."
Waldwick/Midland Park set the tone early with two long conversions on its first drive. On a third-and-23, Markman took a reverse 25 yards for a first down. Then, on a third-and-14, Ethan Kucharski used a playaction pass to freeze the secondary before hitting a wide-open Markman for a 44-yard touchdown.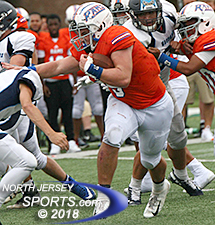 Sean Tocci rushed for career-highs of three touchdowns and 189 yards on just 14 carries for Lodi (0-2).
Lodi answered by going 73 yards in just four plays. A 48-yard run from bruising fullback Sean Tocci set up an 18 TD pass from Kyle Leach to Jonavin Soto to knot the score at 7.
Waldwick/Midland Park's offensive line was gaining steam and started to control to the line of scrimmage in the second quarter. Markman was an elusive runner throughout the first half and put the Warriors back in front with a 21-yard run to paydirt. Senior kicker Chris Vazquez nailed all four of his PAT attempts as well as a 25-yard field goal that bumped the lead up to double-digits, 17-7, at the half.
Markman was at it again to start the second half. He received the kickoff, made a move in the hole then went all the way for an 86-yard touchdown. The Warriors looked firmly in control at that point, but Markman pulled up with a hip injury at the end of his kickoff return TD and did not return to the game. That left the door open for a Lodi comeback and the Rams nearly pulled it off.
"I saw a small hole on the kickoff, stepped to my right and it was off to the races after that," said Markman. "I just felt something pull in my hip flexor at the end of that run. It was hard to be on the sidelines watching because I couldn't play. I just tried to keep our team focused. It was a nailbiter but we found a way to pull out the 'W'."
Tocci, who plays bigger than his 5-foot-11, 235-pound frame, took over in the second half with his physical running style as well as some surprising speed. Ayden Lyubimov was all over the place all game long for Lodi. His blocked punt put the Rams in good field position and Tocci made it count on the very next play with a 41-yard touchdown run.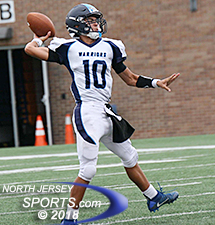 A bye week arrives at just the right time for Ethan Kucharski and Waldwick/MP, which will not take the field again until September 22 against Manchester.
Lyubimov then recovered a fumble in Warrior territory with Lodi cashing in on the turnover two plays later. Lech hit Aaron Moravick for a 39-yard strike down to the three-yard line before Tocci bulldozed his way into the end zone to trim the WW/MP lead to 24-21.
The Warriors struck back quickly by going 60 yards in just four plays. With the Rams putting eight in the box to stop the run, Kucharski pulled another fast one with a screen pass that sophomore Shawn Grissby took 25 yards to the end zone for a 31-21 lead.
Early in the fourth quarter the Rams had a chance to cut into that lead but safety Dunich read a play-action pass all the way and picked it off at the goal line to end the scoring threat, but the next time the Rams had the ball they needed just one play to get that touchdown back. A huge block from senior center Anthony Zakrezewski opened a hole up the middle and Tocci went 62 yards untouched for his third touchdown of the game. Wilson Ramos booted his fourth successful extra-point in as many attempts to make it 31-28.
Even without Markman, Waldwick/Midland Park tried to run out the clock and nearly did so. They marched all the way down to the Lodi 8 before a fourth-down run came up two inches short, giving the Rams one last shot to pull out a miraculous victory with 2:39 to play and one timeout remaining.
Lodi got to its own 46 before Schierloh stepped in front of a receiver over the middle and hauled in the interception that iced the Warriors' first win of the season.
"Even though the lead was slipping away there was never any concern, we believed in ourselves that we'd this game," said Schierloh. "A guy ran a pattern right across my face and I was reading the quarterback. The ball was coming right to me and I had to get there."
Markman finished with 282 all-purpose yards Waldwick/Midland Park (1-1), including 120 yards on just nine carries. Sam Rossnagel added 89 yards on the ground to go with ten tackles and an interception.
Tocci rushed for career-highs of three touchdowns and 189 yards on just 14 carries for Lodi (0-2). Lyubimov led the defense with six tackles, a blocked punt, a sack, and two fumble recoveries.
With injuries besieging the Warriors' roster, a much-needed early bye week comes up next before they return to the field on September 22 against Manchester Regional before a matchup against defending NJIC and state champ Rutherford. They are hoping the time to heal along with a hard-fought win will be enough to get the season going in the right direction.
"We made a lot of mistakes and we didn't execute the way that we wanted to but there's time to correct all of that," added Gruzdis. "We've got to heal up because there are some key guys that we need to be on the field. Today we made enough plays to get the job done. But we'll have to be better with the tough games we have coming up."
FOR MORE PHOTOS FROM THIS EVENT PLEASE CLICK HERE. TO BUY A COLLECTOR'S PRINT OF THIS STORY PLEASE VISIT 4-FeetGrafix.com.