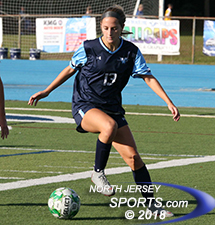 Sydney Rosenkrantz was one of three different goal-scorers for top seed Wayne Valley, which knocked off rival Wayne HIlls, 3-0, in the semfinals of the Passaic Cuunty Girls Soccer Tournament.
WAYNE – The semifinal round of the Passaic County Girls Soccer Tournament has been extremely rough on Wayne Valley over the past two years. As the top seed in 2016 the Indians fell to upstart West Milford in penalty kicks. It only got more excruciating in 2017 when the Indians fell to Lakeland on a goal late in the second overtime period. With several senior starters who were on the field for both of those losses, they were determined from day one of the pre-season to make sure that did not happen again.
Facing crosstown rival Wayne Hills, the Indians puts the clamps down from the opening whistle. By the time Wayne Hills got off its first shot on net 68 minutes into the match, the outcome had already had decided. Fiona Zaku, Jenna Vanas, and Sydney Rosenkrantz all found the back of the net as No. 1 seed Wayne Valley cruised on its home field past fourth-seeded Wayne Hills, 3-0, and into the Passaic County Tournament final.
"We've been sick of the semifinal hump that we can't seem to get over in the counties. We didn't want to have the feeling we've had the past two years," said Rosenkrantz. "This game was going to be different because of what we've went through and having to play a team that's right in our town in the semifinals. We have a great back line but also everyone on our team checks back to stop the counterattack. I think that gives us the confidence to be more aggressive up front."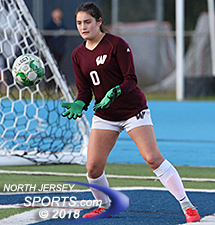 Liv Sokoli made 9 saves for Wayne HIlls, which fell to 8-5-1 on the season.
For a team that has been largely known for their weapons on the attack it has been a stout defense that has carried the Indians through their current six-game winning streak. Led by Julianna Rigoglioso, Kristen McLean, Karina Wasicki, and Emily Jozak, the Indians' back line has been clicking on all cylinders. That continued in the PCT semis with a lockdown performance, allowing just one first-half shot that was not on net.
Rosenkrantz, meanwhile, had a handful of scoring chances early. One hit the post 10 minutes in and another went just over the crossbar. However, as the half winded down the game was still scoreless until Zaku pounced on a loose ball off of a corner kick and scored with 5:46 left, giving Wayne Valley a 1-0 halftime lead.
"It happened fast so I just kept it simple," said Zaku. "I just kept my eye on the ball and tried to score once I got the shot."
It did not take long after the break for Wayne Valley to extend that lead, just 51 seconds to be exact. Off of a counterattack, Vanas slipped a shot past Wayne Hills' keeper Liv Sokoli and inside the right post for a 2-0 lead. Rosenkrantz finally broke through to cap the scoring midway through the second half with her team-leading 17th goal of the season.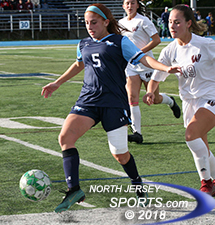 With the steady play of Julianna Rigoglioso and it defense, Wayne Valley has now won six straight games.
Arden Lembryk needed to make just two saves for her sixth consecutive shutout and her 12th on the season for Wayne Valley (14-3). Nicole Ricci added an assist for the Indians. Sokoli finished with nine saves for Wayne Hills (8-5-1).
With the semifinal bug-a-boo well in the rear-view mirror, the Indians are now out for some unfinished business. They will face second-seeded DePaul, a 4-1 winner over Lakeland in the other semifinal, for the Passaic County title next Saturday. That game will be played at Clifton Stadium with a 1:00 kickoff. With all the hard work that has been put in over the past four years, the Indians are ready for it to pay off with a county title.
"It feels great to get to a county final but we want more," added Rosenkrantz. "Our confidence is higher than it's been all season and I think we're peaking at the right time. To win a county championship would make our whole season. We're putting it all together and we'll ready for next Saturday."
FOR MORE PHOTOS FROM THIS EVENT PLEASE CLICK HERE. TO BUY A COLLECTOR'S PRINT OF THIS STORY PLEASE VISIT 4-FeetGrafix.com.