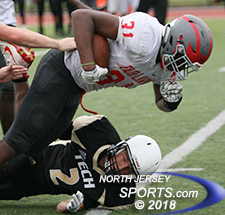 Kyle Irby-Mason converted two fourth downs and finished the drive with a score to seal Fair Lawn's 20-9 win over Bergen Tech on Friday afternoon.
NORTH ARLINGTON – Becoming a winning team is not only the byproduct of having athletic playmakers or overwhelming size at the line of scrimmage. A team has to battle through adversity and believe in one another to collectively get the job done. After holding a 10-point halftime lead Fair Lawn watched as its opponent, Bergen Tech, grabbed back the momentum throughout the second half and pinned the Cutters deep in their own end early in the fourth quarter.
Although it was just over three quarters into a long season, it was a make or break moment in a game that Fair Lawn needed to win. If the Cutters have any hopes of qualifying for the state playoffs they had to close this one out.
They did just that by putting together a time-consuming scoring drive at the most opportune time. Fullback Kyle Irby-Mason did most of the damage on the massive 17-play, 89-yard drive that took over nine minutes off the clock. He ran for two fourth-down conversions before bulling his way across the goal line for the game-clinching touchdown as Fair Lawn held on for a 20-9 victory on Friday afternoon at Riverside County Park in North Arlington.
"Our coaches trained us to respond to this and I think we responded well," said Fair Lawn's Fletcher Cavanagh. "We've been training for this since August 7th. This is what we work for every day and we were ready for this."
Bergen Tech was winning the battle for field position early until one rugged run changed all of that. Faced with a third-and-12 from the Cutters' own 21-yard line, Michael Lantigua broke two tackles, stiff-armed a defender to the ground then outraced the Bergen Tech defense to the end zone for a 79-yard scoring jaunt with Julian Keylin tacking on the extra point for a 7-0 lead.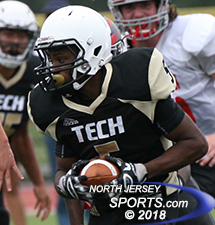 Kievon Banks finished with 68 yards rushing and a touchdown to lead Bergen Tech.
"It was just amazing blocking by my offensive line and I just followed those blocks," said Lantigua.
Lantigua looked for contact every time he had the ball in his hands. After a punishing catch-and-run on a third-and-long for a first down, the senior tailback took a handoff from five yards out. Running to his right he, cut back against the grain and leaped between two defenders into the end zone to put Fair Lawn ahead 13-0.
Bergen Tech needed some sort of spark and Kievon Banks provided that by accounting for 21 rushing yards and 17 receiving yards on a second quarter drive. The Knights got all the way down to the Cutters' 2-yard line before a false start penalty backed them up. That was followed by a combined third-down sack from Cavanagh and Ben Cameron. All was not lost though as freshman kicker Angelo Roberto drilled a 34-yard field goal to get Bergen Tech on the scoreboard and trim its deficit to 13-3 at halftime.
The Knights kept the momentum going out of the locker room by having their best drive of the game to start the second half. Rostyslav Fedorko raced for 14 yards on a third-and-six to keep the drive alive before Banks wiggled his way into the end zone from a yard out to trim the lead to 13-9 midway through the third quarter.
Bergen Tech had the ball in Fair Lawn territory to start the fourth quarter but consecutive sacks by Irby-Mason and Lantigua stalled the drive. The Knights got a friendly bounce on a punt that rolled all the way down to the Fair Lawn 11-yard line with 10:23 to play.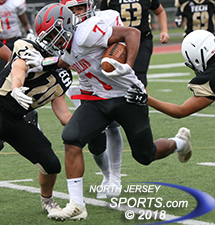 Jalen Corporan and Fair Lawn will look for a 2-0 start to the season when it hosts Passaic at home on Saturday.
The Knights widened their defense to try to shut down Lantigua, Jalen Corporan, and shifty quarterback Brian Colca. While they were successful in doing that during the second half, the Knights had to pick their poison and that left an opening for Irby-Mason to run up behind his center Cavanagh and into space. On a fourth-and-two from the Cutters' own 42, Cavanagh flattened a lineman and Irby-Mason took advantage for an 11-yard gain. Later in the drive on a fourth-and-three from the six, Irby-Mason's second effort gave him enough for the first down. Two plays later, the junior capped the drive that took 9:04 to complete with a 1-yard TD run to put the game on ice.
"I thank my O-line for pushing me; I just had to get the ball and get us going," said Irby-Mason.
Lantigua and Irby-Mason combined for 200 yards rushing for Fair Lawn (1-0). Cameron led the defense with seven tackles and two-and-a-half sacks. Cavanagh had one-and-a-half sacks and forced a fumble.
Banks finished with 68 yards rushing and a touchdown to lead Bergen Tech (0-1). The loss was the 22nd in a row for the Knights spanning the past four seasons, but after two straight competitive games, head coach Ryan Lynch feels like his program is turning the corner.
"Only a few plays really separated us from losing this game and having a chance to win it in the fourth quarter," said Lynch. "What we have been preaching the past three years is playing four quarters of football and that's what we played today. We have a great group of guys. They've bought in and we really believe in what we're doing. It's paying off and it's gonna give soon."
Fair Lawn is looking to make the postseason for just the second time in the past decade. The Cutters know there are plenty of mistakes to clean up if they are to reach that goal but they also know that it is within their grasp.
"We can't be satisfied with one win," added Cavanagh. "We have seven games left and we have playoff aspirations. We can't stop here."
FOR MORE PHOTOS FROM THIS EVENT PLEASE CLICK HERE. TO BUY A COLLECTOR'S PRINT OF THIS STORY PLEASE VISIT 4-FeetGrafix.com.