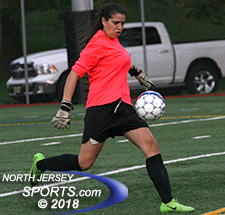 Madison Arroyo posted a shutout for Bayonne, which outlasted Hoboken, 1-0, in double overtime on Tuesday.
BAYONNE – After finishing in a tie in a wild first meeting with Hoboken, Bayonne was intent on slowing down the Red Wings' attack when the two teams hooked up again on Tuesday. While the Lady Bees accomplished what they wanted to do on the defensive side, they were not counting on having the same done to them. As the two teams slugged their way through regulation and overtime and into a second overtime period without a goal to show for their efforts, fatigue set in and it was time to take some chances.
Bayonne did not mount much of an offense through the two overtime periods so when a corner kick was finally earned it was an opportunity that Marianna Valencia could not pass up. The sophomore striker took the restart and booted it inside the near post with 4:49 to play in the second overtime to give Bayonne a huge 1-0 win over Hoboken at Don Ahearn Veterans Stadium in Bayonne.
"We were tired but we had to keep going and never stop. As long as there was time left we were going to keep playing hard," said Valencia.
The first meeting between these two teams had offense galore and ended in a 3-3 tie. It looked like Tuesday's meeting would be more of the same with both teams having breakaway chances in the first three minutes. Neither one ended up on target and both teams settled into their particular style of play.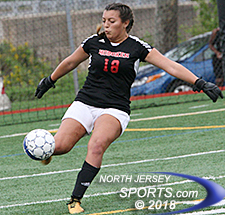 Rhea Theodore made 10 saves for Hoboken, which saw its five-game winning streak come to an end.
Hoboken controlled possession for much of the game, two-touching the ball through the midfield while Bayonne was more direct in its plan of attack by simply getting it forward with long through balls and running on for shots on net. Marianna Valencia and twin sister Vivianna both had quality looks at the net late in the first half but both were denied by Hoboken keeper Rhea Theodore.
The Red Wings nearly took the lead early in the second half when a corner kick was flicked on net in front. Bayonne goalie Madison Arroyo made her toughest play of the game by dropping down to make the point-blank save. That sparked the Bees as they nearly scored twice in the next two minutes. Adrianna Morales' breakaway was saved by a charging Theodore and Sydney Weber's one-time shot missed the post by inches.
Over the last 20 minutes of regulation and the first overtime, the teams combined for just three shots as a second 10-minute overtime was the last hope for either team to net a 'W'.
With the wind at their back the Bees pressed forward in the second overtime and earned a corner kick. Marianna Valencia saw something out of the corner of her eye and decided to go for goal. With Theodore leaning off of her line to pick off a potential cross, Valencia ripped the corner towards the near post where it skipped past a defender and it to give the game a surprising end and Bayonne a much-needed win with the Hudson County Tournament seeding meeting coming up later this week.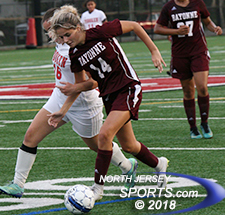 Sydney Weber and Bayonne have now won five straight games.
"I saw an opening and I just went for it," added Valencia. "When I was saw it go in I was just happy that game the was over and we got the win. This was a tough game that we won with a total team effort."
Arroyo made six saves for her second shutout of the season for Bayonne (7-2-3). Valencia's goal was her 17th of the season and the win was the Bees' fourth in a row, moving them into sole possession of second place in the HCIAL-Red Division.
Theodore played well with 10 saves for Hoboken, which saw its five-game winning streak snapped to fall to 5-3-1 on the season.
Bayonne's win over Hoboken all but locks up the No. 2 seed in this year's Hudson County Tournament. Having already tied nine-time defending county champ Kearny, the Bees hope this is the year and they finally get over the hump to win a county title.
"This win definitely puts us in good shape for the counties," said Bayonne head coach and graduate Lisa Rovatsos, who also happens to be the all-time leading goal scorer at her alma mater. "I think we can learn from a lot from this particular game that will make us better in the long run. We didn't play our best moving the ball around but we showed a lot of fight. Now the games are more important so we have to come in ready to go and we have to execute every time we take the field."
FOR MORE PHOTOS FROM THIS EVENT PLEASE CLICK HERE. TO BUY A COLLECTOR'S PRINT OF THIS STORY PLEASE VISIT 4-FeetGrafix.com.