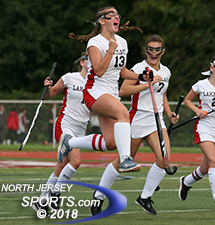 Alex Barna scored just before halftime and that goal stood up for Lakeland, which claimed the Passaic County title with a 1-0 win over West Milford on Saturday.
WAYNE – The visual of the nightmare that was the 2017 Passaic County final is one that will be etched in the minds of the Lakeland players forever. After suffering a heartbreaking loss in double overtime to West Milford, the Lancers could only watch in disbelief as their rival won yet another county championship at their expense. It was a rallying cry for this year's Lakeland squad in its march back to the county final where once again West Milford was waiting. This time, the Lancers rose to the occasion and made sure they were the ones celebrating when the final whistle blew.
Alex Barna's goal with 1:07 left in the first half gave Lakeland the lead. Led by a redemptive performance from Izabella Peralta, the Lancers did not allow a shot in the second half as top-seeded Lakeland won just its second Passaic County title in school history and its first since 2012 with a 1-0 triumph over second-seeded West Milford on Saturday afternoon at Wayne Hills High School.
"We've trained since the day after we lost in the county final last year just for this day," said Barna. "This game was so much fun after we worked so hard to get here. After the outcome last year, we looked forward the challenge on trying to win a county title this year"
It seemed like both Lakeland and West Milford knew exactly what the other was going to do even before it happened. While possession traveled from end to end throughout the first half it often stalled when it got to the opposing team's circle. Ten minutes into the game, Amanda Finke made a nice individual effort up the left side to give West Milford the first of two consecutive corners. Neither of them led to a shot and the momentum swung the Lancers' way for the remainder of the half. That was largely due to the play of versatile junior middle Keira Marks, who was dangerous every time she had the ball on her stick. 
Sammi Lyons generated most of West Milford's best scoring chances.
Meanwhile, the Lancers' other bonafide scoring threat was being bottled up. Barna, a senior, had trouble getting into a rhythm but kept working hard off the ball until she finally saw a sliver of daylight and made the most of it. Off of a feed from Marks, Barna drilled a seeing-eye shot through traffic and into the lower right-hand corner with just 67 ticks left in the first half to put the Lancers in front, 1-0.
"You're not going to score a goal if you don't shoot. Once I saw an opening I had to shoot," added Barna. "Especially since we know each other so well and we know each other's tricks. Both us and West Milford are really good defensively so there weren't going to be a lot of shots for either of us. I had to shoot on net and hope for the best."
Sammi Lyons, who scored the double overtime game-winner for West Milford (10-4) in last year's PCT final, did everything in her power to take the game over with several displays of dazzling stick work. But each of her scintillating runs ended with the Lakeland defense holding its ground and not allowing a shot on net.
"We don't like to let any team, especially one as good as West Milford, inside the circle," said Marks. "We wanted to shut down the middle of the field and keep the pressure on them by maintaining possession."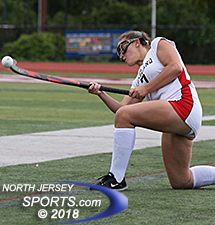 Keira Marks assisted on the goal that gave Lakeland its first county title since 2012.
Peralta was injured late in the PCT final last year and it had a profound effect on the outcome. That was not the case on Saturday as she made one stop after another down the stretch as Lakeland finally got their chance to celebrate.
The shutout was the fifth in a row for Lakeland (10-2-1). The Lancers now will turn their attention towards the state tournament, where they hope to make a second straight appearance in the North 1, Group 2 final. With a county title already under their belt, the pressure is off and the Lancers already know that this team will be remembered as being the Passaic County champs.
"We wanted to redeem ourselves from last year and that's been the driving force behind our entire season," said Marks, who was a first-team all-Passaic County selection in both field hockey and basketball as a sophomore. "This gives us even more motivation to do well in the states. We're such a close team and this is the most amazing feeling ever. I'm so proud of the way we played and we're so happy that we're county champs.""
FOR MORE PHOTOS FROM THIS EVENT PLEASE CLICK HERE. TO BUY A COLLECTOR'S PRINT OF THIS STORY PLEASE VISIT 4-FeetGrafix.com.